Plugging in to zero emissions: big electric debuts and concepts at bauma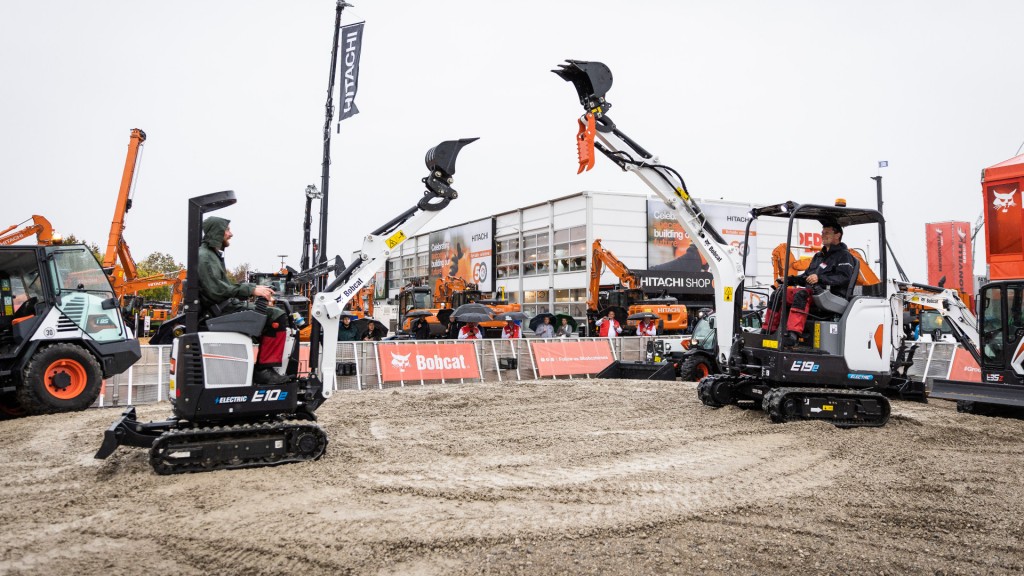 The concept of electromobility has been growing for some time, and leading into bauma 2022 it was clear that battery electric power is becoming one of the major ways forward for equipment manufacturers targeting zero emission equipment. Many of the concepts, prototypes, and a few production machines were debuted at the Munich show, with more on the drawing boards.
Here is a quick look at some of the electric equipment that was on display during bauma 2022. Since many of these machines are still in development, there is no specific timeline for commercial release in North America; even so, they are a valuable look at the direction that construction equipment is heading in the coming years.
Bobcat mini excavator
After releasing its all-electric T7X compact track loader earlier in 2022, Bobcat used bauma to launch its third battery-electric mini excavator, the E19e. Taking the middle ground between the E10e and E32e mini excavators, the E19e is designed to offer four hours of continuous operation or a full day of intermittent use on a lithium-ion battery pack before requiring a charge for eight hours. It's quick to respond to controls, has immediate torque available when the operator asks for it, and runs quietly. Bobcat says its battery-electric excavators are good for working within structures where diesel exhaust would be a problem. The company says it plans to continue working towards further electrification down the line.
Manitou telehandlers and lifts
Making a splash with electric equipment was Manitou, which came to the show with electric equipment in three ranges: mobile elevating work platforms (MEWPs), compact telehandlers, and rotating telehandlers. The introductions covered seven models with a number of variations; three new rough-terrain articulated telescopic booms with heights of up to 20 metres and a capacity of 250 kg, or up to 400 kg on one 16-metre variant. Manitou also showed a sneak-peek of its 120 AETJ battery-electric articulated boom. In addition, one compact and two rotating telehandlers were introduced, powered by lithium-ion batteries. The compact machine can lift up to 25 tons to a height of six metres, while the rotating units have a six ton capacity and lift heights of up to 26 metres.
Caterpillar electric prototypes
Caterpillar debuted four electric units powered by prototype batteries. The 301.9 mini excavator, 320 medium excavator, 950 GC medium wheel loader and 906 compact wheel loader are powered by Caterpillar battery prototypes and include onboard AC chargers, with an option likely to offer DC fast charging. The lithium-ion batteries are designed to be modular and offer flexible configurations across multiple applications, Cat notes, which will provide the ability for them to be used in other industrial applications as well.
Dynapac asphalt rollers
A pair of compact electric rollers were on display from Dynapac, demonstrating the ability to produce more sustainable machines that can maintain the same power and performance as their diesel counterparts, the company says. The CC900 e and CC1000 e match the static linear load, amplitude, gradeability, and travel speed of the conventionally powered units while providing cost savings and lower maintenance needs. Rollers in this size class are often used for road repair, which means they can wind up idling for long stretches before being put into use; with electric power, the reduction in fuel use from that alone can be significant. Dynapac says the battery on these units is good for a full day of typical work.
Wacker Neuson electric telehandler
Already a player in the zero-emission field with the WL20e wheel loader - which arrived at bauma in its third generation - Wacker Neuson introduced new machines in its telehandler and site dumper ranges powered by batteries. Its first electric telehandler, the TH412e, has a hinge pin lifting height of 4.5 metres, and a compact design that allows it to work easily in confined spaces where exhaust could be a problem. It features an easy to reach charging point and a Battery Management System that monitors the battery and increases its efficiency and safety while avoiding deep discharge. On the hauling side, Wacker Neuson has introduced the DT05e track dumper, with compact dimensions and ability to work in tight spaces. Other electric debuts included the APU3050e, which Wacker Neuson said is the first reversible battery-powered plate with direct drive, and the RD28e electric roller, powered by a lithium-ion battery with up to 3.5 hours of operating time.
Hamm compact tandem rollers
A pair of compact rollers have been unveiled by Hamm, powered by a 23.4 kWh lithium-ion battery that provides energy for the travel, steering, and vibration or oscillation drives through a 48 V system. Charging can be done via standard plug or rapid charger, with full charges taking around 7.5 hours or 4 hours respectively. The HD 10e and HD 12e have the same compaction power as standard powered equipment, but produce zero emissions. Vibration or oscillation is driven by electric means via specially designed, compact synchronous motors, increasing efficiency ratings by more than double and reducing energy demand significantly as well.
Keestrack ZERO-drive crushing equipment
Well experienced in hybrid machines, Keestrack has taken the next step with its ZERO-drive equipment and removed combustion engines entirely from on board. Instead, electric motors, powered from on-site generators or connected to mains power, run the mobile crushing and screening equipment and power some necessary hydraulic systems. The fuel savings compared to conventional machines are significant, especially when plugged in to mains power, which cuts power costs and maintenance drastically. All of Keestrack's impact crushers, including the brand-new I4e tracked mobile horizontal reversible impact crusher, most of its jaw crushers, two cone crushers, and many of its screens and stackers are available in the ZERO-drive design. For sites where mains power is not available, Keestrack has also introduced the M5 tracked engine as a power source option.
AUSA electric dumper and telehandler
Spanish manufacturer AUSA is adding electric vehicles to its portfolio, with the introduction of a site dumper and telescopic handler powered by a lithium-ion battery pack. The D151AEG dumper offers a 1,500 kg payload while maintaining its maneuverability and compact size for tight job sites. The T164E telescopic handler has a maximum lift of 4 metres and a 1,600 kg payload, and features solid all-terrain capabilities with the ability to handle gradients of up to 32 percent. Both machines have charge cables and electronic battery management to ensure they can run for a full working day, then charge from the mains or a generator via 110, 230 or 415 V sockets.
Doosan mini excavator
Due for launch in 2023, Doosan's DX20ZE mini excavator is low noise and zero emission, and only 950 mm wide for the ability to move through narrow passages and entrances. Powered by a 20 kWh lithium-ion battery pack designed in-house, the DX20ZE with a quick-charger system can restore 80 percent of battery power in just one hour of charging, while the onboard charger reaches max charge in six hours. The unit is designed with the same high performance and features as the equivalent Doosan diesel-powered excavator.
Liebherr unplugged series
Electric options have been on the table for Liebherr for some time, and the manufacturer has put a focus on it for several of its sectors this bauma. While pre-production models of a battery-electric wheel loader and a telescopic handler were on display, several entries in the company's unplugged series of cranes and drills also made their debuts. Crawler cranes, piling and drilling rigs are all new additions to the battery-electric unplugged series, which is entirely zero-emission, with no onboard engines whatsoever for quiet operation and no exhaust, ideal for working in noise-sensitive regions. Batteries are charged by connection to a conventional job site electric supply, which also allows the machine to continue operation as normal - pulling the plug switches the machines over to battery operation. Performance of all unplugged machines is identical to that of the conventional versions.
Mecalac zero-emission range
While there has been a focus by many manufacturers on battery-electric power for compact equipment, Mecalac has taken a step up from that and developed a range of zero-emission machines that are targeted towards urban job sites. The three machine range introduced at bauma includes the 11-ton e12 excavator, the es1000 1,000-litre swing loader, and the six-ton ed6 dumper. In addition, Mecalac has developed an on-site power solution with a 300 kWh capacity that can charge the machine batteries quickly and anywhere the units are deployed.
Hyundai Construction Equipment electric mini excavator
Hyundai's electric drive mini excavator concept was on display at bauma as a starting point for a zero-emission driveline moving forward. Powered by a 20.7 kWh battery pack, the 18E concept machine weighs in at 1,863 kg with a canopy or 2,030 kg with a full cab. The battery pack is intended to provide enough charge for a full day's operation in normal use, and then recharge using a standard 220V site supply in 5.6 hours. An inverter drives the 13 kW electric motor, which offers a peak power of 27 kW and drives hydraulic pumps the same as a conventional 1.8-tonne diesel machine.
Yanmar earthmoving machines
Yanmar featured a Zero Emissions Zone in its display focusing on its electric equipment efforts. It debuted the SV17e electric excavator publicly for the first time, prior to a planned launch in the second quarter of 2023. Operators have said the design and comfort of the cab, ease of use, and charging are all positive. A prototype wheel loader also made its debut during the show. The V8e, with an operating weight of 4,500 kg, is ideal for heavy lifting in tight spaces such as urban job sites. An onboard charger delivers 11 kW in standard configuration and 22 kW as a fast charging option. Yanmar anticipates a 2024 launch date for this wheel loader. Finally, a pre-production electric carrier, the C08e, was shown off. Powerful and maneuverable, the unit is good in tight spaces and has a smart, colour LCD control panel for easy operation. It is set to launch in the first quarter of 2023.
Related Articles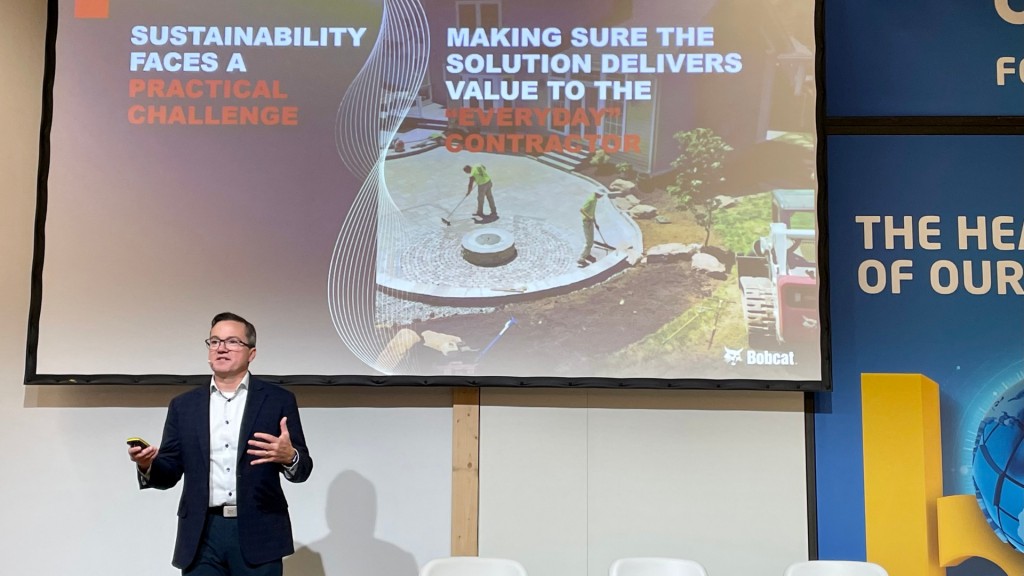 How Bobcat's battery-electric CTL could help improve sustainability in construction