Bobcat introduces game-changing all-electric CTL
New machine uses electric actuation instead of hydraulics to power work tools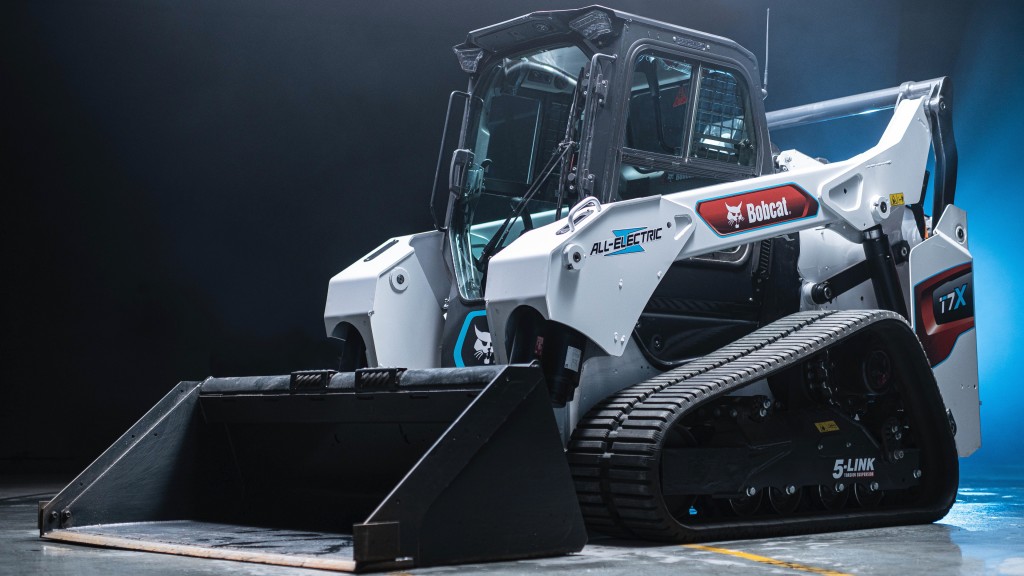 Many OEMs have a battery-powered machine either available or openly in development by this point, but at the 2022 Consumer Electronics Show (CES), Bobcat revealed a new electric machine that is truly unique. Not only is it the first fully electric compact track loader that will come to market, but Bobcat has electrified all of the hydraulic functions as well - making this a truly, fully electric piece of equipment that has almost no fluid requirements, delivers silent operation, and reduces maintenance time while exceeding the capability of its diesel-hydraulic Bobcat counterpart.
Joel Honeyman, vice president of global innovation at Doosan Bobcat, says that when Bobcat's engineers sat down to design their first electric CTL, they asked a simple question: "How could we use this platform to really use the latest technology?" The first step was to remove the engine and replace it with a battery pack, but the machine would still use an inefficient hydraulic system that required oil. This challenged the team to consider other technologies that they could leverage to remove the hydraulics. That's when they started looking at electric actuators, which are used in aircraft and other industries.
Bobcat built its first prototype in late 2019 and found that this concept works. Once they started combining the technology, they realized that, by way of electric actuation, they could do a lot of programming for advanced features through software – something that you can't do with hydraulics.
"Hydraulics has a limitation," Honeyman says. "You can only have so much flow and so much pressure. Whereas, with electric the possibilities expand much more broadly."
How does electric actuation work?
In the T7X, ball screw actuators turn a ball screw which simulates a cylinder moving for lift or tilt functions. They're held very precisely and can lift more than a hydraulic component, according to Honeyman. Bobcat partnered with a third-party manufacturer called Moog to incorporate this technology into the CTL. Moog supplies the actuators, which they have used in aircraft and flight simulators.
To operate the machine, the operator just uses battery power through the controller, which sends the signal to these actuators to move them up and down, rather than opening a valve like you would on a hydraulic piece of equipment. Honeyman adds that the ball screw actuator allows them to know the position of the actuator at all times – where the lift arm and tilt is and how much current is being drawn – enabling Bobcat to control and monitor the machine more precisely.
The experience in the cab is essentially the same for the operator, but the machine has a different sound – which Honeyman compares to RoboCop. The operator now also has 100 percent power at zero rpm when the machine is active. With a diesel-hydraulic machine, the operator would have to be at full throttle to get full hydraulic flow and the engine needs to be running.
Spill-free technology is ideal for sensitive applications
Like other electric machines, the T7X is great for indoor applications, such as demolition, reclamation, and construction. However, the T7X has an added environmental benefit: no fluids means no leaks. This is ideal for working on brand-new concrete for job sites that need to remain clean, such as data centres and hospitals.
"This is a piece of equipment that [contractors] would want to have on their site because they know that there are no fluids that are going to leak on the concrete to create contamination and stains," says Honeyman. Bobcat has received calls from a number of customers who are interested in this machine for that reason. Noise-conscious customers are also expressing interest, particularly those working in cities that are trying to eliminate noise pollution.
Electric attachments under development
In addition to compatibility with pin-on attachments, Bobcat will offer a range of electric attachments compatible with the T7X. The first available attachments will be an auger, a grapple, and an angle broom, which Honeyman says are all common for rental customers. Bobcat is currently developing additional attachments that consume more power, such as a breaker and a snow blower.
How does the T7X stack up against its diesel-hydraulic counterpart?
In terms of lift capacity, the machines are similar, but different work modes enable the T7X to deliver more drive power and drive torque. "In fact," Honeyman says, "we can dial it up way beyond what it's currently capable of even today. So our ability to be able to control that is so much better."
There are three work modes on the T7X. Eco Mode preserves battery power and conserves energy. Advanced Mode provides power similar to Bobcat's diesel-hydraulic machines – and Honeyman says that some users say it's even better on the electric machine. Finally, the T7X features Beast Mode, which delivers short bursts of instantaneous full torque to the drive system at the push of a button.
"If you're going into a pile, you can get that full torque to the drive system for a short period of time. Operators just really love that aspect of power management," says Honeyman. When the battery is fully drained, the T7X takes 10 hours to fully charge, typically overnight, with a 220 volt plug and 30 amp service. There is no fast charge for this machine.
Rental industry leads the charge with electric equipment offerings
Considering that this new technology comes at a higher price point, rental is a great way for customers to try new technology, provide feedback, and enable the manufacturer to take that feedback to refine the product further until it becomes mainstream.
Once customers try out the machine without making that large up-front investment, they can see how it benefits their fleet.
"We really view rental as a real positive place to start this type of evolution, especially for electric equipment," says Honeyman. "I tell customers, 'You really have to experience this equipment.' I read a lot of message boards, and of course we got all of our press at CES, we read these things and they're like 'Oh, electric is not going to work. It's a dog,' and I'm like, 'Just try it. You've got to drive one to see it and you've got to experience it that way.'"
To get machines into the rental market, Bobcat has formed a strategic partnership with Sunbelt Rentals, with the rental company committing to a significant investment in a fleet of T7X machines, along with Bobcat's first electric mini excavator, the E10e, which is available in North America in the first quarter of 2022. The T7X will be available at select Sunbelt Rentals locations later in 2022.
At CES 2022, Brendan Horgan, CEO of Sunbelt Rentals, said, "By making an investment in this first-of-its-kind, all-electric technology, we support our ESG objectives of empowering our customers and communities with the availability of alternative rental solutions that reduce emissions and noise. Sunbelt Rentals is leading the implementation of electrified on-road and offroad products to unlock the ESG structural benefits of rental."
How the T7X fits into Bobcat's approach to the future of compact equipment
Bobcat has introduced a few novel approaches to compact equipment in recent years, including CTL remote control with an iPhone, called Max Control, and Features on Demand, enabling CTL purchasers to subscribe to upgraded features on their machine at a later date after purchase.
Bobcat plans to make Max Control available for the T7X, however not immediately at introduction of the machine. Other software features and upgrades will also be available and are currently under development. Honeyman adds that the current focus is on getting the platform to market before turning to upgrades.
The return on investment calculation
Any leap forward in technology and capability comes with a higher sticker price, and the T7X will be no different. Operations need to look at the long-term benefits that come with reduced operating costs. Honeyman says that this CTL costs a tenth of the amount that it costs to operate a diesel-electric CTL.
"If you think about a current skid steer or track loader, at roughly 500 hours we would estimate it costs about $7,000 a year for fuel, fluids, and all of the other maintenance. The simple electricity to charge this machine in a year for the same 500 hours is about $700. So it's a very significant cost of ownership savings from that standpoint."
These first machines are expensive, Honeyman adds, so it will take some time to see the savings break even, but it will happen and there are other benefits of the electric machine in addition to the eventual cost savings that customers will find value in.
"When we talk to customers about this machine, the first thing they home in on is, 'This is just a green machine. It's environmentally friendly,' which it is, but the real benefits are that you can get all this power and all these different features. There's the noise reduction that's in there. There's no maintenance – that's a part of it. There are so many more benefits than just the environmental aspect.
"And the other thing is, just to reiterate, people have got to try it. Sit in the machine. Every customer we've had this machine with, they get out and they're smiling. They just cannot believe that they had this experience and this quiet of a machine. And to have that performance and power in an electric machine is just unbelievable to them."