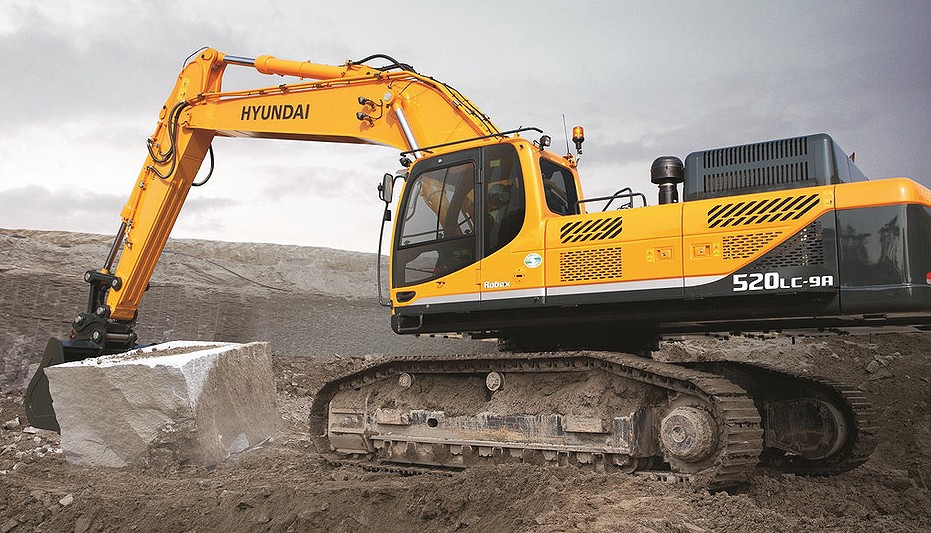 These high-performance machines provide plenty of strength and efficiency to help you complete a variety of tough projects – on time and on budget.
The 9-Series Crawler Excavators have large reinforced cabs with excellent 360 degree visibility. You get improved engine and hydraulic technologies powered by the CAPO "computer assisted optimization system". And the Hi-mate remote management system uses GPS and the Internet to let you access machine data from anywhere in the world.
Features & Benefits
Track Rail Guard & Adjusters
Durable track rail guards keep track links in place. Track adjustment is made easy with standard grease cylinder track adjusters and shock absorbing springs.
Structure Strength
The 9A series cabin structure has been fitted with stronger but slimmer tubing for more safety and improved visibility.
Cummins QSX11.9 Engine
The key to success is building upon your strengths. The proof is Cummins Tier 4 Interim/Stage IIIB QSX11.9. We've taken everything we've learned with the Cummins QSM engine and combined it with the advanced technology platform of the QSX15.
Operator Comfort
In 9A series cabin you can easily adjust the seat, console and armrest settings to best suit your comfort level. The seat is integrated with console and absorbs console vibration with the seat suspension to reduce operator's fatigue.
Smart Key System (Option)
9A series excavators provide smart key system as an option. This allows the operator to start the engine by the push of a starter button without inserting a key in the ignition.
Hi-mate (Remote Management System)
Hi-mate, Hyundai's proprietary remote management system, provides operators and dealer service personnel access to vital service and diagnostic information on the machine from any computer with internet access.
Improved Hydraulic System
To achieve optimum precision, Hyundai redesigned the hydraulic system to provide the operator with super fine touch and improved controllability. Improved pump flow control reduces flow when controls are not being used to minimize fuel consumption.