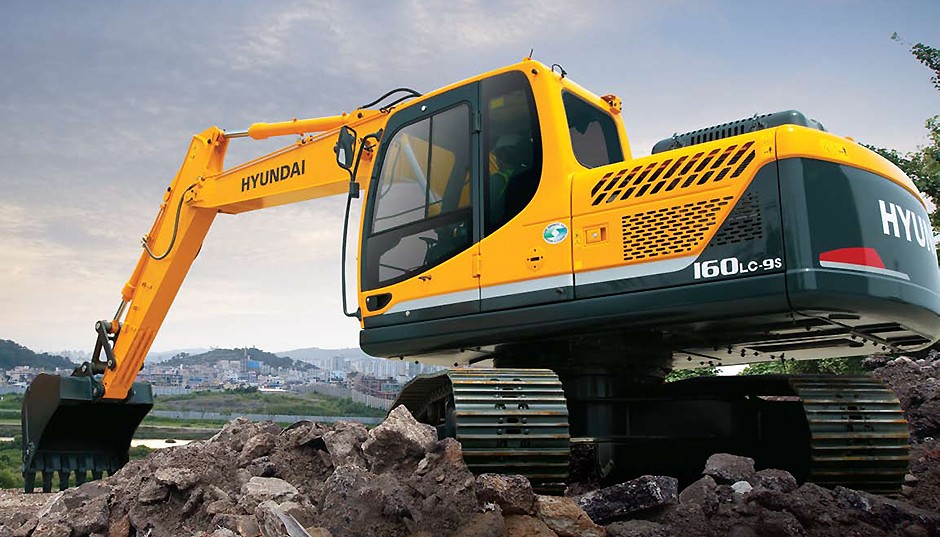 Hyundai Heavy Industries strives to build state-of-the art earthmoving equipment to give every operator maximum performance, more precision, versatile machine preferences, and proven quality. The R160LC-9A Crawler Excavator comes equipped with a proven, reliable, fuel efficient, low emission and low noise Perkins Tier 4 interim & EU stage III B engine.
Features & Benefits
Pump Compartment
Industry-leading, powerful, reliable Kawasaki designed, variable volume in-line axial piston pumps. New compact solenoid block equipped with 4 solenoid valves, 1 EPPR valve, 1 check valve accumulator and pilot filter.
Improved Visibility
Enlarged cab with improved visibility. See-through upper skylight for visibility and ventilation. Larger right-side glass, now one piece, for better right visibility.
Improved Cab Construction
New steel tube construction for added operator safety, protection and durability. New window open/close mechanism designed with cable and spring lift assist and single latch release.
Improved Suspension Seat
Ergonomic joysticks with auxiliary control buttons for attachment use. Now with new sleek styling. Heated suspension (standard) or optional air ride suspension with heat.
Undercarriage
Sealed track chain (urethane seals) / Standard track rail guard / Comfortable bolt-on steps Large upper roller cut-outs for debris clean-out / Tapered side frames for debris clean-out / Grease-type track tensioner.
Auto Boom-swing Priority
This smart function automatically and continuously looks the ideal hydraulic flow balance for the boom and swing motions of the machine. The advanced CAPO system monitors the hydraulic system and adjusts its settings to maximize performance.
Track Rail Guard & Adjusters
Durable track rail guards keep track links in place. Track adjustment is made easy with standard grease cylinder track adjusters and shock absorbing springs.
Structure Strength
The 9A series cabin structure has been fitted with stronger but slimmer tubing for more safety and improved visibility. Low-stress, high strength steel is integrally welded to form a stronger, more durable upper and lower frame.
Perkins 1204E Engine
Tier 4 interim, four cylinder, 4 cycle, turbo-charged, charge air cooled Perkins 1204E engine provides maximum power, reliability, optimum fuel economy, and reduced emissions.
Smart Key System (Option)
9A series excavators provide smart key system as an option. This allows the operator to start the engine by the push of a starter button without inserting a key in the ignition.
Fuel Efficiency
9A series excavators are engineered to be extremely fuel efficient. New innovations like the variable speed fan clutch, two-stage auto decel system and the new economy mode help to conserve fuel and reduce the impact on the environment.