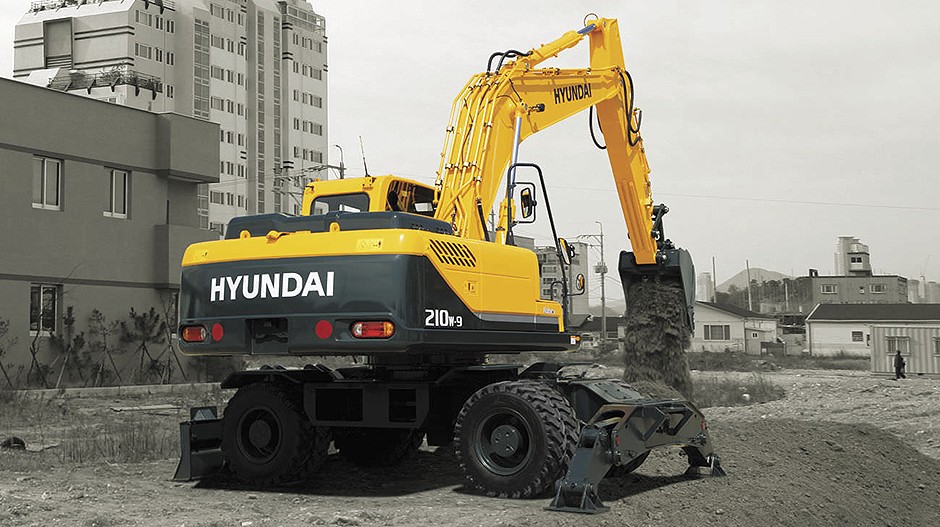 Hyundai Wheeled Excavators take a great idea and make it more fuel efficient, fast, smooth and easy to control as well as comfortable for the operator.
Hyundai 9-Series Wheeled Excavators guarantee performance and reliability. Our goal is to make these machines so high-performing that you treat it as your work partner. Also, Hyundai offers a total coverage warranty, including a three-year, 3,000-hour full machine warranty as well as a five-year, 10,000-hour structural warranty.
Features & Benefits
Engine Technology
Proven, reliable, fuel efficient, low emission and low noise Cummins Tier 4 interim & EU stage III B engine.
Pump Compartment
Industry-leading, powerful, reliable Kawasaki designed, variable volume in-line axial piston pumps. New compact solenoid block equipped with 4 solenoid valves, 1 EPPR valve, 1 check valve accumulator and pilot filter.
Improved Cab Construction
New steel tube construction for added operator safety, protection and durability. New window open/close mechanism designed with cable and spring lift assist and single latch release.
Improved Suspension Seat / Console Assembly
Ergonomic joysticks with auxiliary control buttons for attachment use. Now with new sleek styling. Air suspension seat (standard) or optional air ride suspension with heat. New joystick consoles - now adjustable in height by pushing the button.
RMS (Remote Management System)
Works through GPS/satellite technology to ultimately provide better customer service and support.
Auto Boom-swing Priority
This smart function automatically and continuously looks the ideal hydraulic flow balance for the boom and swing motions of the machine.
Fully Independent Outrigger System
R210W-9A can be equipped with four independent outriggers (front and rear) or two independent outriggers and a dozer blade (front or rear). Each outrigger and the dozer blade are controlled by a switch and the dozer lever.
Operator Comfort
In 9A series cabin you can easily adjust the seat, console and armrest settings to best suit your comfort level. The seat integrated with console absorb console vibration by seat suspension and reduce operator's fatigue.
Reduced Stress
Hyundai's 9A series provides improved cab amenities, additional space and a comfortable seat to minimize stress to the operator. A powerful climate control system provides the operator with optimum air temperature.
Fuel Efficiency
9A series excavators are engineered to be extremely fuel efficient. New innovations like the fan clutch, two-stage auto decel system and the new economy mode help to conserve fuel and reduce the impact on the environment.
Hi-mate (Remote Management System)
Hi-mate, Hyundai's proprietary remote management system, provides operators and dealer service personnel access to vital service and diagnostic information on the machine from any computer with internet access.
Power Mode
P (Power Max) mode maximizes machine speed and power for mass production. S (Standard) mode provides a reduced, fixed rpm for optimum performance and improved fuel economy. E (Economy) mode provides precise flow and engine power based on load demand.
Work Mode
The work mode allows the operator to select single flow attachments like a hydraulic breaker or bi-directional flow attachments like a crusher. Flow settings unique to each attachment can be programmed from within the cluster.
User Mode
Some jobs require more precise machine settings. Using the versatile U (User) mode, the operator can customize engine speed, pump output, idle speed and other machine settings for the job at hand.