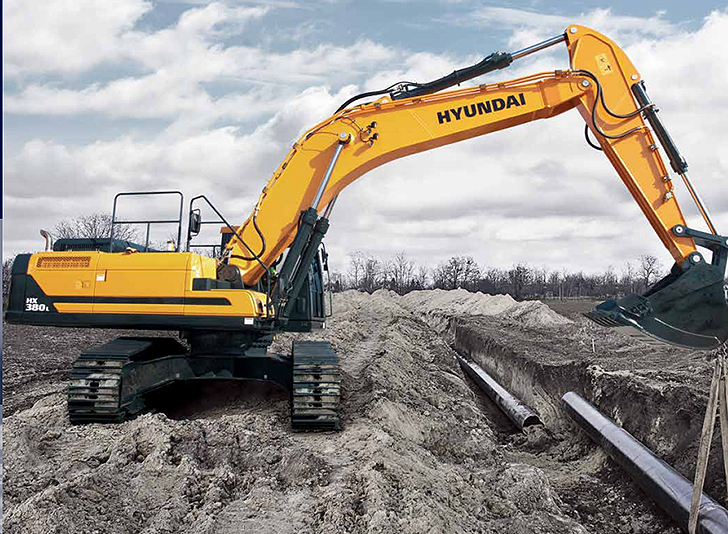 The HX Series excavators are products of HHI's spirit of initiative, creativity, and strong drive. HHI's engineers, who are the best in the industry, have worked tirelessly to offer a zero-defect product. The new HX Series reflects customers' needs in the field gleaned by thorough monitoring. They maximize fuel efficiency and performance proven by rigorous field tests and quality control.
Features & Benefits
Great Performance
The HX Series has an eco-friendly, high-performance engine which ensures both excellent fuel efficiency and high power. With outstanding operating performance proven by rigorous tests at various work sites, it will satisfy any customer's needs.
ECO Gauge
Eco Gauge enable economic operation of machines. The gauge level and colour displays engine torque and fuel efficiency level. On top of that, the status of fuel consumption such as average rate and the total amount of fuel consumed are displayed.
IPC (Intelligent Power Control)
The IPC controls Power depending on work environments. Its mode can be selected and released on the monitor. On the excavation mode, pump flow can be easily controlled by a lever, reducing fuel consumption.
New Variable Power Control
The HX Series minimizes equipment input and output control signals to improve fuel efficiency. Its three-stage Power mode ensures the highest performance in any operating environment.
Cooling system
With the three-floor stacked cooling module improving air inflow, the HX Series provides excellent cooling performance by increasing heat dissipation and can be easily cleaned.
Robustness and Safety
The robust upper and lower frame structure that can endure external shock and high-load work and the attachments whose performance was proven by rigorous tests further show the real value of the HX Series in tough working environments.
Durable Cooling Module
The HX Series has a durable cooling module that passed stringent tests, demonstrating the highest productivity in tough working environments.
Reinforced Pin, Bush, and Polymer Shim
The HX series improves lubricity of connecting parts between the equipment and attachments. Gaps with attachments are minimized by wear-resistant long-life pins, bushes, and polymer shims, supporting the highest performance with invariable durability.
Reinforced durability
The upper and lower structure and attachments of the HX Series have higher durability than demanded on the site, as proven through numerous tests including road tests and virtual simulation.
Enhanced Instrument Panel
Many electronic functions are placed in the most convenient spot for operators to ensure efficiency. The highly-advanced infotainment system, a product of HHI's intensive information technology, enables both productivity and pleasant work simultaneously!
Intelligent and Wide Cluster
The 8-inch capacitive-type display (like smartphone display) of the HX Series is 15% larger than the previous model, delivering excellent legibility.
Haptic Control
The integrated jog shuttle-type haptic controller applies to the accelerator, remote air conditioner controller, and operate cluster, allowing convenient operation.
Operating Simulation for Joy & Achievement
The operating game developed by HHI's state-of-the-art information technology allows operators to experience efficient operating state by simulation, providing fun and economy of operation.
Cabin
Low noise, low vibration, and ergonomic design make the cabin space more comfortable and pleasant! With focus on safety and convenience of operators, the HX Series allows rapid and safe equipment inspection anytime and anywhere.