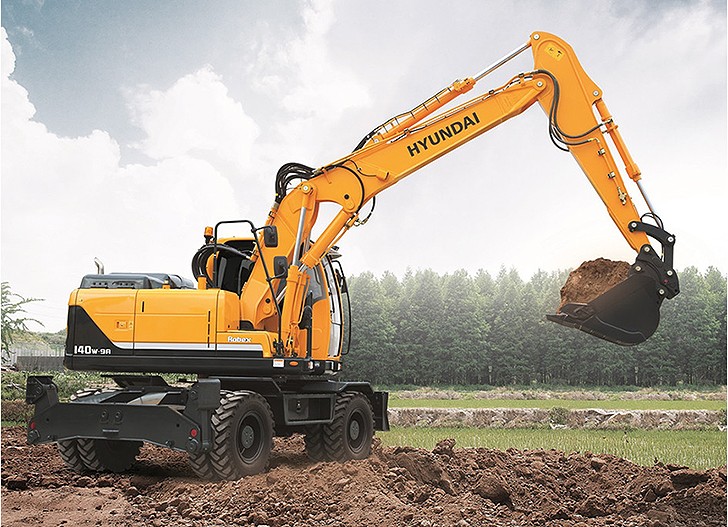 Hyundai Heavy Industries strives to build state-of-the art earthmoving equipment to give every operator maximum performance, optimal controllability, versatile machine settings and proven technology.
Features & Benefits
Engine Technology
Proven, reliable, fuel effi cient, low emission and low noise Cummins Tier 4 Interim & EU Stage IIIB engine.
Hydraulic System Improvements
New patented hydraulic system for maximum controllability / Automatic boom vs. swing priority for maximum productivity / Automatic power boost for extra power / Improved arm & boom regeneration for higher speed and better efficiency.
Pump Compartment
Powerful and reliable axial piston pumps. Compact solenoid block to control: 2 speed travel, power boost, boom priority, arm regeneration and safety lock.
Enhanced Operators' Cab
Spacious cabin with large glass area. Roll-up type sun visor for operators' convenience.
Rigid Cabin Construction
New steel tube construction for operator safety, higher level of protection and increased durability. All windows consist of safety glass.
Improved Seat & Console
Ergonomic joysticks with auxiliary buttons for attachment control. Standard mechanic suspension with heater or optional air suspension.
Power Mode
Power-mode maximizes machine speed and power for maximum productivity. Standard mode provides a reduced, fixed rpm for optimum performance and improved fuel economy.
Work Mode
Through the different work modes, the operator can select general digging, single-acting attachments like a hydraulic breaker or double-acting attachments like a crusher. Flow settings can be preset through the cluster.
User Mode
Using the User-mode, the operator can customize engine speed, pump output, idle speed and other machine settings according to personal preferences.
Auto Boom vs. Swing Priority
This smart function adapts the ideal hydraulic fl ow balance for the boom and swing operation for your application. The advanced CAPO system monitors the hydraulic operations and adjusts the balance to maximize performance and productivity.
Independent Outriggers
The wheel excavators can be equipped with four independent outriggers or two independent outriggers and a dozer blade. Each outrigger or dozer blade is controlled by a switch and the dozer lever.
Structural Strength
The 9A series cabin structure is designed with slimmer but stronger tubing for more safety and better visibility. Lowstress and high-strength steel is welded to form a strong and stable lower frame.
CUMMINS QSB 6.7 Engine
The combination of a high pressure common rail system and an advanced in-cylinder combustion technology results in increased power, improved transient response and reduced fuel consumption.