Hyundai HX Series Hydraulic Excavators Feature All-New Cluster Monitor With Haptic Remote Control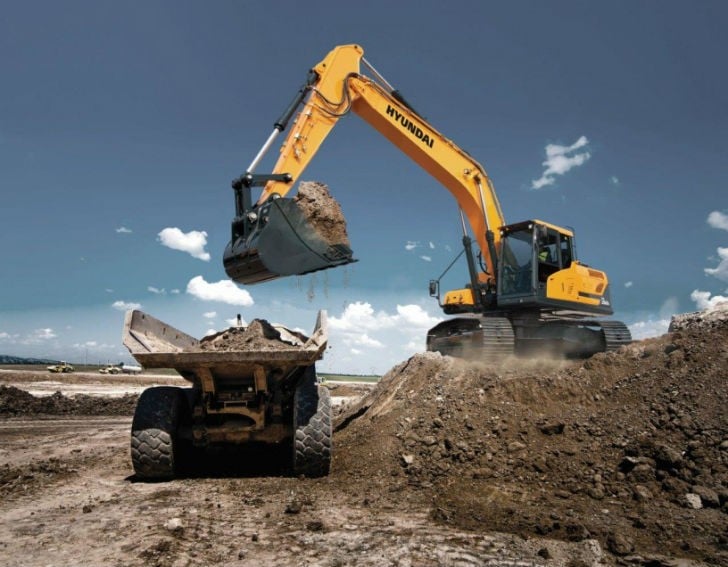 Hyundai Construction Equipment Americas has launched the HX series of Tier 4 Final–compliant hydraulic excavators in the United States and Canada. The first models range from 22 to 52 metric tons and include the HX220L, HX260L, HX300L, HX330L, HX380L, HX480L and HX520L. Smaller models and compact-radius models will follow in 2016.
"Just as Hyundai automobiles are known for coming fully loaded with cutting-edge features and advanced creature comforts, Hyundai's construction equipment leads the industry with new technologies that make the operating experience more comfortable, more ergonomic and more user-friendly," said Corey Rogers, Marketing Manager, Hyundai Construction Equipment Americas. "The new Hyundai HX series excavators come packed with high-end features that are standard, not options."
Most notable is the all-new 8-inch (20.3 cm) interactive, adjustable, touchscreen cluster-monitor with haptic remote control for all major functions, easier operator accessibility and better ergonomics. The haptic remote control delivers reactive, tactile sensations using vibrations and pulses to guide the operator through menu selections.
Performance Innovations
"Hyundai excavators are known for fast cycle speeds, impressive hydraulic power and precision control," Rogers said. "The new HX series excavators take this renowned performance to an even higher level." New features include an innovative Boom Float mode for improved grading control, Fine Swing mode for improved load control when swinging, up to 13-percent faster cycle speeds than the previous Hyundai 9A series excavators, IPC (Intelligent Power Control) for computer-aided power optimization based on load demand, and Eco Breaker mode for selectable pump flow and improved fuel consumption when working with Hyundai hydraulic breakers and many other attachments.
Efficiency and Engine Technologies
The new Hyundai HX series models HX220L, HX260L, HX300L, HX330L and HX380L are powered by Cummins engines, and the larger HX480L and HX520L models are powered by Scania engines. Cummins and Scania engine technologies both achieve Tier 4 Final emissions compliance through a combination of SCR (selective catalytic reduction) and DOC (diesel oxidation catalyst) systems using DEF (diesel exhaust fluid). New Tier 4 Final engine technologies, a more efficient vertically stacked cooling design, efficient electronic fan clutch, plus many hydraulic system innovations on the Hyundai HX series excavators contribute to an overall fuel efficiency improvement of up to 10 percent compared with 9A series models.
New, Exclusive Safety Features
New safety features include Hyundai's exclusive AAVM System for 360⁰-surround virtual operating view – which displays on the 8-inch cluster-monitor. Included in this 360⁰-surround virtual operating view is the IMOD (Intelligent Moving Object Detection) system that senses and warns the operator when objects come within 16.5 feet (5 m) of the machine. On the Hyundai HX series, the cabs are all ROPS certified, and with Hyundai's optional FOG guard, the cabs also meet FOPS Level 2 standards. Other safety features include optional boom and arm cylinder locks, and an optional overload alarm.
Reliability and Serviceability
Enhanced reliability features on the HX Series include reinforced longer-life pins and bushings coupled with wear-resistant polymer shims and newly designed cab shock mounts with dual shock absorption for reduced vibration and noise, which also improves operator comfort. Serviceability enhancements include ground-level access to the fuel filter and convenient exterior access to the cab air filter. Additional guard rails provide greater safety while performing maintenance and inspections on the upper structure deck.
Company info
Related products