ICUEE 2019: What to see at the demo expo, part four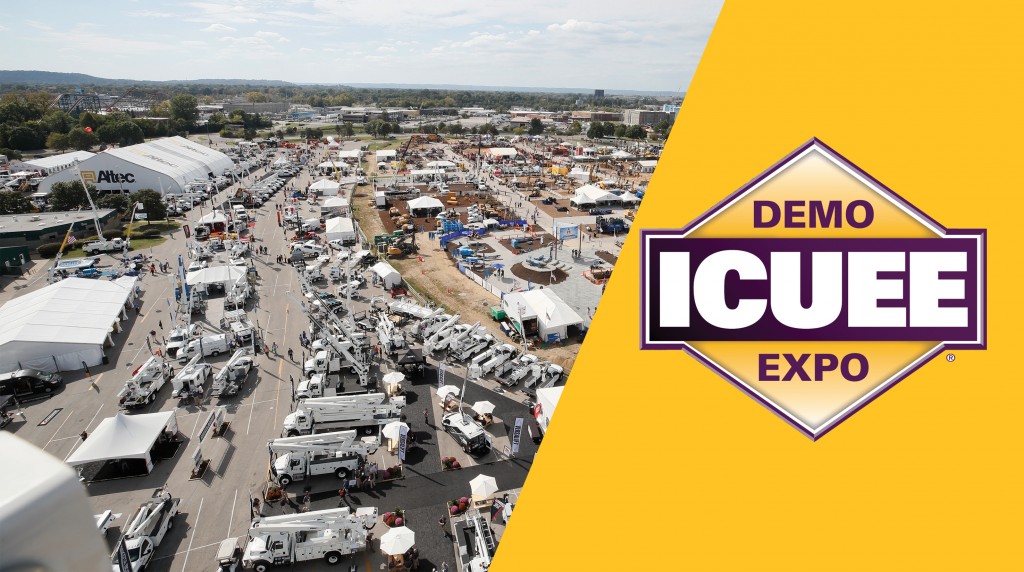 ICUEE, the International Construction & Utility Equipment Exposition, will take place October 1-3 in Louisville, Kentucky. ICUEE is the utility industry's largest trade show, covering 28+ acres of indoor and outdoor exhibits, and bringing together more than 18,000 utility professionals every two years.
John Deere Construction & Forestry

The 710L Backhoe features a 17-foot 3-inch dig depth, making it ideal for placing pipe, digging trenches, breaking up concrete or asphalt, and moving materials. The Tier 4 Final 4.5L John Deere PowerTech Plus engine provides 148 hp/110 kW. The powershift transmission enables operators to travel up to 23 mph between jobsites. The 710L cab offers plenty of legroom and a comfortable seat. The redesigned pilot towers feature fingertip electrohydraulic controls and a multifunction lever on the steering column to control turn signals, wipers and lights.
HammerHead Trenchless will conduct live Same Path gas line slitting technology demonstrations. Same Path gas line slitting technology is a tooling system for trenchlessly replacing plastic natural gas distribution pipe. Designed for use with the HammerHead HydroGuide line of cable winches, the Same Path tool string components are specifically engineered for trouble-free splitting of half-inch to 4-inch PVC, HDPE, MDPE and Aldyl-A pipe uniformly throughout the run, while limiting torque on new MDPE or HDPE replacement pipe. Since the tooling follows the existing pipe path, it reduces risk of interference with other utilities. The technique helps meet indemnification requirements of gas lines left in the ground.
The Westech Wolf non-code certified hydrovac truck is ideal for extreme conditions. The debris body is positioned on the optimal spot of the chassis to ensure the payload is proportionately distributed across all axles simultaneously, maximizing legal payload for customers and improving operational efficiency. The side-mounted water tanks reduce the weight by more than 40 percent, lowering the overall cost of the truck. The 1,500-gallon capacity ensures ample water storage capacity for large or remote jobs. A top-mounted "no-touch" water fill system is easily accessible from the passenger side of the vehicle. The debris body is lifted using a telescoping, dual-acting hydraulic cylinder capable of 36,000 pounds of force. When fully extended, the debris body exceeds a 45-degree dump angle for fast and efficient offloading. To help the offloading process, a heavy-duty, hydraulically powered tank vibrator is mounted to the belly of the debris body. A splash shield fitted to the rear of the unit directs the offloading debris.
LiuGong North America will feature its compact 9035EZTS excavator. The 9035EZTS will be joined by the 9018F and 9025F. LiuGong will also introduce the new 388B compact track loader.
The 9035EZTS excavator is the company's first zero-tail-swing model in the 3.5-metric-ton class.
The new 388B compact track loader is powered by a 94-hp Perkins 854F Tier 4 Final engine. It is a workhorse in the lineup, with a hefty 11,442-pound operating weight. In addition to these machines, LiuGong NA will introduce a range of mini excavators from 1.8 to 6 tons, some of which will be exhibited at ICUEE 2019 and the rest at CONEXPO 2020.
VMAC's 6-in-1 Multifunction Power System - CAT Power will be released at ICUEE. The company will be conducting demos.

This new 6-in-1 Multifunction combines six different power sources in one quiet machine. Powered by a CAT Industrial Diesel Tier 4 Final engine, the VMAC Multifunction - CAT Power includes everything needed for safe operations on any jobsite in a single compact system. Components include: 45 cfm rotary screw air compressor; 8 kW continuous AC generator; 250 A DC welder (adjustable); 300 A (max) @ 13 V booster; 12-48 V battery charger (adjustable); 2,800 rpm power take-off port + optional hydraulic pump; and factory-installed cold climate kit - 120 V, tested to -40 degrees F (-40 degrees C).
With noise reduction panels, low and high idle controls and Standby Mode, operators can safely communicate while working without disturbing the jobsite or the neighbours.

The VMAC Multifunction Power System allows operators to seamlessly switch between operations. This means more time working, improving productivity and getting customers back to work faster. It is designed for ease of use, to run efficiently with only one operator.

The VMAC Multifunction Power System reduces truck maintenance and improves fuel economy by allowing operators to turn their truck engine off while on the jobsite. Also, by reducing vehicle weight by up to 140 pounds, automatically idling the CAT engine up/down with air demand and turning the CAT engine off/on with air demand, the VMAC Multifunction Power System allows operators to carry more tools or equipment or improve fuel economy.
Venturo has released an advanced control system that provides safety, control and reliability for its line of fully hydraulic service cranes. The new Venturo Logic Controls (VLC) crane control management system, which will be showcased at ICUEE, provides enhanced control of capacities throughout a crane's load operation.

The brand-new Venturo Logic Controls (VLC) system is one of the most innovative customization options for Venturo Hydraulic Cranes. This crane management system provides remote operation, grade stability indications, real-time safety alerts and much more in one easy-to-use, hand-held controller. Operators have more complete, simplified control over crane movement while being able to stay ahead of instability or overload warnings. This way, loads move more quickly with fewer hands on deck.
The Robbins Company has manufactured Small Boring Units (SBUs) for over 20 years. The company says that since 1996, over 800 successful projects have been completed, and the line of machines has grown considerably. Robbins Motorized SBUs (SBU-Ms) and Rockheads are made for strict line and grade requirements. Robbins SBU-Ms have bored crossings as long as 76 m (250 feet) or more through variable ground and emerge exactly on line and grade. The Remote Controlled SBU (SBU-RC) is the ultimate solution for high-precision tunnelling at small diameter. The company's latest innovation features precision guidance and articulated steering from the surface, all in a compact package ranging from 600 mm (24 inches) to 1,100 mm (42 inches) in diameter.
Morooka America marked production of its 1,000th rubber track carrier in July, an MST2200VD rubber track dump truck. Morooka America has been manufacturing units designed specifically for the North American market since 2012.

The versatility of the MST2200VD for a variety of applications has made it the most popular model among its pipeline and construction industry customers, according to the company. Loading the MST2200 to its rated 24,255-pound capacity places just 6.5 psi on the ground.

Morooka America's rubber track carriers offer full customization. Models like the MST2200VD offer electronic control packages and Caterpillar and Kubota engines.
FAE will highlight its RC series of rock cutters for all sizes of excavators. The RC series has a high-torque output and offers high productivity in crushing rock, concrete and asphalt. These rock cutters have a direct-drive piston motor with automatic lubrication system that requires minimal daily maintenance.

Models are rated for excavators ranging from 2.5 to 70 tons with flow rates from 12 to 132 gpm.

This equipment is widely used in road construction, underground utility work, tunnelling, trenching, mining, quarrying, the oil and gas industry, and more.
The RC-25 will also be in action at the LiuGong booth.
Melfred Borzall's new feature-rich site includes tools such as a smart search bar that recognizes regional and slang terminology for tools and OEM part names making it intuitive to how drillers search. Users can shop for tooling by ground condition or rig model compatibility and receive recommendations. Individual OEM rig landing pages further narrow to display only tooling compatible with the selected rig make and model. Tooling wizards guide shoppers through selecting transmitter housings options, backreamer options and the entire FastBack System setup.
Check out more from Heavy Equipment Guide's ICUEE preview:
Company info
Related products