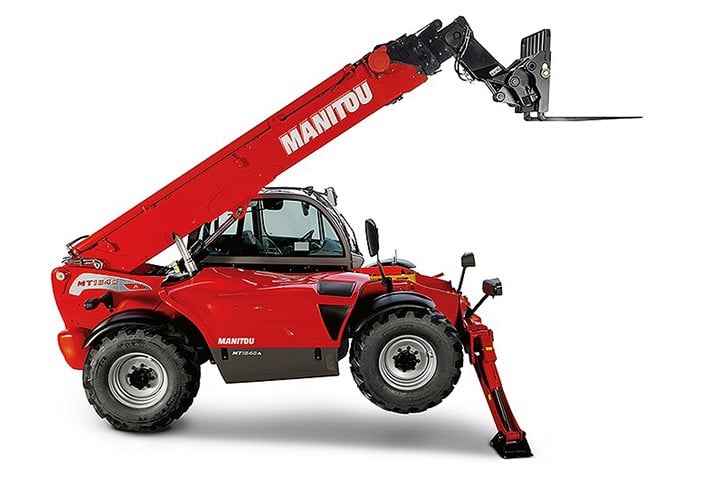 The MT 1840 telehandler is specially designed for high bay/high rise work sites, with a lifting capacity of 4 t up to 18 m in height. Equally at home on uneven terrain, it has a generous ground clearance and tight turning radius so manoeuvrability never becomes an issue. Additionally excellent lateral and front stability make it a reliable on-site partner.
Robust and design to last, this handler is equipped with a low frame steel door and quality components to ensure longevity. For easy transportability, multiple slinging points have been provided. A true multi-tasker, it can be adapted to meet all of your needs by changing the boom attachment.
Features & Benefits
Ergonomic dashboard
All the information you need: direction of travel, wheel alignment, boom angle, fuel level, hour meter etc. Stability indicator cutting off aggravating movements. You choose between a handling or suspended load mode in order to optimize your handling.
Work SIMPLY and SAFELY
Automatic Parking Brake next to the hill start assistance button. EASY CONNECT SYSTEM allowing the depressurization of the hydraulic attachment line without turning off the engine.
Good lateral and frontal stability
The excellent stability allows loads to be easily and safely placed.
Good ground clearance on stabilizer legs
Whatever the condition of the ground, the levelling of the machine on stabilizer legs is simple.
Specs
Key Specifications

| | |
| --- | --- |
| Lifting Height | 57'7" (17.55 m) |
| Lifting Capacity | 8800 lb (4000 kg ) |
| Weight (unladen) | 25740 lb (11700 kg ) |
| Power | 102 hp (76.4 kW) |