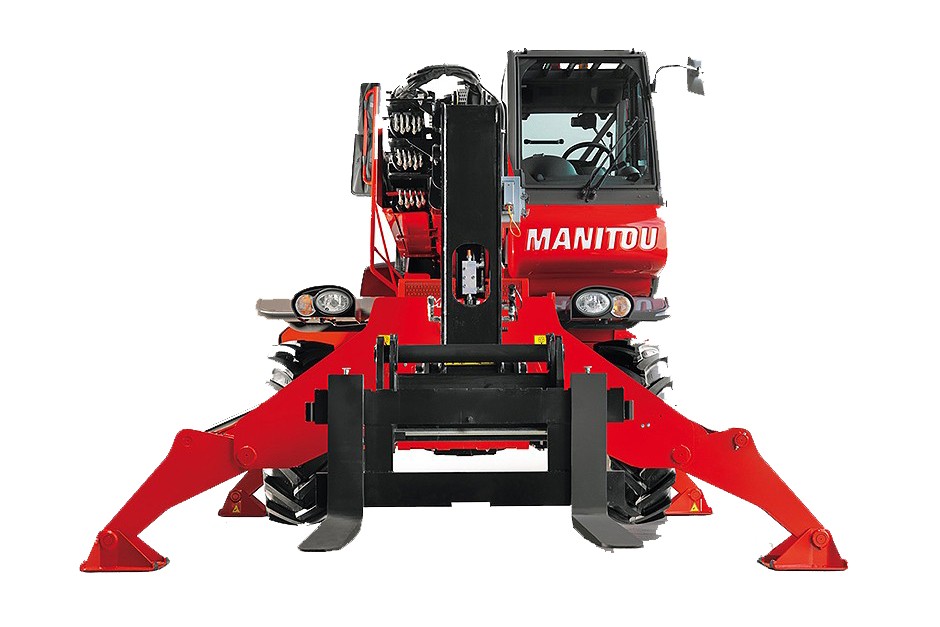 If you're after a versatile, easy to use and powerful rotating telehandler, then the MRT 1840 Easy was designed for you. Able to lift loads up to 18 m in height, it comes equipped with fixed pivot outriggers for safety and stability when performing manoeuvres, with the hydrostatic transmission providing flexible and precise movements.
Compatible with a wide range of attachments, this handler is a true multi-tool carrier and can be used in any number of construction and industrial applications. A crane, telehandler and work platform, the MRT 1840 Easy is easily three machines in one.
Features & Benefits
Lifting of heavy loads
Give your work an extra dimension: MRT Easy is a true off-road crane. With its high-capacity lifting capabilities, the MRT Easy allows you to handle heavy or bulky loads through 360°. You can work just as well on tyres or stabilizers, in total safety.
A wide range of accessories
MRT Easy can be easily and quickly equipped with essential lifting accessories: winch, jib. It allows you to optimize the organization of material distribution and all your building tasks.
Spacious and Comfortable Cab
The cab is spacious and comfortable with a wide door access and adjustable suspension seat, the dashboard is clear and concise. The ergonomically designed controls simplify the handling duties and use of the machine.
Storage of maximum movement speeds
According to the working situation and the type of work, you are able to store the maximum movement speeds of all activating parts of the boom. You store up to four sets of parameters : this allows you to maintain the safety of your movements.
Radio-control
Manoeuvre the MRT Easy by remote control, just as easily as if you were inside the cab. The radio-control option allows you to use all the hydraulic functions of the boom and turret whilst still remaining remote from the cab.
New generation stabilizers
The MRT Easy has MANITOU-designed stabilizers guaranteeing perfect stabilization, irrespective of the terrain. With their ample bearing surface (4 x 4 m), they adapt to all terrains to provide maximum stability.
Smooth hydrostatic transmission
For smooth handling. The MRT Easy has a variable flow hydrostatic pump, automatically adjusted to the variable displacement hydraulic motor. That gives you an optimum balance between speed of movement and ground clearance.
High loading capacity
360° Load Chart! The MRT Easy lifts the same load, irrespective of the position of the turret, allowing your work to progress more rapidly.
Simplified access to the principal components
The engine is mounted transverse to the chassis, allowing easy access from 3 sides. The chassis' rear cover affords easy access to the air filter and battery. Your machine's performance and service life depend on the correct maintenance of your MRT Easy.
Specs
Key Specifications

| | |
| --- | --- |
| Lifting Height | 58'9" (17.9 m ) |
| Lifting Capacity | 8800 lb (4000 kg ) |
| Weight (unladen) | 29260 lb (13300 kg ) |
| Power | 101 hp (74.5 kW) |