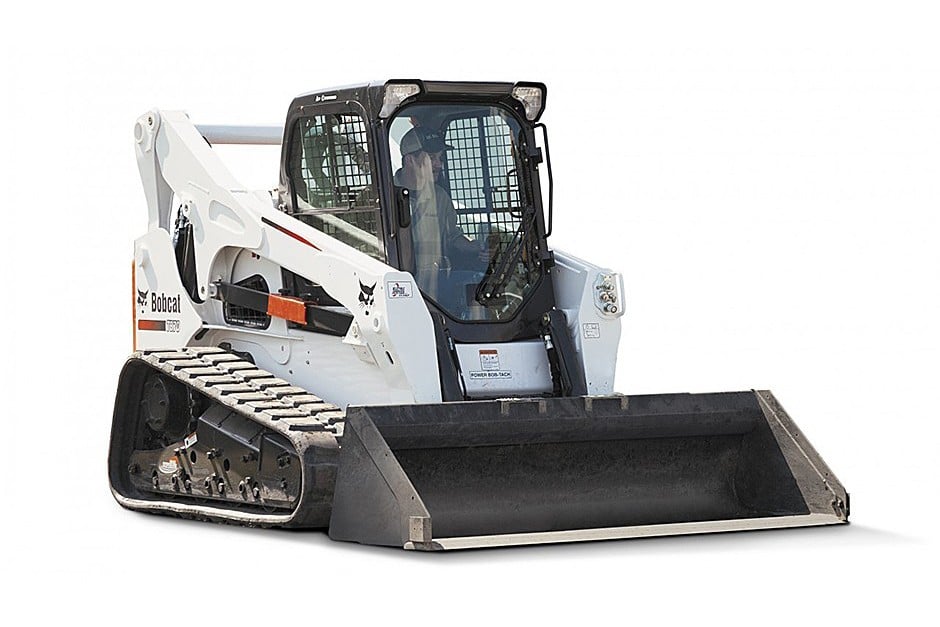 The Bobcat 800 series loader models are the largest loaders Bobcat has ever manufactured. The new compact tracked loader model T870 belongs to this new platform that is larger and longer than the current large frame loaders (T300/T320). These new loaders offer significantly improved visibility, improved pushing power, more powerful hydraulics, increased fuel capacity, best-in-class comfort, higher rated operating capacities, higher horsepower and more uptime protection and are designed especially for the highest productivity demanding applications.
Features & Benefits
Operator comfort
The threshold of the cab door has been lowered and the size of the cab door has been increased, making it easier for operators to enter and exit the cab.
Visibility
The new cab offers 30% more visibility all around the loader. The 5 cm forward positioning of the cab places the operator closer to the attachment. Forward visibility is further enhanced thanks to a 45% larger door.
Engine
Engine power has been increased by 8%. The new generation loaders are powered by the 4-cylinder 3.8 litre Kubota V3800 DI-TE3 turbo diesel engine which delivers 74 kW (99 HP) on T870 (SAE JI995 gross) at 2600 RPM.
Performance
Lift height has been increased by 12% on T870, enabling the machines to load the biggest trucks or to operate easily and more productively in tankers for ship trimming applications. Digging power has been increased by 12% on T870 (vs T320).
Capacity
Rated operating capacity has been increased by 8% on T870 (vs T320). This allows the T870 to lift and transport easily a pallet of bricks of 1.5 t or to operate the heaviest attachments of our Bobcat range like the forestry cutter.
Reliability / Durability
In general, the new 800 series design uses more parallel controlled routings and minimizes the risk of rub points between plumbing components. The components have been re-designed to allow the use of straight fittings instead of adjustable fittings.
Specs
Key specifications

| | |
| --- | --- |
| Rated Operating Capacity (SAE) | 3525 lb (1599 kg) |
| Operating Weight | 12678 lb (5751 kg) |
| Ground Pressure (Rubber) | 4.7 psi (0.32 bar) |
| Auxiliary Std Flow | 23.8 gal/min (90.1 l/min) |
| Auxiliary High Flow | 37.7 gal/min (142.7 l/min) |