Bobcat loaders get new 5-Link torsion suspension undercarriage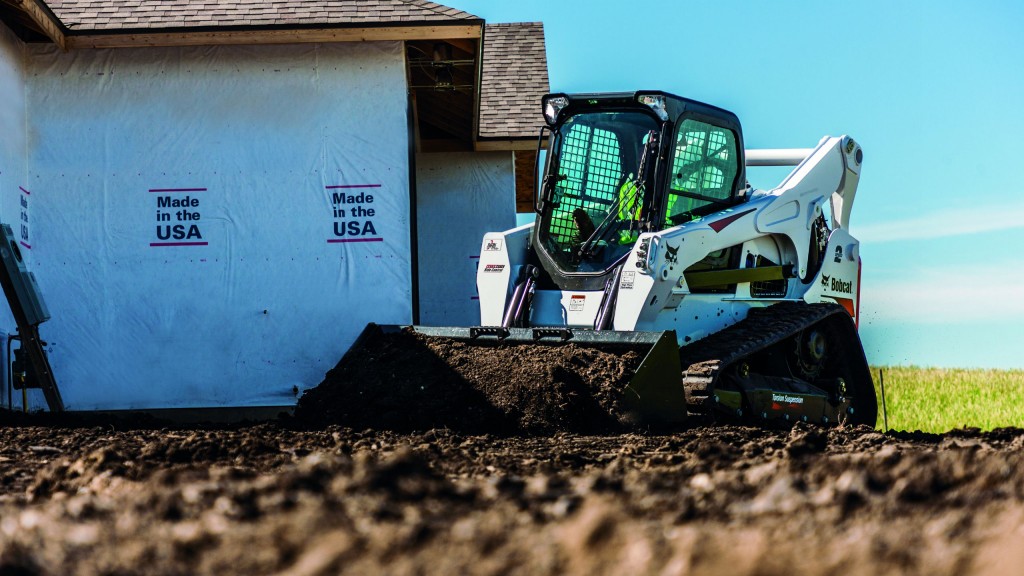 M2-Series T870 compact track loaders are the first Bobcat loaders manufactured with the new 5-Link torsion suspension undercarriage, which provides increased performance, operator comfort and serviceability.
Uptime protection is a top priority for Bobcat Company. That is why the 5-Link torsion suspension undercarriage is designed with reliable components - including a new drive motor - to ensure the undercarriage is operating properly. The undercarriage's new drive motor is easier to maintain, while the drive motor's outer bearing is more durable because it receives continuous lubrication from oil within the loader's hydraulic system. A 15 percent increase in diameter to the drive shaft inside the gearbox also increases the component's durability. For ease of maintenance, the inner gear box reservoir housed within the new drive motor is easier to flush and fill through the two service ports.
Dual flange front idlers are made with forged steel and are designed to withstand harsh operating conditions. The steel idlers guide and support the rubber tracks around the ends of the compact track loader's undercarriage. An additional fifth link on the rear axle stabilizes the undercarriage to minimize machine rocking, increases performance when grading and provides enhanced ride quality for operators.
Bobcat 5-Link torsion suspension undercarriages are designed with a solid cast spindle mount for increased durability. This design eliminates welds and distributes stress across one seamless piece that has additional metal and strength precisely where it's needed most. An inner bar in the axle system is heat-treated for maximum strength and surrounded by four rubber cords, increasing the system's longevity.
New rollers are wider to maximize their contact with the compact track loader's rubber tracks, minimize wear and deliver a smoother ride for operators. In addition, a larger rear idler positioned further back within the undercarriage provides more surface area for less wear per rotation, increasing overall component life, as well as supplying more down force to the cutting edge.
Hydraulic hoses are carefully routed and protected inside the 5-Link torsion suspension undercarriage. The undercarriage design helps keep hoses free from snags and obstacles that operators may encounter on a jobsite, which ensures uptime protection.
A new feature of Bobcat compact track loader undercarriages is an automatic hydraulic track tensioning system. No longer do loader operators need to manually adjust the compact track loader's track tension with a grease gun. The hydraulic tensioning system automatically ensures the proper track tension, thereby increasing machine uptime protection.
Bobcat lengthened the undercarriage's rubber tracks to increase surface area and ground contact, which in turn provides better flotation and improving machine performance in soft ground conditions such as sand or mud.
The 5-Link torsion suspension undercarriage is a brand-new design for Bobcat compact track loaders. The new undercarriage design significantly improves operator comfort and ride quality without sacrificing performance. Its design not only improves ride quality, it absorbs the stress and vibrations encountered on the job. Less vibration reduces machine wear and improves the machine's components life. In addition, the 5-Link torsion suspension undercarriage produces less noise and provides a quieter work environment for the compact loader operator.
The 5-Link torsion suspension undercarriage's bushings are made with high-grade, high-quality steel for added durability. Regular loader maintenance is simple thanks to five easy-to-access grease fittings. Recessed fittings are protected from jobsite objects and debris to help minimize machine downtime.
A redesigned undercarriage main frame allows operators to perform preventive maintenance easier and quicker. A horizontally mounted hydraulic track tension cylinder provides more room between the undercarriage components and the track for easier cleanout. Plus, the undercarriage is sloped on both sides to shed sand, dirt, mud and other material. Raised cutouts between the rollers allow for easier cleaning.
Company info
Related products