Forestry cutter attachment sized for production and smooth operation
New model boasts up to 17 percent more mulching production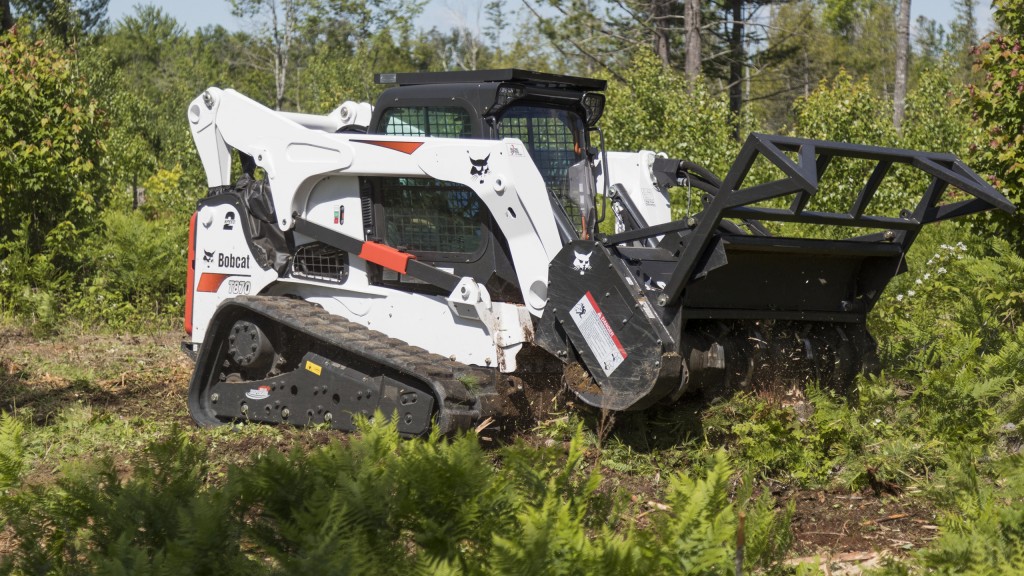 Easily rip through hard and soft woods with the new Bobcat 70-inch forestry cutter attachment. This forestry cutter model boasts up to 17 percent more mulching production, allowing for greater production in less time.
The 70-inch forestry cutter is approved for use with M2-Series compact track loaders — T750, T770 and T870 — and the S850 skid-steer loader. An additional 400-pound counterweight is required when using the 70-inch model with T750 and T770 compact track loaders. Approved skid-steer and compact track loaders require high-flow auxiliary hydraulics to operate the attachment.
Similar to the 50- and 60-inch models, the 70-inch forestry cutter attachment is easy to operate and can efficiently turn trees and underbrush to mulch. When the attachment is tilted forward, the material is thrown against the counter combs that reduce the wood to fine mulch and provide wear protection for the rear of the housing. An optional front gate can be lowered if the operator needs finer mulch.
While high-flow auxiliary hydraulics are required to operate the new 70-inch forestry cutter, the tube-style drum and spiral tooth pattern allow one tooth to engage at a time for smoother operation while using less horsepower. In addition, the forestry cutter comes standard with 2-Speed travel for increased drum torque and improved productivity.
This model also features an adjustable push bar featuring three positions to accommodate the operator's preferred setting. The gathering feature pulls brush and trees toward the center of the drum for more efficient operation.
The double-tipped carbide teeth efficiently rip through trees and underbrush, providing long life and uptime protection for the attachment. A low number of forestry cutter drum teeth allow operators to reduce teeth replacement costs and ensure faster knockdown of trees.
A forestry applications kit must be installed on the loader to operate the forestry cutter attachment. The exclusive forestry door with ¾-inch laminated polycarbonate is necessary to operate the forestry cutter attachment, helping protect operators from flying debris and other objects.
Company info
Related products