2020 Annual Attachments Guide: Demolition Tools
NPK
These concrete crushers are designed to effectively handle any primary and/or secondary demolition and recycling operation.
• Models for use with excavators in the 21 - 50 ton range.
• Abrasion-resistant, high-strength,alloy steel teeth decreases wear and increases durability.
• Optional 360 degree power rotation for maximum versatility.
• Exclusive hydraulic intensifier system provides faster cycle times compared with units using larger cylinders.
• Bolt-on replaceable tooth plate on the movable jaw.
• "A" models also utilize bolt-on tooth plate on the fixed jaw.
LaBounty
LaBounty's Multi-Jaw Demolition Tool (MRX) is designed for efficient downsizing and is equipped with 360-degree rotation for both primary and secondary demolition and offsite concrete processing.
• Short centre of gravity for optimal control and maneuverability.
• Interchangeable jaw with options for a concrete pulverizer, concrete cracker, or shear.
• Open lower jaw, which improves penetration and rapidly downsizes material; wide jaw for efficiency.
• Dual rotation motors with superior holding power and durability.
Gensco
The RS and RSM Series has been designed to handle C&D, rocks, structural scrap, demo debris, loose bundles or oddly shaped material.
• Full 360-degree rotation, dangling adaptor or flex mount 2-Pin quick attach interchangeable hydraulic coupler.
• Powerful, optimized and custom shapes enable any application or material.
• Optimized and protected cylinders with breaking system or thousands of cycles.
• Easily changeable shovel or digging tips for increased productivity and less downtime.
• Optional 24 or 230V DC Electro-magnet installed.
Epiroc
The CB 5500 and CB 7500 are designed for carriers in the 50 to 85 tons weight class, offering cracking forces of 150 tonnes and 190 tonnes, respectively.

• Jaw openings are 1,600 mm and 1,800 mm.
• Ideal for demolishing thick foundation walls, as well as cracking girders and heavy concrete at extreme heights.
• Two powerful hydraulic cylinders deliver virtually continuous closing force.
• Integrated speed valve gives faster working cycles.
• Two independently moving jaws eliminate displacement force.
• Can be used in residential areas where hydraulic breakers are not permitted.
BTI
BTI's MCP-IT fixed head hydraulic pulverizer is designed for secondary demolition.
• Quick cycle times and strategically placed teeth for fast fragmentation and separation of rebar from the concrete.
• Unique speed alternates between power and speed, depending on the load.
• Openings of the fixed body make the unloading of demolished material easier.
• Jaw design increases the life span with a simple tooth replacement to bring the tool back to original specification.
Kinshofer
The DXS50 mobile shear has been engineered to deliver maximum force, excellent speed and the lowest weight ratio.
• Can be used for a wide variety of tasks including demolition, scrap processing and tire recycling.
• Equipped with DemaPower 2.0 hydraulic cylinder technology, delivering 25 percent more power than conventional cylinders of the same size, yet with faster cycle times.
Genesis
The Razer X Multi-Jaw Demolition Tool (GRX) enables excavator operators to change jaw sets in less than two minutes, without leaving the cab.
• Hydraulic pin engagement and removal for faster and safer jaw changeouts.
• Available in cracker, shear and pulverizer jaw configurations.
• Heavy-duty pivot design is integral to the jaw set, providing a power curve to match the jaw's primary application.
• Reverse-mounted cylinder protects the rod from debris.
• Short, flat-top head with bolt-on bracket shortens the centre of gravity, making it easy to change mounting for different carriers.
Related Articles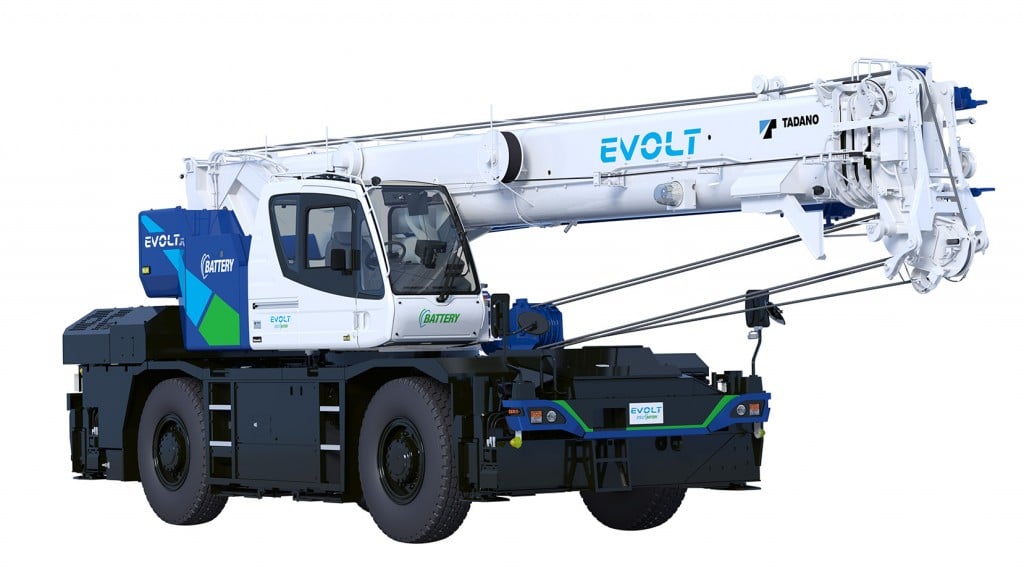 (VIDEO) Fully electrified rough-terrain crane from Tadano enters Japanese market