2020 Annual Attachments Guide: Site Prep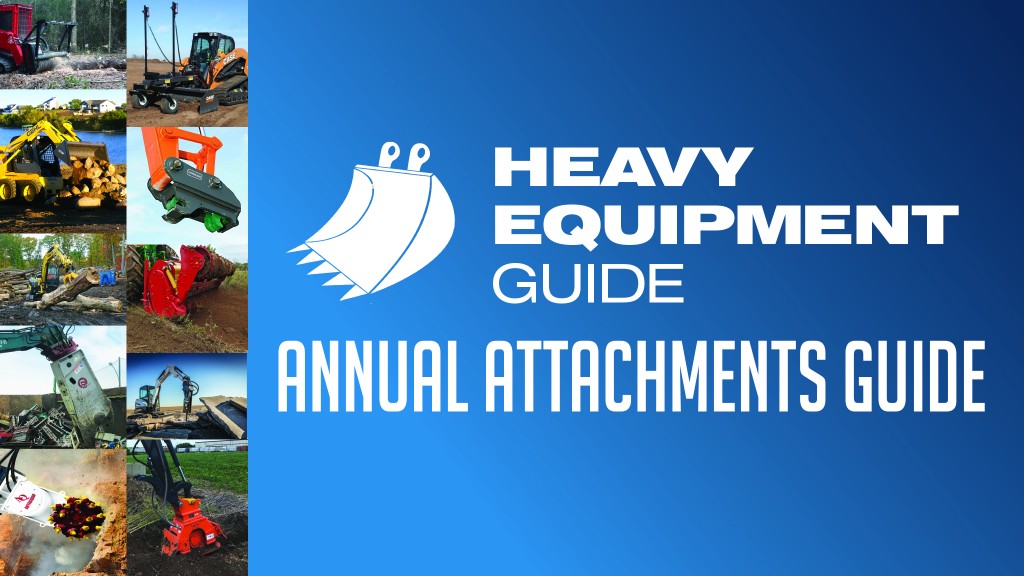 ForSite International
The SharpGradeX is a clip-on attachment that turns an excavator into a fully automated grading machine.
• Automatically controls elevation and cross fall; operator only controls the stick position.
• Does not require complex excavator machine control.
• Automatically grades within +/- 6mm (1/4 inch) in 2D and 3D.
• Can be controlled by Laser, Total Station or Sonic tracker.
• For 3- to 12-ton machines.
• Ideal for paving, landscaping and concrete preparation.
Paladin
MX Series brush cutters are compatible with 3- to 8-ton-class mini excavators.
• Solid-formed T1 steel deck and reversible AR400 cutting blades.
• Efficiently processes brush and trees up to 6 inches in diameter.
• Heavy-duty hinged debris shield retracts when the head is engaged with trees and brush, exposing the blades and allowing for aggressive cuts at maximum blade engagement.
• Automatic hydraulic braking stops blade rotation 10 to 15 seconds after the machine is turned off.
• Direct-drive hydraulic motor with heavy-duty bearing housing.
Case
Ideal for concrete subgrade, athletic fields, parking lots, driveways and other fine-grading applications, the Case laser grading box for skid steers and compact track loaders creates highly precise finish grades to within 1/10 inch.
• Push-pull design with reversible cutting edge on all sides.
• Hydraulic valve system adjusts grading box, providing operators with smooth and accurate performance.
• Universal skid-steer mount compatible.
• Available in 72-, 84- and 96-inch configurations.
• Single- or dual-mast options.
Indeco
The new IMH Series of hydraulically driven, boom-mounted mulching heads are specifically designed for a broad range of land clearing, site preparation, invasive vegetation species management, storm damage removal and clean-up applications.
• Fits carriers from 5 to 45 tons.
• Direct drive and belt-driven models available.
• Single-piece shaft and severe-duty bearings for maximum reliability.
• Interchangeable mounting brackets for any excavator application.
• Single person/machine operation for reduced processing costs.
• Can be used on multiple machines.
Tigercat
The optimized 568 harvester head hydraulics maximize performance and efficiency, while robust, high-quality components provide long-term reliability.

• Timed knife arms and triangulated wheel arms allow the operator to pick quickly from the pile and to maintain positive tree contact when feeding.
• Floating front knife and fixed back knife ensure good delimbing.
• Single- or dual-track measuring wheels with a horizontally pivoting trailing-arm design, along with priority-flow length measuring, provide length accuracy.
• 4WD - 2WD auto-shift drive system provides extra power and positive grip when feeding large trees, fast speed in smaller trees, and full manual control when needed.
Prinoth
The RF800 is available for PTO tractors from 200 to 360 hp.
• Applications include fire breaks, roadbuilding, turning forest into fields and crushing stones.
• Patented UPT rotor provides low operation costs.
• Gearbox and belt cooling system provide higher horsepower and longer lifetime on wear parts.
• Includes a W-Kinematic patented gearbox synchronizer system.
Seppi
The Midisoil dt differs from typical wood mulchers or stone crushers in that it has a new gearbox with 2SPEED transmission. This makes it possible to use a higher rotor speed for wood and a slower speed for rocks and soil.
• Lightweight construction - housing with replaceable Hardox wearplates.
• High performance with minimal power consumption.
• Hydraulically adjustable hood.
• Adjustable blow bar and crushing grid.
• Hydraulic compacting roller.
ForSite International
The TurfGrader is a clip-on attachment for SharpGrade Levelers allowing simultaneous power raking and levelling on grade. The power rake connects to the front of the grading box, and can be set to 60 mm (2 inches) below grade to 200mm (8 inches) above grade.
• Follows the contour set by either 2D or 3D control
• Can operate forward and reverse.
• Built tough to handle aggregate, compacted and contaminated soil, with tungsten teeth.
• Drum is directly driven, with no chains or sprockets.
• All bearings are triple sealed and lifetime lubricated.
Fecon
The Blackhawk knife-tool mulching head quickly and efficiently shreds standing vegetation and processes material on the ground.
• For skid-steer and compact track loaders with hydraulic flows of 27 to 45 gpm.
• Features 30 knife tools and has a 76- inch cutting width.
• Most of the finely chipped material is broadcast forward of the rotor to minimize re-processing.
• Elimination of 90-degree bends reduces heat buildup in hydraulic fluid.
• Adjusting hydraulic displacement of the motor to match hydraulic flow supplied boosts the rotor performance and efficiency.
John Deere
New grade-control-ready Level Best Dual Mast PD Series box blades will improve productivity on John Deere skid steers and compact track loaders. They are designed to take advantage of the push-pull directional work style of skidsteer loaders for maximum production.
• Push-pull design moves the material for fine grading.
• Two cylinders provide cross-slope operation.
• All cutting edges are reversible.
• Convex mirror allows material visibility.
• Foam-filled tires on oscillating axle.
• Universal skid-steer compatible mount improves versatility.
• Two, 1-1/2-inch diameter mast poles.
Loftness
The L Series Battle Ax horizontal drum mulchers are designed for standard-flow skid steers with 16- to 30-gpm hydraulic flow ratings.
• Available with 51- and 61-inch cutting widths.
• New rotor design features built-in depth gauges, which function similarly to raker teeth on chain saws to prevent the attachment from engaging too much material at one time.
• Two-stage cutting chamber allows material to be cut twice by the rotor for small particle size.
• Primary shear bar is adjustable for customizing particle size.
Prinoth
The M450s-1900 is a compact and powerful head for a diversity of mulching applications for the compact loader segment or other hydraulic-driven carrier vehicles from 80 to 150 hp and a volume flow between 26.4 and 52.8 gpm.
• The lightweight head (2,668 pounds) provides added safety and no roll off.
• Achieves the lowest operation costs due to less wear part costs and longer lifetime.