The top construction equipment introductions in 2019, part two
Heavy Equipment Guide's picks for the most exciting new entries into the market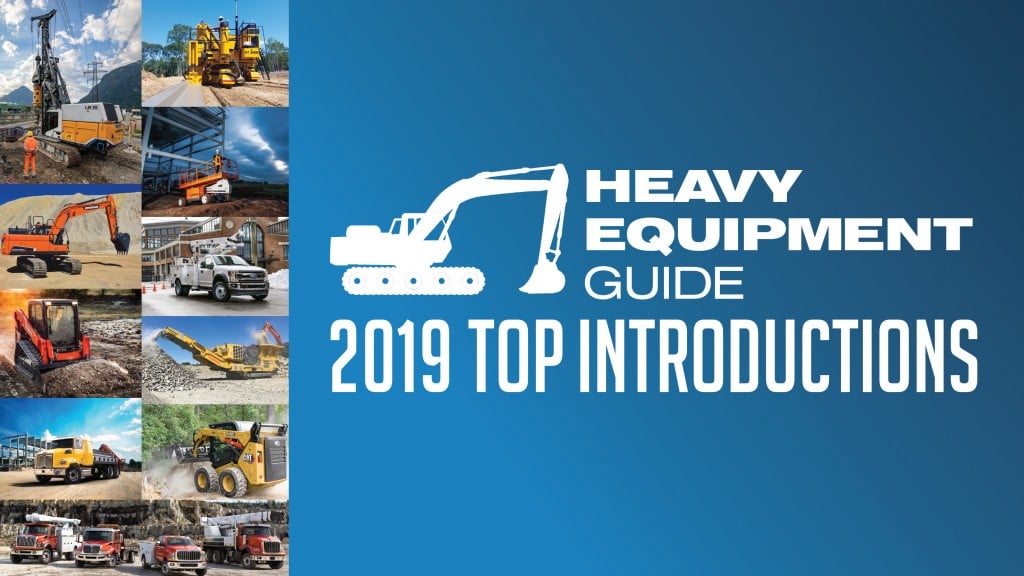 As 2019 is closing out, we've dug back into our year of coverage and picked out 33 exciting products or product lines that best represent new entries into the industry this year. These cover a cross-section of earthmoving, roadbuilding, aggregates, lift, trucking, technology and more.
Read on to find out our picks for the Top Introductions in 2019, and we look forward to bringing you more of the latest equipment news in 2020.
Lee Toop, Editor
Kaitlyn Till, Managing Editor
Ford F-600 Super Duty Chassis Cab
A surprise release at the 2019 Work Truck Show, the F-600 is a designed-from-scratch medium-duty truck aimed at bridging a size gap between small and large chassis cabs. Ford targeted a truck with the capability of a Class 6 vehicle while keeping it in the Class 5 size range. Customers are able to haul a payload that includes all of the tools they need on the jobsite in a smaller overall vehicle. Ford achieved this using upgraded chassis and driveline parts, higher-weight-rated tires and wheels and other tweaks allowing it to reach that higher GVWR. Orders will be opened in early 2020.
Wirtgen Tracked Cold Recycler
There's been tremendous growth in interest for cold asphalt recycling, and tracked cold recyclers like Wirtgen's W 380 CRi are at the forefront of this revolution. This new machine offers working widths of 3,200, 3,500 and 3,800 mm, and can cut from 100 to 300 mm deep. It granulates the material being removed, adds binding agents, and produces a new, homogeneous material that - with a mixing capacity of up to 800 tons per hour - can be moved to a Vögele paver through a swivel-mounted, height-adjustable discharge conveyor at the rear of the machine. That versatility makes it possible to pave long stretches of road in a day's work.
Kubota Compact Track Loader
Kubota's latest track loader treads lightly with rated operating capacity of 2,100 pounds at a 35 percent lift or 3,000 pounds at a 50 percent lift. The 68-hp SVL65-2 is the lightest-weight model in Kubota's compact track loader lineup, positioning the machine as an ideal choice for smaller workspaces in construction and landscaping applications.
Volvo Excavator
Not too big, not too small – the EC200E brings Volvo Construction Equipment customers a new option in the 20-ton class, a class size that the company has not occupied previously in the North American market. Designed for light- to medium-duty, the EC200E is small enough for transportation without additional permits, and features an attachment management system allowing presets for up to 20 attachments. It's also equipped for quick couplers and offers auto idling, auto engine shutdown and ECO mode for increased fuel efficiency. Integrated work modes include engine rpm and hydraulic flow on a single dial for easy power and controllability balancing.
Topcon Automated System for Excavators
Automated excavator operation has become more popular recently, and Topcon has brought forward its own 3D aftermarket approach. The X-53x uses the same components as the original system, but adds hydraulic, automated control of depth and bucket angle. Fingertip operation allows the system to dig to grade in flat, stepped or sloped applications with reduced operator fatigue. Calibration uses a total station that talks to the system wirelessly, removing the need to type in manual values. Upgrading from 2D and 3D systems to fully automatic is easy.
Caterpillar Loaders With Smart Attachments
The adage work smarter not harder applies to Caterpillar's new D3 series skid-steer and compact track loaders. The line includes 16 models and Caterpillar has focused on its attachment solutions that make these machines ready to take on a variety of applications. New Smart Attachments technology on these loaders automatically sets machine controls to the needs of the attachment. This range of loaders includes high-performance XE models for the most demanding applications and a land management version of the 299D3 XE model.
Prinoth Panther
The Panther T7R is clawing out some new space for Prinoth in the tracked carrier market with new design and engineering from the ground up. Lower cost of ownership pairs with power and capability in this new machine, which also boasts speed that Prinoth says will leave the rest of the industry in the dust; all in all, the company says this machine will give users a 31 percent boost in overall productivity. At under 2.5 metres in width, the T7R is designed to make transportation easier, and its fuel economy allows for a full day's work without refuelling.
Somero Sky Screed
Somero is rising to the occasion with its Sky Screed 25, which the company says is the world's first knuckle boom laser screed machine to allow screeding on high-rises or slab-on-grade applications. An articulating knuckle boom provides versatility, the lower frame is held by three stabilizers while the upper frame and screed head can rotate 360 degrees, allowing it to screed around columns and other obstacles. An augerless screed head allows screeding in any direction, and a powerful vibrator motor consolidates the concrete.
Check out part one here.
Check out part three here.
Check out part four here.

Company info
Related products