The top construction equipment introductions in 2019, part three
Heavy Equipment Guide's picks for the most exciting new entries into the market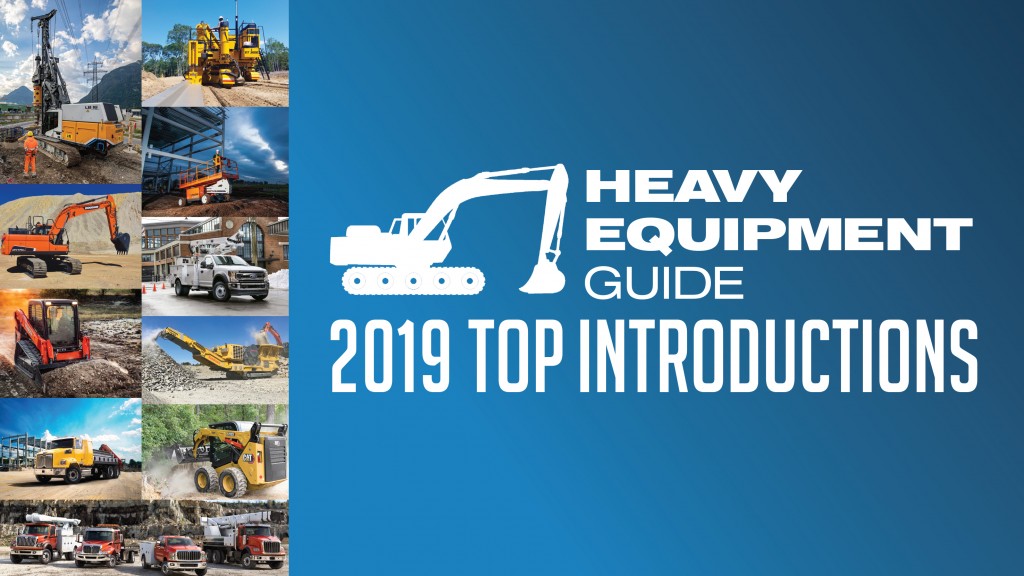 As 2019 is closing out, we've dug back into our year of coverage and picked out 33 exciting products or product lines that best represent new entries into the industry this year. These cover a cross-section of earthmoving, roadbuilding, aggregates, lift, trucking, technology and more.
Read on to find out our picks for the Top Introductions in 2019, and we look forward to bringing you more of the latest equipment news in 2020.
Lee Toop, Editor
Kaitlyn Till, Managing Editor
Western Star Vocational Truck
Already known as a workhorse in the industry, the 4700 from Western Star had new enhancements presented at World of Concrete 2019 targeting more productivity, easier upfitting and added safety, among other things. Owners can spec the new lightweight Cummins X12 engine, which cuts up to 600 pounds – meaning more carrying capacity. Front- and rear-engine PTO offerings add more options for upfitting, as well. Western Star now offers the Detroit DT12 automated manual transmission, as well; this offers creep mode, hill start aid and other features that provide a smoother ride while reducing driver fatigue.
Keestrack Jaw Crusher
The atmosphere was electric at bauma 2019 as Keestrack introduced its new flagship jaw crusher model, the B7e. A 700-tph machine, the plant is only available as a plug-in hybrid. The crusher is driven by a 132-kW electric motor, while a 55-kW motor provides power for the hydraulics on the tracks, lifting cylinders, vibrating feeder with two-deck pre-screening and conveyors. A 285-kW Volvo diesel engine and 330-kVA generator deliver power; the engine can be detached and set clear of the machine. In plug-in operation, run from mains or external gensets, the B7e saves up to 80 percent in energy costs, Keestrack says.
Mecalac Swing Loaders
Mecalac put on a show of its new swing loaders' multitasking prowess at bauma this year – these loaders can simultaneously drive, maneuver and pivot, which the company says is the key to their productivity. Mecalac swing loaders have a one-piece frame, three steering modes and a 180-degree swivel arm. They can perform a complete rotation on a footprint that is 20 percent smaller than that of a conventional loader. Mecalac says that a conventional loader needs 10 metres of footprint to load a truck, while its swing loaders only need 5 metres.
Takeuchi Compact Excavator
Takeuchi introduced a 5-ton excavator emphasizing this machine as an attachment platform. The primary auxiliary circuit on the TB250-2 delivers 24.2 gpm for a variety of hydraulically driven attachments and its long arm with integrated thumb mount can dig to a depth of 12 feet 4.8 inches. Takeuchi's telematics system comes standard and the company says that the operator will be more productive and more comfortable in the spacious cabin.
Snorkel Electric Sigma Lifts
Snorkel's two new lithium-ion-powered Speed Level sigma boom lift models deliver quiet, emission-free operation. A variety of battery configurations are available including a high-capacity pack to take these machines long-distance and to tunnel work. Snorkel says that these models are 60 percent quieter than their diesel equivalents and they can be fully charged in under six hours. Maximum platform height is 8 metres on the SL26RTE and 9 metres on the SL30RTE.
Mantovanibenne Combi Cutter
If an attachment can qualify as a celebrity, the Mantovanibenne CC65R combi cutter might fit the bill. This attachment designed for large-scale demolition is used by Priestly Demolition on their TV show Salvage Kings and had a starring role in the demolition of the old Toronto SickKids building. The design combines features of both crushers and shears. The crusher features powerful cylinders and a twin pin system that contributes to breaking and cutting force. The jaws incorporate sharp shear-shaped blades for a clean, controlled cut. The speed valve on this combi crusher reduces the opening and closing time significantly helping to boost productivity.
Bobcat's Largest Excavator Ever
The E145 is a 14-metric-ton beast – a significant introduction from Bobcat that takes the company closer to offering a mid-size-class machine. This excavator has a turbocharged non-DPF engine, which Bobcat says provides consistently high torque levels, regardless of elevation. This excavator's heavy digging and lifting capability are designed for commercial and residential building sites, underground utility applications, and road and bridge projects. The E145 has four selectable power modes and can be equipped with a dozer blade.
Case Vibratory Rollers
Case rolled out a new series of small-frame vibratory rollers for small- to mid-size paving applications. The new models include both double-drum and combination roller configurations and are ideal for applications such as tight quarters, curbs, structures and where the operator must work around other obstacles. These rollers have selectable dual frequencies (3,480/3,960 VPM), drums can be offset, and the workstation is adjustable to give the operator a clear view to the drums.
Check out part one here.
Check out part two here.
Check out part four here.

Company info
Related products