The top construction equipment introductions in 2019, part four
Heavy Equipment Guide's picks for the most exciting new entries into the market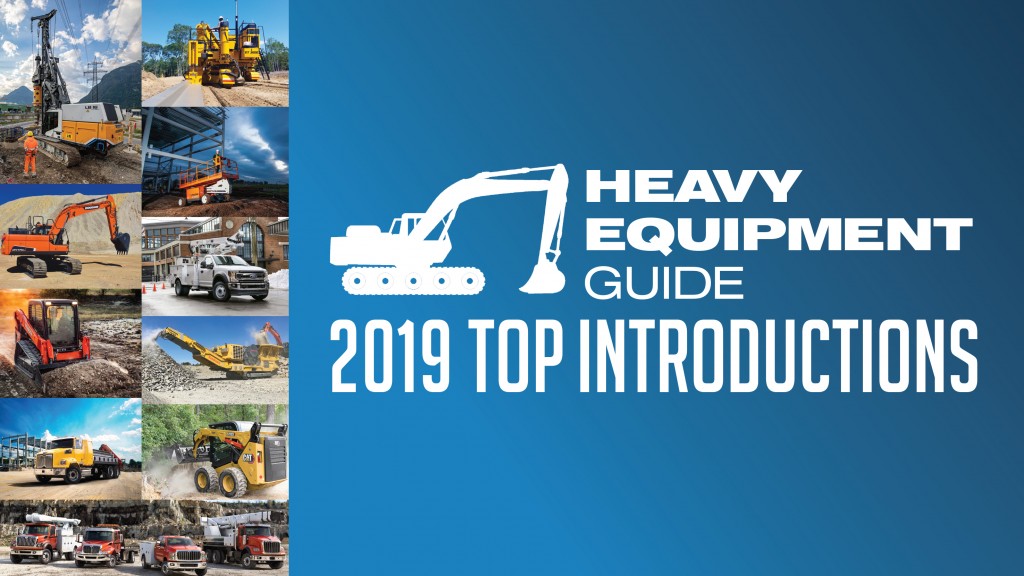 As 2019 is closing out, we've dug back into our year of coverage and picked out 33 exciting products or product lines that best represent new entries into the industry this year. These cover a cross-section of earthmoving, roadbuilding, aggregates, lift, trucking, technology and more.
Read on to find out our picks for the Top Introductions in 2019, and we look forward to bringing you more of the latest equipment news in 2020.
Lee Toop, Editor
Kaitlyn Till, Managing Editor
John Deere Dozer
For pushing dirt – lots of it – the John Deere 850L dozer offers plenty of pushing power in a new, heftier package that follows on from the company's popular K-Series. With 225 hp, a 10 percent boost from the previous model, the 850L has what Deere says is the highest horsepower in its size class. At the same time, the Eco mode feature cuts fuel consumption by 20 percent without cutting performance. The dozer is available with a 172-inch Power Angle Tilt blade, which adds to the machine's performance capabilities. An eight-roller design with 130 inches of track on ground boosts productivity, stability and gradeability.
Manitou Straight-Boom MEWPs
Manitou first introduced MEWPs to North America in 2018 and in 2019 upped its offering by introducing four new ANSI/CSA-ready straight-boom models. These booms range in lift height from 64 feet 9 inches to 84 feet 6 inches and have a front oscillating axle. Features include smooth platform operation, three steering modes and the ability to make four simultaneous movements. A Kubota 49.6-hp diesel engine powers all four models.
Skyjack Rough-Terrain Scissor
Skyjack reached new heights in the scissor category when it introduced its largest rough-terrain scissor lift ever this year; the SJ9253 RT has a working height of 59 feet (17.98 m) and is the first model in Skyjack's new range of RT scissors. The company intends to launch an even larger model, the SJ9263 RT, with a working height of 69 feet (21.03 m) by the end of 2019. These scissors were designed to meet new ANSI/CSA standards.
Kobelco Excavators
Kobelco kicked off the newest generation of its SR Series excavators with the release of the SK75SR-7 and SK85CS-7 mid-size machines. The company says these machines offer full-size benefits with short rear swing capabilities. Compared to previous models, these two machines offer a 37 percent increase in digging speed, and reduce cycle times by around 15 percent. A new Tier 4 Final engine bumps power output up by around 28 percent to ensure superior productivity and efficiency. Enhanced multi-function capabilities include an attachment selection system with adjustable flow-rate presets, allowing operators to quickly change between tools.
Komatsu Motor Grader
Komatsu put its best effort into allowing operators to use less effort when running its new GD655-7 motor grader, offering a new, ergonomic working environment and spacious cab. The machine features a slightly smaller "right-sized" steering wheel for more visibility and operator room, making roading easier. A new steering lever allows the operator to keep their hands on the low-effort work equipment levers and still make small steering adjustments. Multi-position armrests and consoles with power raise/lower make adjustments for operator comfort easier.
JCB Tracked Backhoe
JCB's 1CXT is the only backhoe making tracks in North America. Ideal for rental, utility, landscaping and construction applications, the 1CXT has a small footprint at less than 6 feet wide and 12 feet long that gets it into tight jobsites inaccessible to conventional backhoes. The 1CXT's universal quick hitch is compatible with skid-steer attachments and this machine offers 24.6 gpm (100 l/min) hydraulic flow capable of powering high-flow attachments. Transport weight is under 9,600 pounds and loader bucket breakout force is up to 5,180 lbf (2,350 kgf) and maximum dig depth is 10 feet 1 inch (3.08 m).
GOMACO Curb and Gutter Machine
GOMACO brought enthusiasm to curbing at World of Concrete, showing off the Xtreme package on its GT-3600 three-track curb and gutter machine. The new features add G+ radius software with slew drives, smart-sensored hydraulics and intelligence to the first three-track machine to slipform a 24-inch radius. Rotary-sensored slew drives, sensored all-track steering and positioning and smart hydraulic sensors allow the machine's tracks to rotate further than ever before, all while keeping track of the exact position for fine steering adjustments.
XL Plug-In Ford F-250 Super Duty
Hybrid electric vehicles are growing more popular, and XL is helping that along with its plug-in pickups. The company introduced its PHEV Ford F-250 Super Duty at the NTEA Work Truck Show. The XLP F-250 will, according to the company, provide up to a 50 percent improvement in miles per gallon while cutting greenhouse gas emissions by 33 percent during normal operation. Packing a high-voltage lithium-ion battery compatible with Level 1 and 2 charging stations, the truck also charges using regenerative braking, with that energy put back into the drivetrain through an electric motor that helps.
Vermeer Pile Drivers
Vermeer's PD5 and PD5R pile drivers are compact, lightweight machines designed for efficient operation and easy transportation. These pile drivers are ideal for smaller solar installation projects, congested jobsites and civil fencing and guardrail installation applications. Both are powered by a 49-hp CAT engine. The PD5R features a full-function wireless remote control. An optional laser receiver or third-party GPS system can be used with these drivers to ensure accurate installation.
Check out part one here.
Check out part two here.
Check out part three here.

Company info
Related products