Engine report: Diesel power driving innovation forward
From pairing with electric vehicle platforms to preparing for Stage V, diesel engine manufacturers are finding innovative ways to improve and expand their offerings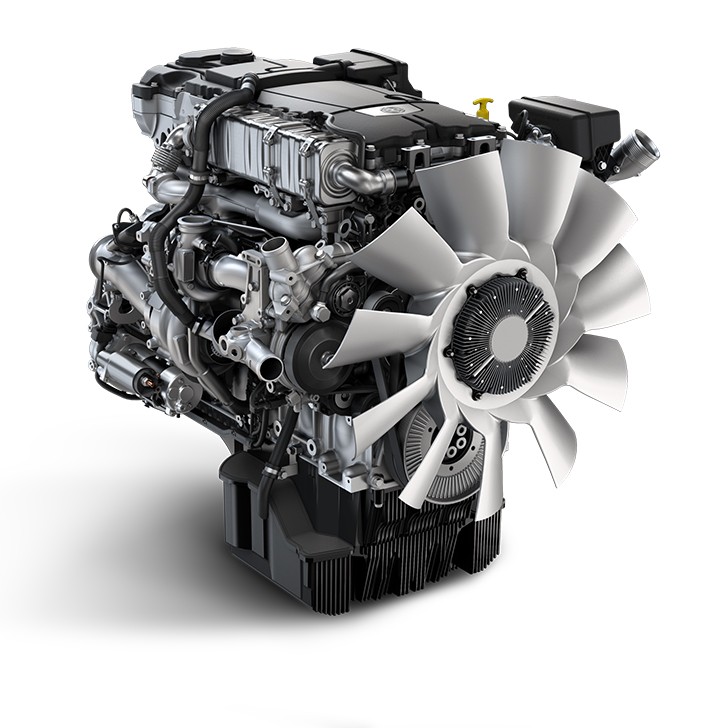 With Tier 4 Final emissions standards firmly in place and EU Stage V standards a year or so off, the diesel engine industry has been busy focusing on specific applications and looking toward the future for 2018. Heavy Equipment Guide provides a look at what the diesel engine industry is working on, introducing or focused toward to start 2018.

Vocational truck engines introduced by Detroit Diesel
Vocational truck users have a new option thanks to Detroit, which started production on the new DD8 diesel engine in February. The engine is intended to complement the existing DD5 and serve the medium-duty and vocational truck market, according to the company.

"Based on the initial orders we are seeing – which have exceeded our expectations – it's clear by providing our customers with a variety of engine choices, they have already embraced the dependability, serviceability and efficiency found in the high-quality products expected from Detroit," said Scott Kuebler, general manager, Component Sales.

The DD8's maintenance intervals are up to three times longer than competitive engines, Detroit states. One of the features designed with the vocational market in mind is variable exhaust cam phasing, used at low engine speeds to increase exhaust temperatures and increase uptime by reducing the need for manual regenerations. The DD8 also has an impressive B10 life of 400,000 miles, backing the company's commitment to delivering a robust and reliable product to this market.

Available for Freightliner M2 106, 108SD and 114SD truck models, the DD8 engine is ideal for segments such as construction, dump, mixer, towing and recovery, pickup and delivery, plow, refuse, and fire and emergency.

"The DD8 is built for performance with features that meet the needs of those specialized segments," said Brian Daniels, manager, Detroit Powertrain and Component Product Marketing. "Additionally, a big differentiator for the Detroit brand is the Detroit Connect Virtual Technician remote diagnostics system which is available as standard on both the DD5 and DD8 engines. Virtual Technician helps fleets make informed service decisions within minutes of an engine or aftertreatment fault event, increasing uptime."

Perkins brings largest of Syncro line to North American buyers
The recent World of Concrete trade show provided the launching point for Perkins' new Syncro 3.6-litre engine, the largest in the Syncro line, to North American buyers.

The Perkins Syncro 3.6-litre engine provides up to 134 hp. All Perkins Syncro engines are U.S. EPA Tier 4 Final and EU Stage V certified. And they are also "good to go" in lesser-regulated countries, too, thanks to a common core.

"Perkins is globally prepared with the Perkins Syncro 3.6-litre engine," said David Nicoll, Director of Marketing & Dealer Operations. "Our engine is modular, which enables original equipment manufacturers (OEMs) to meet all global emissions standards from one core platform, including U.S. Tier 4 Final, EU Stage V, Tier 3 for lesser regulated areas, and beyond. This enables OEMs to design their machine once, for multiple territories, saving valuable development expense.

"It's also designed for OEMs with tough applications in mind – and it allows them to downsize their machine's engine space at the same time adding efficiency. Taking advantage of electronic turbocharging ensures the Perkins Syncro 3.6-litre responds faster when the operator requires extra power and torque on the jobsite."

Nicoll added that the engine is already running with a number of European Stage V as well as North American OEMs in prototype stages.

Cummins explores electric vehicle platform with diesel generator
As engine technology develops and the industry moves steadily toward incorporating more electrification, Cummins is developing ways to blend diesel power and electric operation, even as it rolls out its EU Stage V–certified engines. At Intermat this April, Cummins showed an electrified drivetrain that features a combination of battery and diesel power sources.

The Cummins range extended electric vehicle (REEV) platform combines battery power with a compact engine-generator, using a 4-cylinder Stage V F3.8 engine. It is designed to replace a standard driveline using larger Cummins or competitive diesel engines up to 9 litres capacity for applications from wheel loaders to mobile cranes, terminal tractors to excavators. The system uses a high-efficiency traction motor providing continuous torque of 1,850 Nm, eliminating the need for gear shifting and dramatically reducing powertrain noise. An instant peak torque boost up to 3,400 Nm is available when the machine hits difficult working conditions.

"We are expanding Cummins portfolio of products to reflect the alternative power needs of the future. We're developing a range of options such as alternative fuels, range extenders and full electric power to complement our Stage V clean diesels and provide customers with the best solution for their machines," said Hugh Foden, executive director, Off-Highway Business.

The REEV system's electronic control logic blends the energy use between the engine-generator and battery to best suit the operational needs. The engine-generator will automatically recharge the battery pack as needed. Operators will also have the option for overnight charging with plug-in capability.

"The variation in off-highway applications means that it is not one-size fits all. Our concept is modular so that it could be applied to a variety of equipment and offer the same range and operation as today, yet deliver significant improvements in efficiency and emissions," added Foden.

The modular design allows the system to be aligned with the capability and duty cycle of the machinery. The high-density battery enclosure and engine can be sized to deliver the best balance between ultra-low emission and zero emission operation.

Terex Cranes turns to MTU to power new models
Rolls-Royce continues a trend of supplying crane manufacturers with MTU diesel engines as Terex Cranes is powering two new models with their engines. The Demag AC 300-6 will be powered by a Series 6R 1500/OM 473 engine, and the AC 45 City crane by 6R 1000/OM 936 engines.

With its 80-metre arm fully extended, the Demag AC 300-6 crane can lift weights of up to 15 metric tons to a height of 78 metres. The all-terrain crane is therefore mainly used as an auxiliary crane for erecting rotating tower cranes. With a vehicle base just 15.3 metres in length and 3 metres wide, its compact dimensions mean it can be adapted to suit a wide variety of tasks. The 6R 1500/OM 473 engines are able to produce up to 430 kW of power, and their exhaust gas aftertreatment systems, such as selective catalytic reduction (SCR) and cooled exhaust gas recirculation (EGR), ensure they meet the requirements of the EPA Tier 4 Final emissions directive.

The AC 45 City crane, introduced last October, has convincing features which include a compact design combining a single cabin for both driving and crane operation with high-power performance. At 8.69 metres long, 2.55 metres wide and 3.16 metres tall, its modest dimensions make the Demag AC 45 City one of the most compact cranes in its class. The extremely small, nimble vehicle has been designed specifically for use in towns and cities, and therefore requires a compact engine featuring high power density. The answer is a six-cylinder MTU Series 1000/OM 936 engine which provides the Demag AC 45 City with up to 260 kW of power.

The MTU Series 1000 to 1500 engines have been developed specially for industrial applications, including construction.

Volvo Penta pairs high performance with aftertreatment for Stage V
Volvo Penta's focus on EU Stage V was on full display at the Intermat trade show in Paris, France, this April as the company presented its full range of solutions for the new regulation regime. The range includes engines that run the gamut from 143 to 770 horsepower, with a wide variety of end uses. Volvo Penta has paired its high-performance engines with a perfectly matched exhaust aftertreatment system (EATS), to comply with the next EU emissions level.

Fuel efficiency is achieved thanks to common rail fuel injection and fixed geometry turbo. Highly effective heat management is reached through the use of an air inlet throttle, together with uncooled EGR, and the electrical exhaust pressure governor (EPG). This enables the system to function without the need to inject fuel into the exhaust stream to raise the temperature. With this approach, the exhaust gas has an optimal temperature when it passes through the EATS.

The EATS includes: diesel oxidation catalyst (DOC); diesel particulate filter (DPF) for D5-D13 models; selective catalytic reduction (SCR); and ammonia slip catalyst (ASC).

Volvo Penta's 16-litre D16 diesel engine solution for EU Stage V offers a power of 565 kW (770 hp). It is a robust unit with dual-stage turbocharging which provides high power density, low fuel consumption, and a broad power band with full torque from 1,000 rpm.

Kubota expands engine selection to 200-hp range
2017 brought a new engine class from one of the prominent manufacturers of units in the under-100-hp range as Kubota expanded its engine selection to bring its largest model yet to the table.

Introduced first at CONEXPO, the 5-litre V5009 became the first in Kubota's 9 Series of engines, which will be rolled out starting in 2020. All of the engineering and other work surrounding the 210-hp (157.3-kW) V5009 will be completed in advance of the 2019/2020 introduction of the Stage V standards. The line is expected to include offerings from 100 hp and up when it's completed.

Aftertreatment devices include a diesel particulate filter and selective catalytic reduction. The V5009 is designed to optimize combustion for high outputs and has top-rated fuel consumption efficiency compared to other engines in the same power range, Kubota states. It will also feature a variety of power takeoff options for different accessories such as hydraulic pumps.

Deutz shows TCD line and Xchange options at World of Concrete
While maintaining its own march toward Stage V, Deutz brought its line of TCD engines – the TCD 2.9, 4.1 and 3.6 – to World of Concrete recently, as well as the ready-to-install compact TD 3.6 Power Pack for mobile machinery. At the same time, the company presented an option for customers to consider: remanufactured engines right from the factory.

Deutz completely remanufactures its Xchange engines to original blueprint specifications, providing a superior alternative to today's standard market engine rebuild, according to the company.

They also offered information on their new service options, including the Deutz Service Locator App whose functionalities swiftly connect users to authorized Deutz distributors and dealers near them, Deutz Genuine Parts and Fluids, and Value Added Services that tailor Deutz engines to specific OEM needs while providing rapid turnaround and just-in-time deliveries as requested.

Hatz adds new 1.5-litre H-series engine to lineup
For Hatz, the focus remains on smaller engines, and they continue to design with future emissions requirements incorporated in their targets. The newest member of the H-series engine line was introduced recently for both new installation and replacement use.

The 3H50T is a 1.5-litre engine that Hatz states has the highest torque in its class, generating 95 lb.-ft. (130 Nm), while providing 25 hp (19 kW) and operating without an intercooler. The engine's very compact construction without a diesel particulate filter gives significant benefits, particularly for use in compact machines. With its low weight and small dimensions, the performance of the engine exceeds many older engines in the 19- to 37-kW class. This gives manufacturers an alternative for planning their compact machines with small engine compartments and for reasonably upgrading existing machines to EU Stage V – with simultaneous safeguarding of previous investments in design and development.

The Hatz 3H50T satisfies current and future emission regulations, including EU Stage V as well as EPA Tier 4 Final. Due to its modern design and construction, the engine achieves the specified emissions levels without a DPF, also ensuring it works well in compact machines with restricted space conditions. It emits an extremely low particle mass that also achieves only a tenth of the limit value without any further exhaust emission aftertreatment, such as exhaust gas recirculation or diesel oxidation catalyst.

Hatz has also introduced the 3H50T OPU, a plug and play unit for anyone who needs an engine fully ready for installation. Major examples of this unit's use are in lifting platforms, hydraulic systems, drills and stationary applications like pumps and alternators.
Company info
Related products