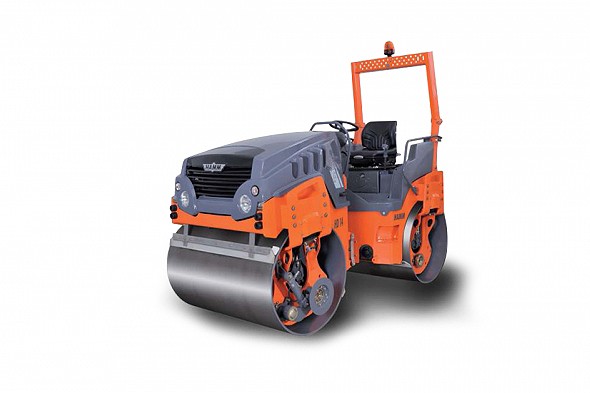 The HD+ series tandem rollers deliver maximum productivity, top compaction quality and unsurpassed comfort. From the glazed XXL cabin, the driver has an optimum overview of the machine and the construction site. With a large track offset and swivel joint, an automatic drive control and balanced weight distribution, the tandem rollers compact asphalt surfaces to the highest quality.
Features & Benefits
Control panel
Language-neutral, intuitive operation. The control panel is lockable for secure protection of vandalism.
Perfect visibility
A conical front carriage and the longitudinal mounting of the engine allow a perfect view of the drum edges, the machine surroundings and the construction site.
Crab operation
50mm offset in crab steering mode on all machine models from 2.5 tonnes upwards (HD 10-14). This provides optimal maneuverability in narrow spaces, restricted areas and around obstacles.
Vibration
All tandem rollers are fitted with vibrating units in both drums.
KAG
Edge presser and cutting equipment including track indicator for clean chamfering of the roadway. Can be mounted on the right hand side of the rear.
Freedom Movement
Large operator platform with maximum leg room. Seats can be adjusted forwards or backwards. With the HD 10 to HD 14, seats can also be adjusted laterally, ensuring optimal views of the sides of the machine.
Specs
Key Specifications

| | |
| --- | --- |
| Operating weight with ROPS | 9,580.72lbs (4,345kg) |
| Drum width | 54.33in (1,380mm |
| Power rat. ISO 14396 | 34,6 kW / 47,1 PS / 2700 rpm |