Oscillation Now Available On Hamm Compact Rollers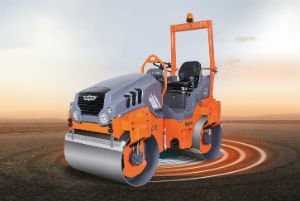 Exclusive Hamm Oscillation compaction – previously available only in Hamm's larger tandem asphalt rollers – now is available in Hamm's Compact Line as well.
At Conexpo-Con/Agg 2014, the new HD 12 VO and HD 14 VO Compact Line rollers were shown, with standard vibration in the front drum, and Oscillation in the rear. They joined other Compact Line rollers, including the HD 8 VV, the HD 10C VV and HD 10 VV, with conventional vibration in both drums; and the HD 13 VT, a combination roller with standard drum in front, and four pneumatic tires at rear.
Hamm's unique, non-aggressive oscillation technology has changed the way contractors work in North America. Oscillation technology compacts with a gentle rocking motion, not a vertical pounding, and can be a powerful new tool for boosting asphalt paving productivity and profits.
Instead of vibrating straight up and down, the Hamm oscillatory design gives the drum a horizontal or "rocking" force which keeps the drum in contact with the mat. Hamm oscillation technology attains very high compaction numbers with minimal passes and no shattering of aggregate. Some contractors have found it permits contractors to remove one or more rollers from a job.
Models of the new Compact Line – with drum sizes from 31 to 54-in.-wide – are functional yet user-friendly, and quiet yet powerful. These articulated tandem rollers offer big-time compactive effort in a small package equally at home for patching, commercial or roadbuilding applications.
The Compact Line includes the HD 8 VV, with a drum width of 31.5 inches; the 39-inch HD 10 VV and the slightly smaller HD 10 C VV; the 47-inch HD 12 VV; the 51-inch HD 13 VV; and the 54-inch HD 14 VV. Each offers an offset capability to enable compaction right up against a curb without risking damage from the trailing drum. The Compact Line also offers combination rollers. The HD 10 VT, HD 12 VT, HD 13 VT and HD 14 VT are combination models with smooth drum in front, and four smooth pneumatic tires in rear.
VV stands for "Vibration Front, Vibration Rear", in which both drums offer vibration, with the capability of vibration running in the front drum only, in the rear drum only, in both drums, or no vibration. The Compact Line offers hydrostatic dual drum drive, automatic/manual vibration system, hydrostatic articulated steering and excellent maneuverability.
Key features of the Compact Line include its excellent visibility to the drum edges, as the engine is mounted lengthwise and not sideways in the frame, low profile, and ease of handling. Its superb driving characteristics are due to its unique three-point articulation that maintains even weight distribution across the drum width, even in tight turns, thus reducing cutting on the asphalt surface, and its high compaction force and low center of mass.
The operator platform is fully insulated against vibration, thus improving comfort levels. The operator's seat, steering column and tread plate are mechanically isolated from the framework, which significantly reduces vibration and makes working with the Compact Line even more pleasant.
Related Articles
Searching for the best-performing excavator? Your search ends here. We tested the Volvo EC350E and EC380E against a leading competitor in three different tests: trenching, truck loading and lifting capacity at reach. The results show a 20% difference in cost-per-ton, a 15% difference in tons-per-hour and a 12% difference in both operating costs and lifting capacity. See the results and put an end to your search for the best excavator.