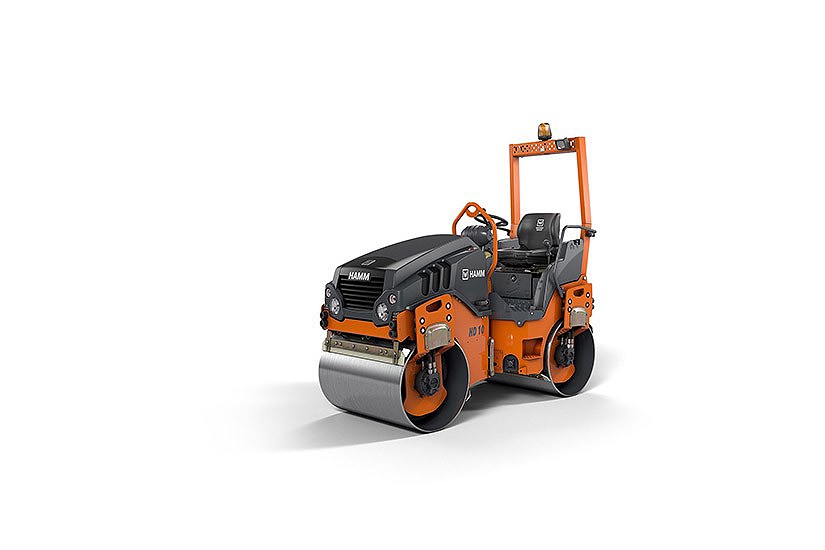 The articulated compact rollers in the HD Compact Line are real all-rounders for asphalt construction, earthworks and landscape gardening. The wasp-tailed rollers win many admirers for their optimum visibility and outstanding driver comfort.
Features & Benefits
Clear side
Compaction right up to the edge: single-side drum attachment on the HD 8 and HD 10C models ensures complete compation right up to the edge. 56mm drum offset for excellent steering and maneuverability in any situation.
KAG
Edge presser and cutting equipment including track indicator for clean chamfering of the roadway. Can be mounted on the right hand side of the rear.
ROPS
Maximum safety due to ROPS frame. Optionally available with simple folding mechanism for maximum flexibility during transport.
Control panel
Language-neutral, intuitive operation. The control panel is lockable for secure protection of vandalism.
Vibration
All tandem rollers are fitted with vibrating units in both drums.
Water filter
Self-cleaning water filter and water drain positioned at lowest point of the machine for complete drainage.
Specs
Key Specifications

| | |
| --- | --- |
| Operating weight with ROPS | 5,457.37lbs (2,475kg) |
| Drum width | 39.37in (1,000mm) |
| Power rat. ISO 14396 | 18,5 kW / 25,2 PS / 2200 rpm |