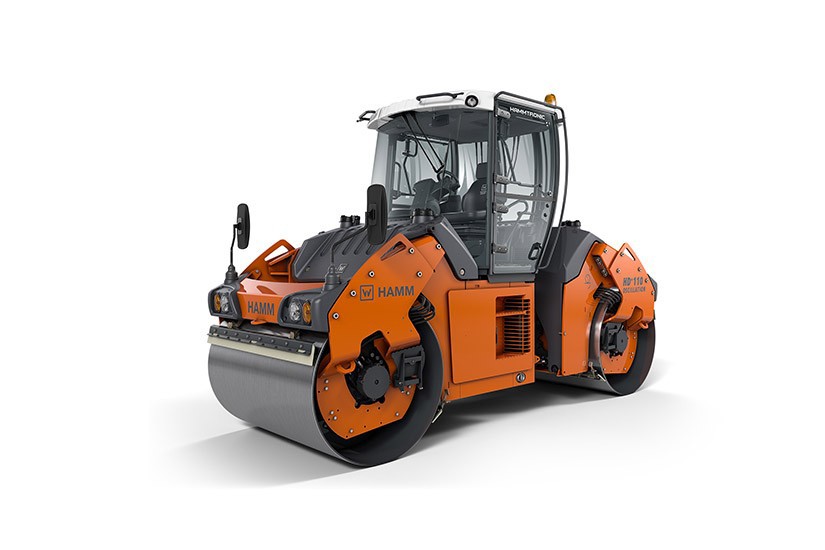 The HD+ series tandem rollers deliver maximum productivity, top compaction quality and unsurpassed comfort. From the glazed XXL cabin, the driver has an optimum overview of the machine and the construction site. With a large track offset and swivel joint, an automatic drive control and balanced weight distribution, the tandem rollers compact asphalt surfaces to the highest quality.
Features & Benefits
KAG
Edge presser and cutting equipment including track indicator for clean chamfering of the roadway. Can be mounted on the left, on the right, or on both sides of the machine.
Oscillation
Dynamic compaction with oscillation for better and faster compaction of roadbeds and roadway surfaces. Significantly less vibration exposure on the machine environment. No grain destruction. No over-compaction.
Sprinkling
Nozzles and sprinkler bars are always in the driver's field of vision and easy to replace.
Water tank
A large capacity water tank reduces the number of stops for refills. Clever distribution of water between two tanks ensures uniform weight distribution at all times.
Air duct
Intelligently designed routing of air flow for efficient engine cooling. No heating up of the operator platform due to waste heat of engine cooling.
Three-point articulated joint
Articulated joint with kinematic design, positioned at the centre of the machine. Ensures uniform weight distribution an outstanding driving stability.
Specs
Key Specifications

| | |
| --- | --- |
| Operating weight with cab | 22,038.97lbs (9,995kg) |
| Drum width | 66.14in (1,680mm) |
| Power rat. ISO 14396 | 85,0 kW / 115,6 hp / 2300 rpm |