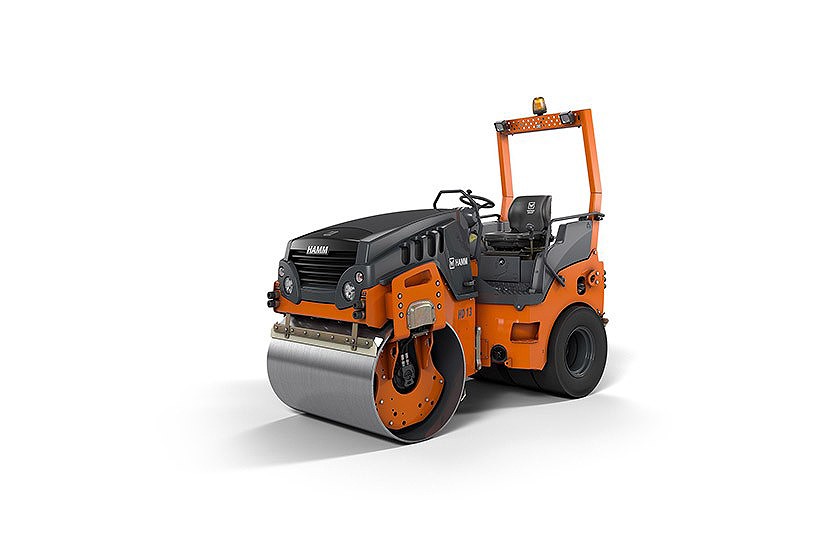 The HD+ series tandem rollers deliver maximum productivity, top compaction quality and unsurpassed comfort. From the glazed XXL cabin, the driver has an optimum overview of the machine and the construction site. With a large track offset and swivel joint, an automatic drive control and balanced weight distribution, the tandem rollers compact asphalt surfaces to the highest quality.
Features & Benefits
Water and diesel tanks
Generous tank volumes for fuel and water storage. Convenient refilling and refueling.
ROPS
Maximum safety due to ROPS frame. Optionally available with simple folding mechanism for maximum flexibility during transport.
Large drum diameters
Drums with large diameters actively reduce tears and overlaps, ensuring high quality compaction.
Low centre of gravity
Low centre of gravity thanks to intelligent positioning of components. Great stability against overturning due to three-point articulated joint.
Driver's platform
Operating platform entirely insulated against vibration stresses for maximum driver's comfort. Vibration stresses significantly reduced thanks to the mechanical isolation of the driving seat, steering column, levers and footplate from the frame.
KAG
Edge presser and cutting equipment including track indicator for clean chamfering of the roadway. Can be mounted on the right hand side of the rear.
Specs
Key Specifications

| | |
| --- | --- |
| Operating weight with ROPS | 8,434.12lbs (3,825kg) |
| Drum width | 51.18in (1,300mm) |
| Power rat. ISO 14396 | 34,6 kW / 47,1 PS / 2700 rpm |