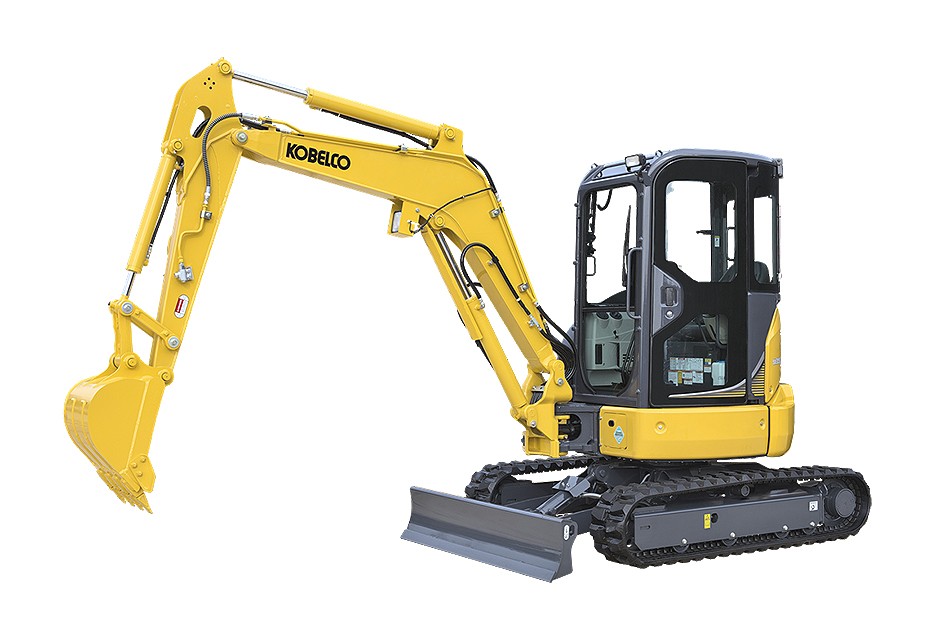 The new Kobelco SK35SR mini excavator offers practical performance features while maintaining a short tail swing. The new Energy Conservation Mode saves even more fuel, and Kobelco's proprietary iNDr Cooling System ensures quiet operation, protection from dust, and easy maintenance. For greater operator comfort and safety, the rectangular cab design offers plenty of room and an unobstructed view. It all adds up to enhanced full-size performance, short-radius agility and a low-noise environment, with exceptional performance features and a full range of value-added functions.
Features & Benefits
iNDr+E system
The iNDr+E system functions in the same way as the iNDr system on the SR series machines, but also directs the muffler exhaust underneath. Small holes on the muffler disperse and slow down the exhaust.
iNDr Filter Blocks Out Dust
Outside air goes directly from the intake duct through the iNDr filter for dust removal.
Visual Checking and Easy Cleaning
Because the iNDr filter removes dust from the intake air, cooling components stay dirt-free and do not require regular cleaning. The iNDr filter itself can be easily removed and cleaned without the use of tools.
Energy Conservation Mode
The SK35SR adapts S mode which enables 25 percent less fuel consumption compared with the previous model.
One Touch Deceleration
The SK35SR features one-touch deceleration. It allows easy switching to an idling mode, reducing fuel consumption while the machine is at rest.
Integrated-Flow Pump System
The instant the machine begins to dig extra output from the third pump (which otherwise powers the swing and dozer circuit) is directed to the arm circuit and boom circuit (raise) for added power.
Large Capacity Engine
The large-capacity engine meets Tier 4 final requirements and packs plenty power for outstanding hydraulic performance.
Large Capacity Travel Torque
The large capacity travel torque enables the machine to perform spin turn in low mode even when the dozer is pushing a heavy load.
New Dozer-Blade Shape
Kobelco's unique blade design solves this problem by forming the earth into an arc that always falls forward. Because this prevents earth from falling behind the blade, only "one pass" is needed.
Spacious Work Environment
The newly designed rectangular cab is optimized control layout for comfortable, easy operation. A greater window area further improves visibility.
Easy Access
A wide-opening door and a left-hand tilting control console with a safety lever that rises high, make it much easy for operators to enter and exit and the cab.
Work Light
Lighting installed on the underside of the boom minimizes the risk of damage to it.
Standard Pattern Changer
Standard pattern changer allows for increased utilization and flexibility to match operator preference.
Control Lever
Precise proportional controls are integrated into the joystick for ease of operation.
Specs
Key Specifications

| | |
| --- | --- |
| STD Bucket Capacity | 0.144 cu.yd 0.11 m3 |
| Engine | 23.1 hp 17.2 kW / 2,400 rpm |
| Canopy Weight | 8,214 lbs 3,725 kg |
| Cab Weight | 8,555 lbs 3,880 kg |
| Bucket Digging Force | 7,216 lbf {32.1 kN} Two pin bucket |