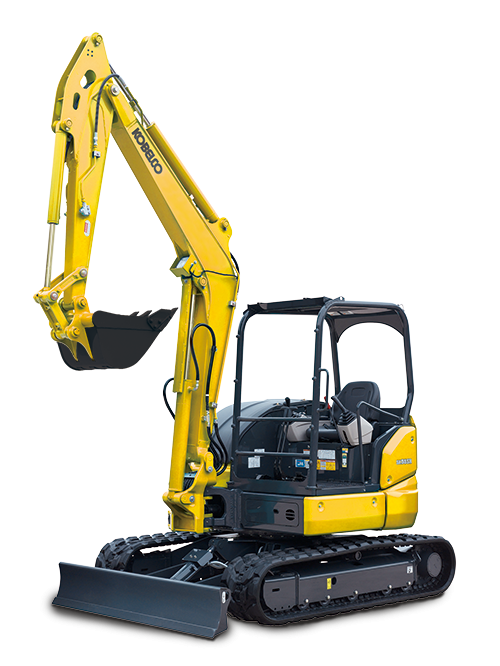 Now KOBELCO has taken the next evolutionary step by packing even more digging power and practical performance features into the SK55SRX while maintaining a short tail swing. The new Energy Conservation Mode saves even more fuel, and Kobelco's proprietary iNDr Cooling System ensures quiet operation, protection from dust, and easy maintenance. For greater operator comfort and safety, the rectangular cab design offers plenty of room and an unobstructed view. It all adds up to enhanced full-size performance, short-radius agility and a low-noise environment, with exceptional performance features and a full range of value-added functions.
Features & Benefits
The iNDr+E system
The SK55SRX features air intake at the front of the machine and air exhaust underneath.
iNDr Filter Blocks Out Dust
Outside air goes directly from the intake duct through the iNDr filter for dust removal.
Integrated-Flow Pump System
The instant the machine begins to dig extra output from the third pump is directed to the arm circuit and boom circuit (raise) for added power. This ensures fast and smooth arm and boom raising operation even under heavy loads.
Large Capacity Travel Torque
The large capacity travel torque enables the machine to perform spin turn in low mode even when the dozer is pushing a heavy load.
Spacious Work Environment
The cab is over 32 inches wide, with optimized control layout for easy handling. A bigger window area improves visibility. A clear view is provided at the rear, and there's also more floor space, with a seat that slides further ensuring plenty of space.
Specs
Key Specifications

| | |
| --- | --- |
| STD Bucket Capacity | 0.21 cu.yd 0.16 m3 |
| Engine | 37.4 hp 29.9 kW / 2,400 rpm |
| Canopy Weight | 11,050 lbs 5,010 kg |
| Cab Weight | 11,310 lbs 5,130 kg |
| Bucket Digging Force | 11,128 lbf (49.5 kN): Two pin bucket |