The scoop on compact excavators
Recently introduced models from 3 to 18 metric tons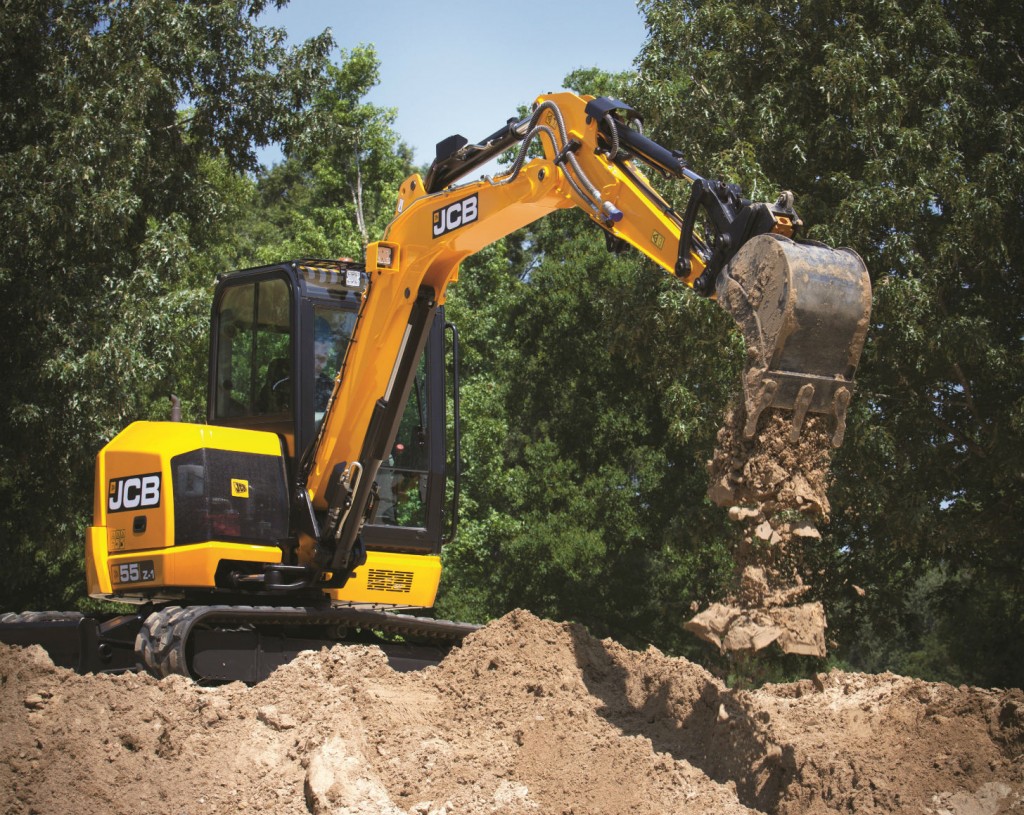 Offset digging, reduced tail swing, simpler maintenance and easier transport are some of the reasons for buying a compact excavator – and it is a growing market. In this report, we look at some highlights of recently introduced models from 3 to 18 metric tons.
"As worksites in general decrease in size, we've seen increasing demand for conventional and zero-tail-swing compact excavators," said Jennifer Stiansen, marketing communications manager for JCB North America. JCB's three new compact excavators – the 4,792-kg 48Z-1, 5,366-kg 55Z-1 and 5,483-kg 57C-1 – feature a redesigned digging end with a longer main boom and shorter dipper arm to provide up to 5 percent greater dump height for easier truck and site dumper loading, and their upgraded hydraulic system delivers up to 9 percent more bucket breakout force over previous models. A zero-tail-swing option is available on all three models.
The 15,550-kg ET145 from Wacker Neuson features 127-degree boom swing for digging along walls and trenches, working around pipes, and digging along traffic lines. Takeuchi has focused on upping the digging force of the 4,080-kg TB240 to 9,959 pounds, a 15 percent increase over the previous model, the TB235.
To achieve optimum precision on Hyundai's 5,650-kg R55-9A zero-tail-swing model and the 5,900-kg R60CR-9A and 8,250 kg R80CR-9A compact radius models, the company redesigned the hydraulic system to provide the operator with super-fine touch and improved controllability. An arm flow summation system provides energy savings, reduced cavitation and increased speed.
The 3,570-kg Terex TC35-2 and TC35R-2 feature LUDV (load-independent flow distribution) hydraulics, which enables power to be transferred to the attachment as it's needed. According to the company, this feature is only offered in a few models of this size class. The Terex Knickmatik offset boom on these models can move to either side at full digging depth, making it possible to work directly alongside walls, hedges or embankments. The total angle of articulation is an impressive 120 degrees.
A selection of power modes is beneficial to save fuel or add extra power when needed. On the 15,400-kg John Deere 135G, operators can select between three productivity modes to suit their digging style and the job. High Productivity mode delivers more power and faster hydraulic response to move more material. Power mode delivers a balance of power, speed and fuel economy for normal operation. Economy mode reduces top speed and helps save fuel.
John Comrie, utility product manager at Volvo Construction Equipment, said that when intelligent hydraulics are matched to the engine, excavators automatically find the sweet spot between engine speed and hydraulic efficiency. "The true measure of a machine's performance is not necessarily horsepower, but rather its ability to achieve high torque at low rpm." For Volvo's 3,530-kg EC35D and 3,880- kg ECR40D, this is illustrated by their breakout force increase of 6 percent and more than 14 percent, respectively, compared to their previous models.
Caterpillar says that their new 4,080-kg 304.5E2 XTC, the first model in the Xtra Tool Carrier lineup, is a unique compact excavator that can complete multiple jobs with a single machine. It features a skid-steer coupler interface for added work tool integration. This manual coupler allows for use of compact loader tools, including: general purpose bucket, multi-purpose bucket, forks, dozer blade, brooms, power box rakes and trenchers. Coupler operation is controlled through the XTC switch on the right hand console; then the standard right hand joystick becomes the loader.
Terex's approach to developing its new excavators is based on a platform strategy that uses uniform base models which are used to create a variety of different models and equipment lines for various applications. On the JCB machines, the optional Safe Lift feature includes a Lift Overload warning system. A graphic appears on the monitor panel and there is an audible warning if the machine approaches overload. This feature is included as standard when hose check valves are specified to ensure maximum safety for customers who intend to lift pipes or other materials.
The Integrated Noise and Dust Reduction Cooling System (iNDr) developed for Kobelco's larger conventional excavators is featured on the SK35SR, but with an eco-friendly update, iNDr+E, which directs the muffler exhaust underneath the machine and suppresses noise levels to 76 dB. The filter takes outside air from the intake duct and moves it through the filter, keeping cooling components dirt-free.
Cabs & controls
Manufacturers have made cabs and workstations more accessible and comfortable, and improved instrumentation to accommodate operators' individual needs for high-level productivity.
The biggest development in the cab of JCB's three new Next Generation compact excavators, the 48Z-1, 55Z-1 and 57C-1, is the adoption of a new display screen and control system with an automotive-style rotary dial for easy access to systems and information. In addition, the cab on the JCB 57C-1 is 18 percent larger and visibility has been increased by 11 percent, improving safety.
The Terex TC35-2 and TC35R-2 excavators are controlled with Terex Fingertip Control, providing additional control for work attachments. The pilot-operated controls provide both easy operation and changeable control patterns to best suit the operator's preference. On Kobelco's 3,880-kg SK35SR, a pattern changer is standard, while an optional lever pattern changer is available on the Hyundai 3,790-kg R35Z-9A. Wacker Neuson has shifted the boom to the right on the ET145, giving operators a better view to the attachment and beyond.
Maintenance
One of the advantages of purchasing a compact excavator is that engines on most of these machines are 75 horsepower or under. Engines in this range do not require selective catalytic reduction to break down emissions, and no diesel exhaust fluid is required. Instead, most employ a diesel particulate filter (DPF) to filter the exhaust, which is usually burned off through passive regeneration during normal operation.
While some OEMs have Tier 4 Final, DPF-free solutions that eliminate the regeneration process altogether, some machines require parked regeneration, whereby the operator parks the equipment, presses a button and waits for the particulate to burn off the DPF.
Manufacturers have extended maintenance intervals and provided convenient access to key components, saving time on the jobsite. Greasing intervals on Volvo's latest models, for example, have been extended to 50 hours and engine oil changes to 500 hours, and the engine has been side-mounted for easy access. JCB has improved access to their engine with wide opening steel canopies at the rear and to the side of the machine. The floor in the new cab on the JCB models is removable – without the need for tools – for access to hydraulic components.
The Hyundai R60CR-9A and R80CR-9A both feature a tilting cab for convenient maintenance and service, and the Komatsu 4,870-kg PC45MR-5 and 5,150-kg PC55MR-5 feature a tilt-up cab for access to hydraulic components. The body of the Takeuchi TB240 has been redesigned for ground level servicing that eliminates the need for a tilting operator's station.