Heavy Equipment Guide's 2020 Top Introductions, part two
Game-changing construction equipment and technology innovations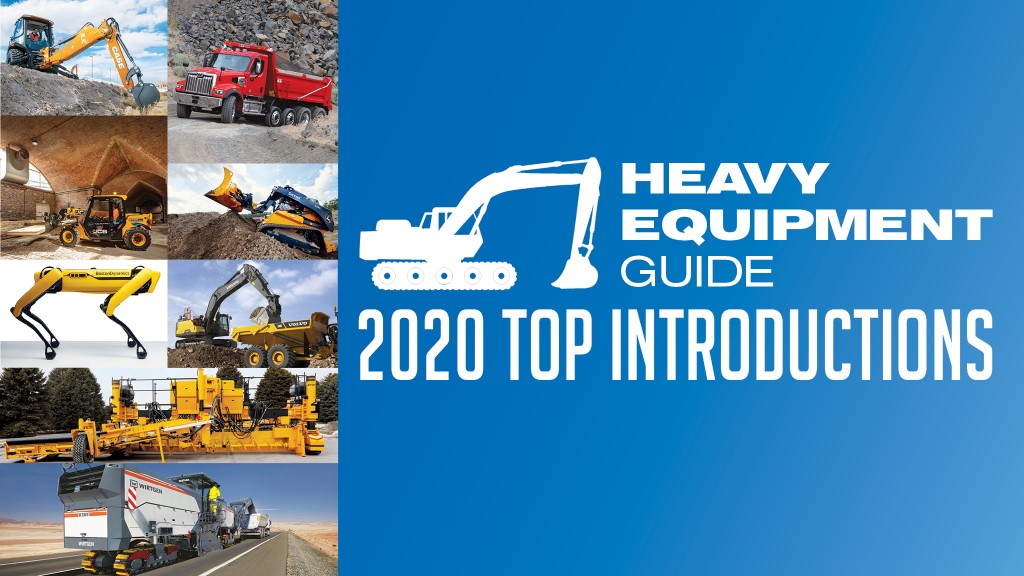 We look forward each year to reviewing the products and technology that made a mark on the industry. This year in particular, we were struck by the strength of innovation in developments that include revolutionary machine design, zero- and low-emissions solutions, and even a robot dog. You may not see this equipment on your jobsite yet, but read on for 2020's Top Introductions – groundbreaking today, and perhaps common on your jobsite tomorrow.
GOMACO
GOMACO brought a two-for-one deal to customers this year with the GP360, which can essentially be two machines in one. As a slipform paver, it can slipform up to 30 feet wide, while the addition of a 60-inch belt makes it a placer/spreader that can handle up to 36-foot widths. Add to that the G+ digital control system and you have an efficient multi-functional tool.
Learn more about the GP360 slipform paver and placer/spreader.

Western Star
Vocational trucks need to be big, bold and tough, and that's just what Western Star introduced with the launch of the 49X. A ground-up redesign, the new truck features unique body designs for strength and utility, new transmissions to improve operation, and added technology that improves safety for the driver, others on the road and around jobsites.
Learn more about the 49X vocational truck.

Caterpillar
Cat was busy at CONEXPO with a broad range of launches. We were impressed by the new backhoe line as well as dozer updates, but the 395 excavator really caught our eye. A production-class machine that borrows from bigger mining shovels, it features a hydrostatic swing circuit to regenerate swing brake energy that helps with fuel efficiency and performance.
Learn more about the 395 excavator.

Mecalac
The zippy Mecalac MCR series tracked compact excavators drew our attention – these machines are notable for combining the speed of a skid steer with the compact footprint and 360-degree rotation of an excavator, travelling up to 10 kph and delivering versatile performance and impressive lifting capability with a three-part boom.
Learn more about the Mecalac MCR series of tracked compact excavators.

JCB
JCB amped up its portfolio of zero-emissions equipment offerings in 2020 with the introduction of its first all-electric Loadall telehandler. The 5,500-pound-capacity 505-20E delivers the same performance as the diesel counterpart. The company also introduced its Universal Charger, a rapid charging station for 48V to 96V+ machines that is compatible with current and future JCB battery-electric equipment.
Learn more about the all-electric Loadall telehandler and Universal Charger.

Liebherr
The PR 736 G8 dozer was one of many introductions for Liebherr. Powered by a brand-new engine, the new dozer also features redesigns in the cabin, including a grab handle with integrated joystick for the rear ripper, separation of the cabin from the machine base to cut vibration, improved technology and more. The company also launched a line of telehandlers and an innovative all-terrain crane.
Learn more about the PR 736 G8 dozer, the new Liebherr telehandler line, and the LTM 1150-5.3 all-terrain crane.

Toro
Small machines that rental houses and contractors want for versatile use both indoors and outdoors and in areas with noise and emissions reduction needs are the perfect proving ground for electric equipment. Toro's first electric Dingo, the wheeled e-Dingo 500, is a small machine delivering environmentally friendly performance both indoors and outdoors, and we look forward to seeing more electric compact equipment like it in the coming years.