Rugged performance and power combine as Western Star launches new 49X vocational truck
Ground-up redesign produces truck that's ready for work in toughest situations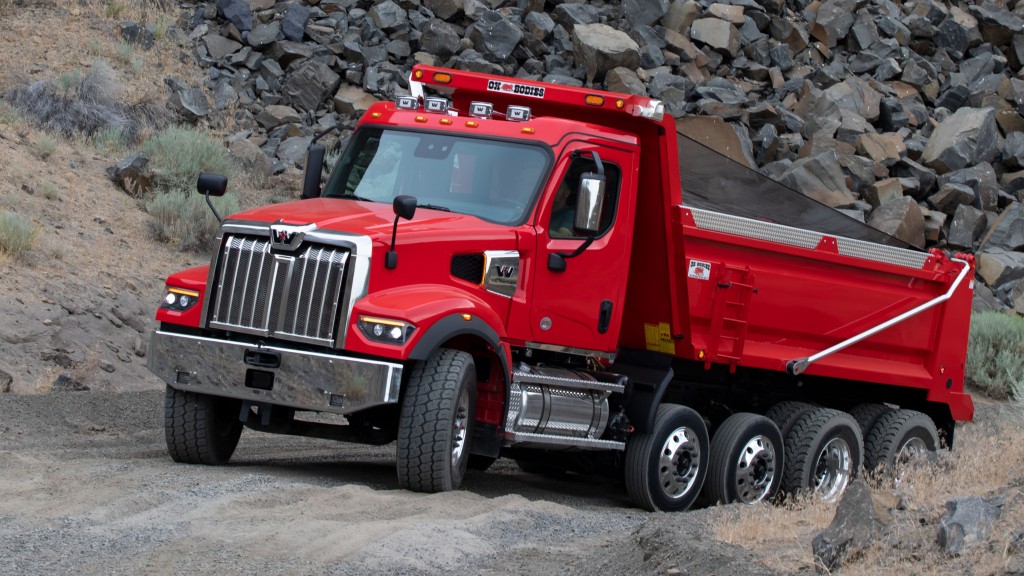 Born on the rugged logging roads of British Columbia, Western Star trucks have been known for their ability to handle tough jobs while also providing drivers a high level of comfort and performance. Those strengths are all part of the company's newest addition to its vocational truck portfolio, a fresh take on the truck that focuses on strength and performance for work truck buyers.
The Western Star 49X has been redesigned from the ground up using input from customers and hundreds of thousands of miles in testing, both in controlled situations and in the hands of drivers outside the factory.
Built on an all-new frame, boasting brand-new transmission options, and featuring an entirely new cab, the 49X is the result of six years of development and design work.
"This is a truck purpose-built from the ground up specifically engineered for the unique demands of the vocational market," said Daimler Trucks North America vice president, vocational market development, Samantha Parlier.
The ground-up redesign of the 49X has allowed Western Star to save around 350 pounds compared to the current Western Star 4900, starting with a new vocational frame with single channel frame rails available in a range of thicknesses. Extension options are available for applications that need front-mounted equipment such as plows.
​Redesigned cab sturdy, easy to access
Sitting on that new frame is the completely redesigned X-series cab. Parlier said Western Star engineers were able to draw on Daimler's global design teams to build the new cab, which is built from aluminum with steel reinforcements placed in strategic locations for various vocational needs.
"It's not only more durable, but also eight percent lighter than our current 4900," Parlier said.
The roof of the truck is a key design feature of the X series cab, Parlier noted, with the centre section lowered to make room for equipment.
"We lowered the centre section, making room for air horns and lights, but we kept the door opening large. So people getting in and out with hard hats and safety equipment on can get the best ingress and egress, and also the best headroom," Parlier noted. The doors open a full 70 degrees, making it easier to get in and out, which Parlier said helps improve jobsite safety and reduces slip and fall accidents.
Getting in and out of the truck is safer and easier thanks to five handholds and a redesigned staircase step system that was the focus of more consideration than you might think.
"We had several engineers working with customers and our product strategy team for months to get the exact correct width and the exact tread pattern. We had different styles of work boots - I mean, we had so many boots it was unbelievable," said Tracy Mack-Askew, general manager, heavy duty vocational platform with DTNA. "We spent a lot of time and attention to detail on every aspect of this truck."
Vibration is reduced with a new cab mount system designed to improve stability and cut down on driver fatigue.
Drivers often ask for quieter cabs in their trucks, and the 49X obliges, Mack-Askew said.
"Safety is not just about adaptive cruise control or active braking, it is also making sure that they have a good mental state, and that they feel better at the end of the day. We worked very hard to add a lot of insulation - this is the quietest cab that Western Star has ever had," she said. A new triple door seal is part of that, cutting down noise from outside the vehicle as well as keeping out dust.
The truck's hood has also been redone, with what Western Star says is the first ever hood suspension system. "The unique system is a coil over shock suspension that isolates the input from the jobsite from the hood," Parlier said. "We combine the suspension with high strength lightweight composite material that's flexible, so it bends instead of breaking."
Detroit power put to work
Vocational trucks rely on plenty of power and the drivetrain to put it where it needs to go, and the 49X has been built to provide that power, with a range of proven engines paired with the brand-new DT12 Vocational automated manual transmissions. The new transmissions, available in two variants including a Vocational Extreme version, are rated up to a GCWR of 330,000 pounds, and are available with the Detroit DD15 or the DD16, which DTNA says is the largest and most powerful diesel engine on the market in North America.
"[The DT12 Vocational] has three driving modes - it has an economy mode, performance and an off road mode. A lot of people hear economy and vocational and they cringe a little bit... every vocational truck has to get to and from a jobsite, it doesn't matter what you're doing, and many vocational trucks operate a significant portion of their lives on the highway," Parlier pointed out. "There's a performance mode that really steps it up... if you're hauling on the highway but you're really heavy it'll give you a more aggressive shift pattern. And then there's off-road mode. That's specially tuned shift patterns designed around jobsites... steep grades, loose terrain. It has what we would call a really aggressive shift pattern where it takes you up higher into the RPM range before it hits the shift."
The new transmissions offer a range of features including Rock-Free mode, ideal for slick or muddy terrain, that will automatically work to free a truck that is stuck in mud or snow by engaging and disengaging the clutch while the driver throttles the truck up, starting a rocking motion and allowing it to work itself free.
Parlier said that feature has been well tested in Michigan on a customer test unit equipped as a self-loading log truck working on a road that normally has dozers parked every few miles so drivers who get stuck can pull themselves out.
"The first operator using the CTU... got stuck and used the Rock-Free mode to free himself - he was so excited that he called his friends, his people from the dealership and got a cell phone video. It almost looks like a party, and the excitement you see on their faces talking about how they can't believe it worked was over the top," Parlier said. "Those same customers have already submitted orders for more trucks to be built at the beginning of next year."
For vocational use, the DT12-V and DT12-VX feature PTO openings on the rear as well as an eight-bolt left-hand PTO. Western Star has added a PTO control system that, when engaged, allows the user to set the engine RPM that best suits the job at hand.
Visibility improvements part of safety approach
The 49X offers a range of safety improvements that are evident across the truck, starting right at the front with a new headlamp design. An LED light is protected within a sturdy lens that is wired to provide deicing and defogging while also being strong enough to take hits from branches, rocks and other potentially damaging situations.
"In British Columbia, we had logging trucks in the bush, and a driver was talking to us specifically about how hard it is in the morning - it's pitch black, completely dark. These headlamps were designed specifically for that environment," Mack-Askew described.
The cab features a new windshield that is 28 percent larger than previous trucks, offering greater visibility out the front, while a three-piece rear window offers 77 percent more visibility. A brand-new mirror system helps drivers keep track of what's behind them as well. The C-bar mirror system took months of work to nail down just right, Mack-Askew said - including more than 230,000 door slams intended to make sure the structure is robust and durable, and that vibration is cut down as much as possible.
Trucks equipped with Detroit engines will be able to take advantage of the Detroit Assurance suite of active safety systems, which combine radar and camera technology to operate features like Side Guard Assist, which detects objects and pedestrians on the passenger side of the 49X where they may be in the driver's blind spot and sounds auditory and visual warnings. Active Brake Assist 5 detects objects ahead and determines based on travel speed whether a warning, or automated braking action, is needed. It features full braking on stationary and moving objects, and can identify pedestrians crossing ahead of the truck, giving audible and visual warnings with partial or full braking if needed.
Adaptive Cruise Control, available on the DT12-equipped 49X, adjusts cruising speed for safe following distances. If the vehicle ahead stops, the truck will stop as well, and then resume movement when the other vehicle moves. Tailgate Warning alerts the driver to space issues in stop-and-go traffic. Lane Departure Warning alerts the driver if the truck leaves its lane without using a signal.
Ready to enter market in 2020
David Carson, DTNA senior vice president, sales and marketing, said the introduction of the 49X is an important part of Western Star's support of North American efforts to respond to challenging market conditions.
"We're confident that the investment that exists today in infrastructure activities will continue to exist, and potentially increase, in the future. Trucks like the 49X are a key part of that process to build this country and support those businesses that live by delivering those services," he said. "We're focused on our customers, we're committed to providing the best tool for the job, and we're really excfited about what this does in terms of the complete portfolio of products that we have to offer in the vocational segment."
The 49X will be available for order towards the end of 2020, and deliveries will begin in early 2021.