Heavy Equipment Guide's 2020 Top Introductions, part one
Game-changing construction equipment and technology innovations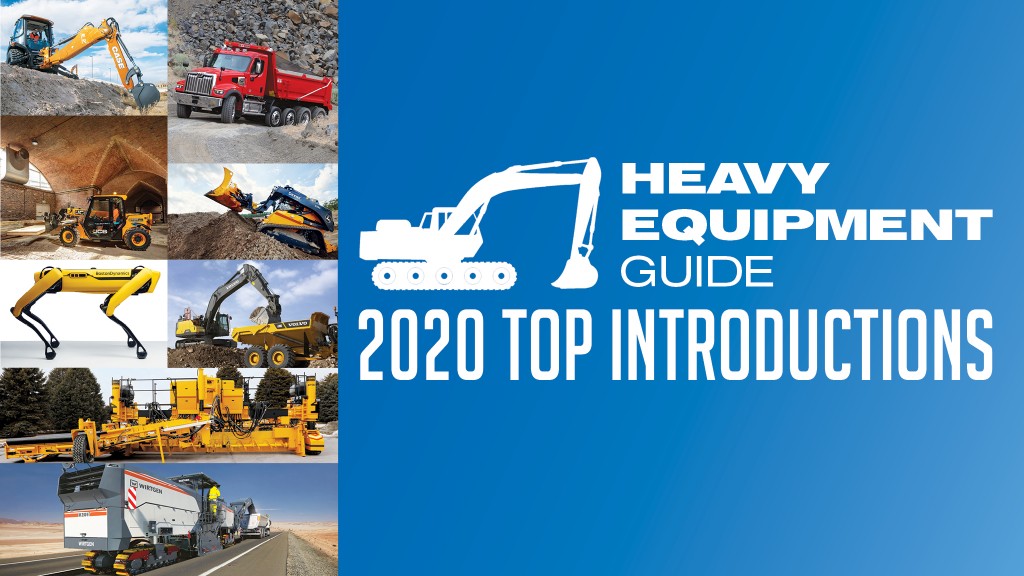 We look forward each year to reviewing the products and technology that made a mark on the industry. This year in particular, we were struck by the strength of innovation in developments that include revolutionary machine design, zero- and low-emissions solutions, and even a robot dog. You may not see this equipment on your jobsite yet, but read on for 2020's Top Introductions – groundbreaking today, and perhaps common on your jobsite tomorrow.
CASE Construction Equipment
When we look back on exciting introductions for 2020, one machine stands out above the rest – CASE's 580EV electric backhoe. Introduced at CONEXPO-CON/AGG, this machine turned heads. Not only is it a world-first with a lot of potential for municipal customers, it is a unique electric machine that is ready to go to market – not a prototype with years of development to come. The backhoe is exciting enough to give special mention to CASE in our year-end feature, but the company did not stop with this introduction. We've been following CASE's Project Minotaur, and at CONEXPO the company introduced the production-ready result of that project: the world's first integrated compact dozer loader, the DL550B. Rounding out a particularly ambitious year, the company also introduced a full lineup of an entirely new generation of CTLs and SSLs at World of Concrete.
Learn more about the 580EV electric backhoe, the DL550B compact dozer loader and the B Series CTLs and SSLs.
Volvo Construction Equipment
Instead of capturing the swing energy of an excavator's superstructure to electrically assist the engine, the EC300E hydraulic hybrid excavator takes "free" energy generated by the boom down motion to reduce fuel consumption. Unwilling to rest on the laurels of one significant machine, Volvo also introduced its largest excavator to North America, the 100-ton EC950F, and opened up pre-bookings for the first two of its fully electric compact machines.
Learn more about the EC300E hydraulic hybrid and the EC950F excavator.

Boston Dynamics
Fetching jobsite data just got a lot cooler and more efficient with the introduction of Spot, the robot dog from Boston Dynamics. When mounted with third-party data collection technology, Spot can roam a jobsite to map the project's progress. The robot dog self-rights and doesn't miss a step climbing stairs – we can't wait to see what tricks Spot learns next.
Learn about a Spot pilot project.
Ford
Ford's popular light pickup truck, the F-150, powered up in a big way for 2021 with a complete redesign. A key offering is the new PowerBoost hybrid power system; it's linked with an on-board generator that can power everything from a cellphone charger up to a portable metal shop, Ford says. Plus, it's jammed full of work-friendly offerings and options.
Learn more about the F-150.
Snorkel
Snorkel went big in 2020 with the introduction of its Mega Boom – the world's largest self-propelled boom lift. The 2100SJ telescopic boom lift reaches an impressive maximum platform height of 210 feet. The company's lofty introductions were not limited to just the Mega Boom; Snorkel also introduced its largest scissor lift ever, which offers a 70-foot working height.
Learn more about the Mega Boom.
John Deere Construction & Forestry
We've been excitedly watching for compact machines to come with integrated machine control from the factory, and in 2020 the John Deere 333G SmartGrade hit that milestone first in the compact track loader segment. The 333G SmartGrade comes fully integrated from the factory with John Deere's proprietary SmartGrade 3D, previously only added into larger machines.
Learn more about the 333G SmartGrade.
Topcon
Topcon expanded its machine control portfolio to include solutions for smaller machines. The new tiltrotator functionality for the Automatic Excavator system allows the operator to easily swivel or tilt the bucket with automatic boom control on a tiltrotator-equipped machine. The bring-your-own-device display option for small excavators and compact track loaders is an entry-level machine control option run from the Pocket MC app.
Learn more about the Automatic Excavator system.