Ford to electrify the construction site with full hybrid F-150 pickup truck
Onboard generator adds power to redesigned light truck for 2021 model year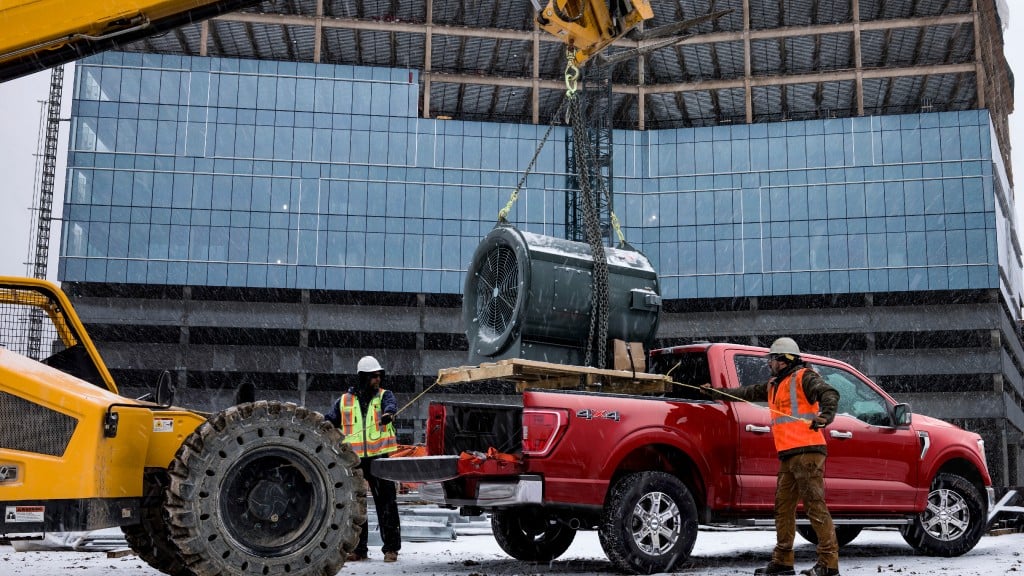 Electrification has been brought to the fore in the newly redesigned Ford F-150, with the availability of a hybrid option tied in to an integrated power generator. The newest version of the venerable light truck is targeting towing, payload, torque and horsepower as well as offering features to increase customer productivity, the company says.
Hybrid powertrain highlights engine selection
The brand-new 3.5-litre PowerBoost full-hybrid V6 powertrain aims to deliver the most torque and horsepower of any light-duty full size pickup, Ford states. Available in every trim level from XL to Limited, the PowerBoost system adds instant electric torque to the 3.5-litre EcoBoost V6. Ford said it is targeting an EPA-estimated range of approximately 700 miles (1126 km) on a single tank of gas, while delivering at least 12,000 pounds (5,443 kg) of maximum towing.
The system ties in the EcoBoost engine to the 10-speed SelectShift automatic transmission and adds a 34-kW (47 horsepower) electric motor integrated in the transmission as well as software calibrated specially for truck use, including drive modes like tow/haul mode to help customers better manage towing heavy trailers. Regenerative braking energy capture charges a 1.5-kWh lithium-ion battery packaged under the truck, saving interior and bed space for hauling capacity.
PowerBoost is one of six engine options that will be available on the new truck. Ford says the F-150 will have the 3.3-litre V6, twin-turbocharged 2.7-litre and 3.5-litre EcoBoost V6, 5.0-litre V8, and the 3.0-litre Power Stroke V6 diesel. Each are partnered with the 10-speed automatic transmission.
Full exterior redesign tops strongest F-150 ever
Looks-wise, the 2021 F-150 has a completely new look, with every body panel redesigned, according to Ford. Updated headlamp, a new power dome hood, wraparound bumpers and higher front fenders, among other things, combine to give the truck a more powerful stance both on and off road. Eleven grille options are available across the model lineup, along with multiple tailgate options as well.
Ford says the new design is the most aerodynamic ever; the truck features new active grille shutters, a new automatically deploying active air dam, as well as new cab and tailgate geometry that cut down drag and improve fuel consumption.
The truck is built atop a fully boxed high-strength steel frame with a high-strength, military-grade aluminum alloy body to provide more strength.
Ford is supporting work with additions including new cleats mounted to the sides of the tailgate, which act as tie-down locations for extra-long items in the bed. Clamp pockets built into the tailgate of every truck allow customers to hold down materials for precision work, and an available flat tailgate work surface provides integrated rulers, a mobile device holder, cupholder and pencil holder.
Onboard generator offers power for jobsites
The available Pro Power Onboard system provides 2 kW output on optional gas engines, while the PowerBoost-equipped F-150 features 2.4 kW standard and an optional 7.2 kW of output. The truck features in-cabin outlets as well as up to four cargo bed mounted 120-volt 20-amp outlets, with a 240-volt 30-amp outlet on the 7.2-kW version.
Work crews will find the Pro Power Onboard system can meet a variety of needs both between jobs and on site. The base 2.0 kW generator will, for example, power an 8-inch circular saw, portable speakers and a battery charger with no problems - or handle a good tailgate party, Ford points out. Step up to the 2.4 kW and a masonry crew can plug in a jackhammer and compact concrete mixer comfortably.
The 7.2 kW unit brings even more power to the table. Ford says that the Pro Power Onboard has the ability to power an entire mobile metal shop - including a plasma cutter, TiG welder, chop saw, air compressor, angle grinder and work light.
Interior redesign adds work spaces, electronic updates
The 2021 F-150 features an entirely redesigned interior with the most connectivity options ever, Ford states, as well as the ability to include work spaces in the cab, lie-flat reclining seats and more.
An all-new 12-inch centre screen is standard in XLT high series and above that allows customers to split the screen and control multiple functions simultaneously. Owners can use the screen to manage their navigation, music or truck features at the same time with plenty of visibility, as well as plenty of rear-view camera visibility. An 8-inch touch screen is standard on XL and XLT standard and mid-series trucks, with the 12-inch screen available as an option. A digital owner's manual is built into the system, providing an invaluable source of information at the touch of a button.
An available new 12-inch digital gauge cluster features a large information-on-demand area, along with truck-specific graphics and animations that respond to the F-150's selectable drive modes and can display off-roading data and turn-by-turn navigation.
The optional Interior Work Surface provides a flat surface for a variety of tasks - signing documents, working on a laptop, or eating a meal. Available in several configurations, the surface is designed in conjunction with a new foldable console shifter that clears out of the way to allow the work surface to be folded out when the truck is in park.
More technology comes into play with the addition of an entirely new electrical architecture that adds a variety of connectivity capabilities. Key to this is the truck's ability to accept over-the-air updates that ensure trucks stay at the forefront of purposeful technology, Ford says.

Connectivity updates will include standard over-the-air updates to ensure trucks stay at the forefront of purposeful technology, Ford states. They will support preventative maintenance, reduce repair trips, provide improved performance and ultimately result in more vehicle uptime. Bumper-to-bumper updates are capable of including all-new functions and additional features throughout the life of the truck. These can support preventative maintenance, cut down on repair trips, improve performance and add more vehicle uptime.
Customers will be able to take advantage of Ford's SYNC 4 system, which offers more natural voice control as well as real-time mapping and other customizable information on demand. The new FordPass mobile device app gives drivers a variety of functionality - start and unlock from a distance, for example, or control truck features like zone lighting, trailer theft alert, trailer light check and the Pro Power Onboard system.
Drivers get support with new features
Drivers get plenty of support from the new F-150, with a range of assist features available. Ford has included a pre-collision assist with automatic emergency braking and pedestrian detection, as well as a rearview camera with dynamic hitch assist, auto high-beam headlamps and auto on/off headlamps.
Intersection Assist detects oncoming traffic when the driver is making a left turn, and if there's risk of a collision the truck will apply brakes to mitigate or avoid the crash. The F-150 is, according to Ford, the only light-duty full-size pickup with availabe Active Park Assist 2.0 which handles all steering, shifting, braking and accelerator controls during parallel or perpendicular parking while the driver holds down a button.
A feature unique to the F-150 is Active Drive Assist, which is, essentially, hands-free driving on around 100,000 miles (160,000 km) of divided highways in Canada and the U.S.: the system will feature a driver-facing camera that monitors head position and driver eye gaze so that, on those specific pre-mapped portions of highway, the driver can take their hands off the wheel as long as they're paying attention to the road. The Active Drive Assist prep kit will include the necessary hardware for this feature, while software to enable functionality is scheduled to be available in the third quarter of 2021 and delivered by over-the-air updates for subscribers.
The 2021 F-150 will be available in the fall of 2020.
Check out these videos from Ford on the 2021 F-150