Snorkel mega boom and mega scissor debut at CONEXPO-CON/AGG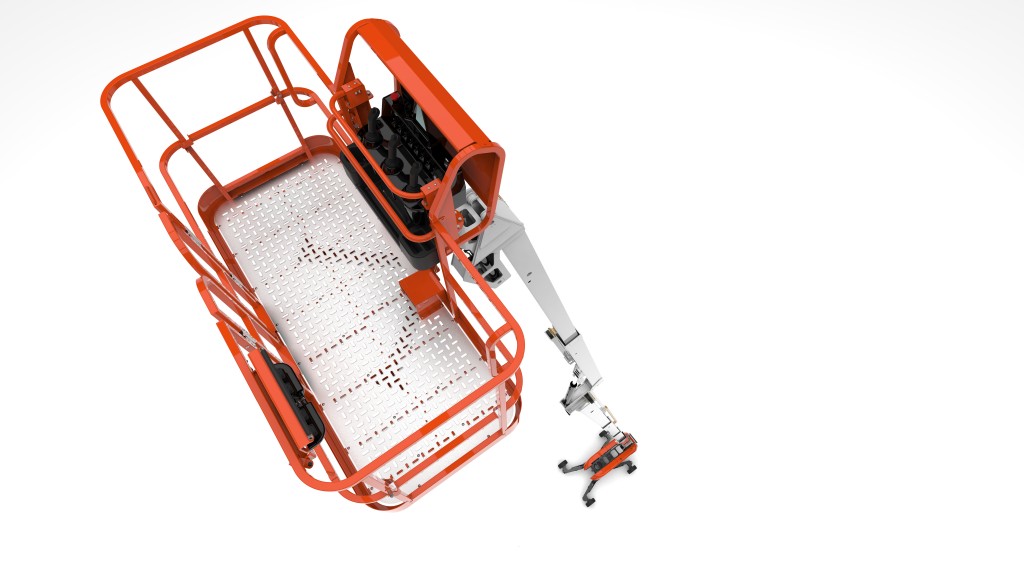 Snorkel says its going big at CONEXPO-CON/AGG 2020, with a number of brand-new product launches, including the world's largest self-propelled boom lift.
Making its global debut at the show, the Snorkel 2100SJ "mega boom" is breaking records with a maximum working height of up to 216 feet (65.8 m), an industry-leading horizontal outreach up to 100 feet (30.4 m), and a working envelope with an area volume of 5.48 million cubic metres (155,176 cubicmetres). Shown as a preview, Snorkel is accepting pre-orders at the show with deliveries scheduled to commence in early 2021.
Snorkel is also unveiling a "mega scissor" lift at the show. The new Snorkel S9070RT-HC is the first in a family of four new ultra-high-capacity large-deck construction scissor lifts, which will be introduced through the remainder of 2020, with lifting capacities up to 4,000 pounds (1,814 kg). With a maximum working height of 76 feet (23.3 m) and a lift capacity of up to 2,000 pounds (907 kg), the S9070RT-HC comes equipped with dual powered extension decks and a spacious platform area of 29,160 square inches. (18.76 square metres).
Alongside the new ultra-high-capacity construction scissor lift family, Snorkel is launching a line of three large-deck construction scissor lifts. With working heights ranging from 39 feet (11.8 m) to 59 feet (17.9 m), the mid-size S9043RT with a maximum working height of 49 feet (15.1 m) and a lift capacity of 1,500 pounds (680 kg) will be on display at CONEXPO-CON/AGG.
In the electric slab scissor lift family, Snorkel is expanding its range and lifting height with the introduction of the new S4740E. This becomes the largest electric slab scissor lift offered by Snorkel, with a maximum working height of 45 feet 5 inches (14.0 m), measuring just 47 inches (1.19 m) wide. Ideal for working in tilt-up warehouse spaces and confined high-rise indoor spaces, the Snorkel S4740E is the company's first lift to be offered with a choice of either hydraulic or electric drive.
Weighing 6,825 pounds (3,100 kg) and with a lifting capacity of up to 550 pounds (250 kg), the S4740E shares the same features and benefits of Snorkel's existing electric slab scissor lift family, including saloon-door style entry gates, "inside-out" access to key components for easy servicing, and a fixed upper control box with integrated power outlets. The Snorkel S4740E is being shown for the first time at CONEXPO-CON/AGG 2020 and is available to order at the show.
At CONEXPO-CON/AGG 2020, Snorkel will also be highlighting new lithium-ion electric-powered models, alongside the lithium-electric Snorkel Speed Level that was launched in November 2019. The company will be previewing a lithium-ion electric compact rough-terrain scissor lift, as well as the industry-first lithium-powered compact telehandler, the new Snorkel SR5719E.
In the mid-size telescopic boom lift range, Snorkel is showing two new innovations to its existing 400S/460SJ and 600S/660SJ models at CONEXPO-CON/AGG 2020. Displayed for the first time, Snorkel's new "All Terrain" package for the 600S/660SJ telescopic boom lifts features four independent rubber tracks for use on difficult terrain or where low ground pressure is required.
On the 400S/460SJ telescopic boom lift models, Snorkel is showing a new Kubota engine option for the Snorkel 400S and 460SJ mid-size telescopic boom lifts, which was officially launched at The ARA Show in February 2020. Currently, the 400S and 460SJ are offered with a Deutz 2.9L 49 hp (36.5 kW) Tier 4 Final diesel engine as standard, however, the new option enables customers to select a simpler engine without compromising performance.
First introduced on the Snorkel A46JRT in 2014, the Kubota V1505 24.9 hp (18.6 kW) four cylinder naturally aspirated diesel engine has been chosen as it falls under the 25 hp emissions regulations, reducing complexity and maintenance requirements, as well as reducing noise, while still achieving 50 percent gradeability, a stowed drive speed of 4.25 mph (6.8 km/h), and equivalent function and control speeds as the Deutz version.
Snorkel is ANSI A92.20 ready, with models at the show highlighting compliance to customers, including the Snorkel S3010E low-level self-propelled mini scissor lift which has been recently updated to include a platform overload system.
During the show, Snorkel will also provide a preview of its new BIM library which is currently in development. Snorkel is rolling out RFA format 3D models of popular lifts over the coming months to enable customers to visualize the equipment on architectural and construction jobsites, helping to identify the right equipment for the right job.
Company info
Related products