Attachments roundup: mulching attachments for compact carriers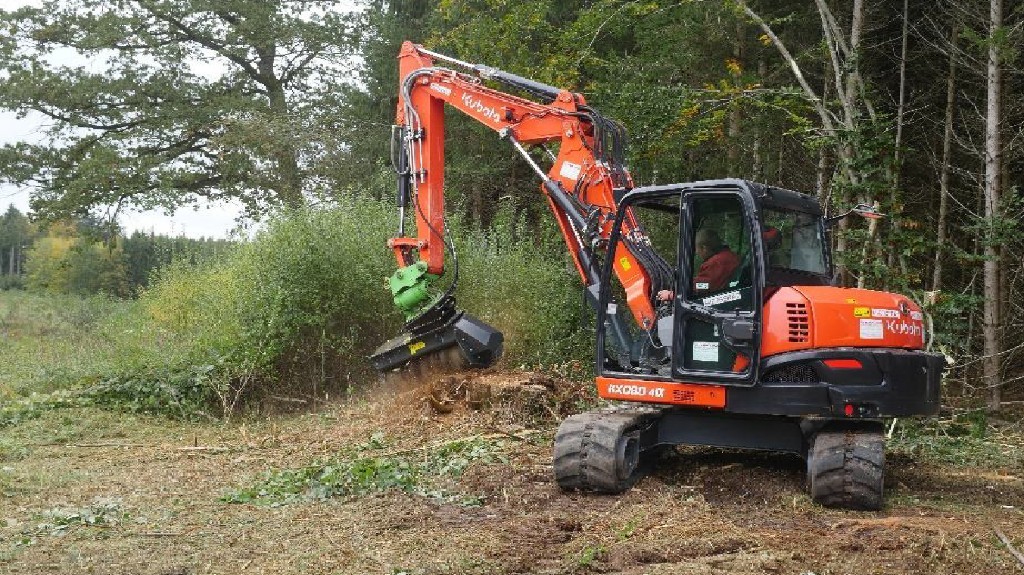 While there are dedicated mulching machines, adding a mulching attachment to an excavator or compact track loader is a simpler solution to meet basic land clearing needs of contractors. Here are four mulching attachments for compact equipment.
Prinoth mulching attachment range for excavators
The M450e-1090 mulching attachment suits excavators from 8 to 15 tons, as well as other carrier vehicles with booms, up to maximum 90 hp. The power requirement of this mulcher is reduced by two-stage counter cutting at the material inlet, which prevents the rotor from being blocked if large pieces of wood are drawn in. Thanks to the gear motors used in this model, no leakage oil line is required - it can be attached to any excavator boom without additional conversion measures. Prinoth offers a complete range of mulchers for machines between 6 and 30 tons. Additional models include the M450e-900 for 6 to 12 tons, the M450e-1100 for 12 to 18 tons and the M550e-1300 for 18- to 30-ton excavators.
Indeco IMH Series mulching heads
The IMH Series of hydraulically driven, boom-mounted mulching heads from Indeco are specifically designed for a broad range of land clearing, site preparation, invasive vegetation species management, storm damage removal and clean-up applications. The versatile attachment fits carriers from 5 to 45 tons, with interchangeable mounting brackets for any excavator application. It can also be used on multiple machines. Indeco's mulching heads leverage existing equipment investments by utilizing the excavator, back-hoe or skid-steer auxiliary hydraulics to turn a machine into a powerful land-clearing tool.
Loftness L Series Battle Ax horizontal drum mulchers
Loftness L Series Battle Ax horizontal drum mulchers are designed for standard-flow skid steers and compact track loaders with 16- to 30-gallon-per-minute hydraulic flow ratings. L Series Battle Axes are available with 51- and 61-inch cutting widths. The L Series features a rotor design with built-in depth gauges, which function similarly to raker teeth on chainsaws to prevent the attachment from engaging too much material at one time. This design is ideal for managing the amount of material being fed into the attachment. The horizontal drum mulchers also include a two-stage cutting chamber, which allows material to be cut twice by the rotor and helps produce a smaller particle size. The primary shear bar is adjustable for customizing particle size.
Fecon stout deck mulcher attachments
Fecon has introduced a family of stout deck mulcher attachments that are wider than conventional deck mulchers, providing more productivity per pass. Specially designed two-sided blades effectively double their service life without having to flip the blade. A stump-jumper feature allows the Deck Mulcher to ride over stumps without risking bolt shearing; the extra blade mass also increases cutting inertia and enhances performance in thicker materials. Deck Mulchers can mulch smaller materials faster than traditional drum mulchers, making them ideal for right-of-way clearing and maintenance projects, forestry clearing, site preparation, land improvement, highway mulching and maintenance, urban interface and more.
Fecon Deck Mulchers are available in three sizes with cutting widths of 62-, 74- and 86-inches, and weights from 1,950 to 2,450 pounds, and hydraulic flow requirements from 17 to 41 gpm. They are well suited for carriers that can handle these lift capacities and hydraulic flows.
Related Articles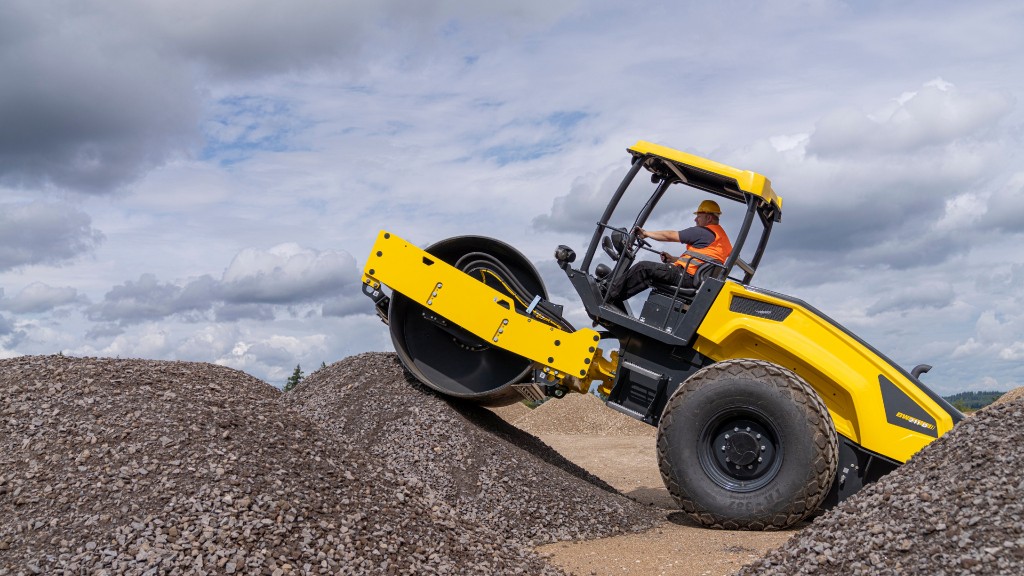 New compaction innovations focus on efficiency and operator ease of use for Bomag at bauma