How to pick the right tools for site prep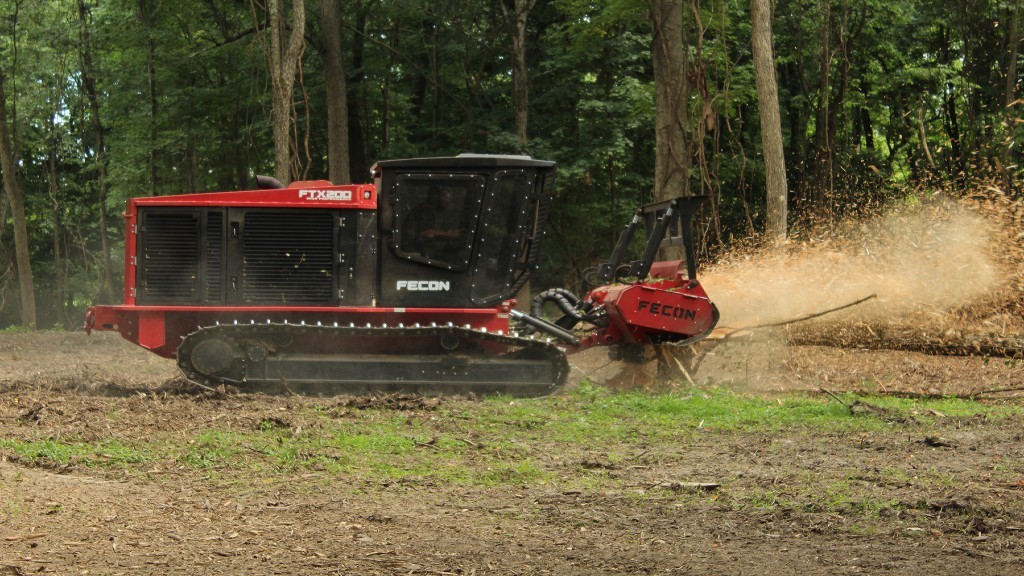 There are many different routes that a contractor whose site preparation work involves vegetation management can consider when it's time to buy equipment. Different types of attachments and carriers can be challenging to work through. Heavy Equipment Guide asked Fecon's Mark Ferguson, product manager, and Tom Hover, new product tractor manager, to provide their insight on the best approach to buying vegetation management tools.
HEG: What are the challenges that contractors can face when it comes to selecting a vegetation management tool for site preparation work?
MF: In the current market there are a lot of manufacturers offering a myriad of vegetation management tools including mulchers for skid steers, mulchers for excavators, flail mowers, deck mowers, purpose-duty machines and other options. The decision for the contractor is based on many factors like: acquisition and operating costs; financing options; size and density of vegetation; productivity of equipment; desired end result; what tool may fit their current carrier; what machine they can rent; and so on.
HEG: What kinds of equipment are available for site prep, and how do they differ?
MF: These attachments and equipment can range in price from less than $10,000 into the hundreds of thousands of dollars and offer different productivity levels and end results. If a contractor has a very large job or anticipates many successive jobs they may want to consider a purpose-duty machine or a high-flow mulcher for their machine.
If a smaller job is on the table, they may want to consider renting this equipment. If the job does not require a nice, finished end product a deck mulcher might make sense. If the material is 2 inches and smaller in diameter a flail mower may suit their needs.
Although there is no mathematical formula to relate when it comes to recommending the best equipment or attachment for a job, there are thresholds to consider. For example, if the vegetation needing to be addressed has a significant amount of material larger than 3 inches in diameter, I would advise against a flail mower and recommend a fixed tool mulcher or deck mower. Fixed tool and deck mulchers can handle larger material than flail mowers. Then I would consider the factor of "desired end result" to determine the best tool for the application.
Likewise, if the material you are targeting is even larger, or a significantly higher density, then your productivity will be directly relative to the machine's production capabilities, usually tied to its ability to transfer horsepower, either hydraulic or mechanical, to the cutting/mulching tool.
HEG: In what uses should a contractor consider a skid-steer attachment as opposed to an excavator, or vice versa?
MF: Skid-steer mulchers can be very productive in areas that are accessible to them. However, when slopes or creeks or terrain or growing conditions are prohibitive for a skid steer, an excavator is often an excellent answer. An excavator mulcher is perfect for attending to material on slopes or fence rows, creeksides, or even to keep the perimeter of a farm field cut back to allow more sunlight to the crops and keep expensive farm planting and harvesting equipment from damage.
HEG: When are utility vehicles and tractors the best option, and how should a buyer approach purchasing the one that fits their needs?
TH: There are many choices of machine and many variables in the scope of the work to be performed. Size of material to cut, desired finished product, the frequency of the work, if the equipment is for private property maintenance or commercial land clearing applications: all play a part in making the right buying or renting decision. The best advice would be to consult the experienced manufacturers or dealer representatives to help analyze the job requirements for the short or long term to get the best results. Sizing the machine to fit the needs of the project is the best way to make a safe and solid decision for the best value.
HEG: What are your top pieces of advice for anyone seeking to purchase tools for vegetation management?
MF: Always consult the manufacturer or distributor. They are trained in this equipment and can direct you to the best equipment solutions for your application and budget. They get asked about this equipment daily so they may even be able to offer a perspective you have not considered.
If you are considering entering a new market, allow for growth of your business and, if you can, buy an attachment that will do what you need and maybe a bit more.
Maintenance, maintenance, maintenance: act like your equipment is the life blood for your family. Develop an aggressive preventive maintenance program and address wear issues before they occur. The result will be less downtime and more satisfaction with your equipment.
Train yourself and your employees on the operation of the machine or attachment before operating. Read the manual. Watch videos. Read and heed the warnings and instructions. Whether you are the owner or the operator or both, treat it like you own it.
This article was originally published in Heavy Equipment Guide, Volume 35, Number 4.