New excavators for 2020: a roundup of all the major releases so far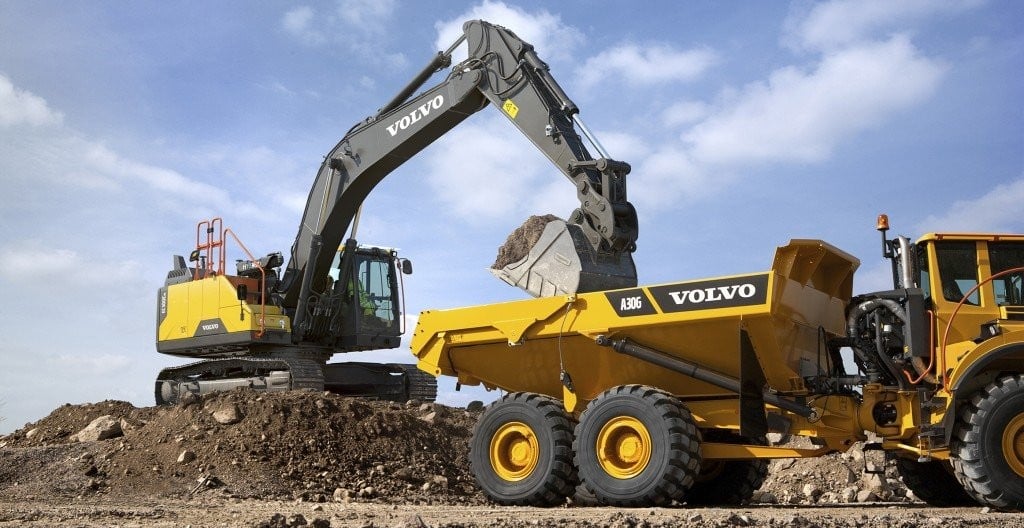 With 2020 half over, it has already been a busy year for excavator introductions. Manufacturers have launched a variety of models ranging from 2.5 to 100 tons, many of which debuted at CONEXPO-CON/AGG. Check out our roundup of all the major new excavator introductions for the first half of 2020 below.
Bobcat introduces largest excavator ever, and first two models in R2-Series
Bobcat's largest excavator ever is available this summer. The 19-ton E165 is ideal for heavy digging and lifting tasks on building sites, in underground utility applications, and road and bridge projects.
This conventional tail swing, 131-hp machine has four selectable power modes to give operators adaptable performance: Power+ mode for top work group speed or sustained peak performance; Power mode for tough digging, quick loading, heavy lifting and fast travel; Standard power mode for balanced performance and reduced fuel use in routine digging, lifting and grading; and Economy mode for optimizing fuel use for when power demand is low or during precise digging and fine grading.
The first two models in Bobcat's R2-Series of compact excavators pack the digging power of a larger machine into a compact frame that can fit into tight jobsites. The E42 and E50 utilize added stability features to improve over-the-side digging performance and slewing ability.
New R2-Series excavators feature a more efficient engine that delivers the performance that operators need while reducing and simplifying routine maintenance. The new engine improves cold-weather operation and includes a variety of features that make maintenance and service more convenient, such as an improved cooling system and dual-flange track rollers.
Cat brings performance and efficiency to excavators of all sizes
According to Caterpillar, the newly released 100-ton Next Generation Cat 395 offers contractors up to 10 percent more production, two times more structural durability, and reduces maintenance costs by up to 20 percent over its predecessor model, the 390F.
Three modes of operation are available: Power, Smart, and ECO. Power mode is maximum power at all times; ECO mode lowers engine speed and cycle times while maintaining breakout force. Smart mode takes the guesswork out by automatically matching engine and hydraulic power to the actual digging conditions.
The 395 has also received a boost in durability to take on demanding work. Booms, sticks and frames are twice as strong as those on the previous model, and have increased top and bottom plate thickness. Frames also have increased base frame and counterweight mounting plate thickness.
Cat has also introduced two new 13-ton-class Next Generation excavator models, the Cat 313 and 313 GC. The 313 excavator features a range of standard Cat technologies designed to boost operator efficiencies by up to 45 percent. The 313 GC lowers maintenance costs by up to 25 percent, making it a fit for rental, municipal, and general all-around excavating applications requiring performance and low operating costs.
On both models the fuel-efficient Cat C3.6 engine meets stringent emission standards, and the 313 GC does so without need for DEF. The excavators' new hydraulic oil filter delivers improved filtration and a 50 percent longer change interval at 3,000 hours. New anti-drain valves keep the hydraulic oil clean during filter replacement to improve system longevity.
Meanwhile, the new 315 Next Gen excavator features a new powertrain, technology and simplified maintenance. Standard grading technologies boost productivity gains by up to 45 percent compared to traditional grading and a 10 percent higher swing torque makes working on slopes and around the jobsite much more efficient. The drive system navigates tough ground conditions and slopes with 14 percent more drawbar pull over the models it replaces. The hydraulic system provides power and efficiency to increase productivity by up to 8 percent over the 315F L. Its new electronic hydraulic valve delivers significant efficiency gains, while offering the capability of future technology growth.
The new 315's more powerful Cat C3.6 engine meets U.S. EPA Tier 4 Final and EU Stage V emission standards. Smart mode operation automatically matches engine and hydraulic power to digging conditions to conserve fuel in less demanding applications. Design changes on this excavator lower maintenance costs by up to 25 percent compared to the previous models.
The new Cat 325 hydraulic excavator features a compact radius design, making it ideal for working in tight spaces. The excavator also offers reduced fuel consumption, lower maintenance costs, and boosts efficiencies up to 45 percent compared to previous models.
Two new counterweights are also now available: an 8.3 ton designed to maximize lifting performance, and a 4.9 ton designed to contain the overall machine weight where more stringent transport limits are in place.
Two new Cat Next Generation wheeled excavators, the M314 and M318, feature multiple design updates that boost machine efficiency and lower long-term operating costs. Advanced hydraulics efficiently power attachments, including Cat tiltrotators, to increase machine flexibility.
Featuring up to 15 percent more swing torque over the F Series, the M314 and M318 allow operators to quickly complete the task and move onto the next. With travel speeds in excess of 34 km/h (21 mph), they are also fast and efficient at moving from job to job.
Doosan models for mini and mass excavation
Doosan has added the DX62R-3 to its mini excavator lineup. The reduced tail swing model provides increased maneuverability and accessibility for excavation work in limited spaces with just 4.9 inches of side overhang.
This model is ideal for customers who need to work in urban environments where space is limited; applications include landscaping, utilities, and commercial and residential construction.
The company has also introduced the Doosan DX800LC-7 crawler excavator. It is the biggest model in the company's excavator lineup and is primarily intended to serve customers in mining applications, removing overburden and loading large amounts of material into articulated dump trucks or rigid frame trucks. The DX800LC-7 may also be operated on very large construction projects, particularly at infrastructure jobsites, where a massive amount of material needs to be excavated and stockpiled or loaded into trucks to be moved.
Gradall boosts horsepower and travel speed on new models
Gradall Industries introduced two new Discovery Series hydraulic excavator models, the D172 and D174, that feature a 36 percent increase in horsepower as well as greater torque to increase travel speed, hill-climbing capability and overall productivity.
Both new models also have Freightliner undercarriages and feature a Gradall upperstructure and versatile telescoping, full-tilting boom able to rotate attachments 220 degrees. The low-profile boom design also allows Discovery Series models to work productively under bridges and in tunnels where mini excavators and tractor loader backhoes can't operate.
Gradall boom movements and power, combined with a 25-foot reach, make the Discovery Series models adept at grading, culvert replacement, landscaping, mowing, and vegetation control, as well as removal and replacement of curbs, gutters and sidewalks. For full working stability, the excavators have front axle lockout cylinders and do not require outriggers, even when working at either side or to the rear of the machine.
Hyundai adds compact and crawler excavators to its A Series equipment line
Hyundai Construction Equipment Americas has launched the HX210A crawler excavator and HX85A compact excavator as part of the A Series lineup.
The new Hyundai HX210A features similar general specifications to those found in the HX220L model, but with standard features and pricing designed to appeal to rental houses and dealers with high volumes of rental business.
The HX210A excavator is powered by a 170-hp (127-kW) Cummins B4.5 Stage 5/Tier 4 Final diesel engine. The excavator has a standard operating weight of 48,720 lbs (22,100 kg). The HX210A excavator is equipped with a standard 0.80 cubic yards (1.3 cubic metres) capacity bucket.
Kobelco's new excavators shorten cycle times, increase digging force
Kobelco Construction Machinery has introduced the enhanced SK140SRLC-7 which offers full-size benefits with short rear swing capabilities.
Performance advancements allow the SK140SRLC-7 to deliver greater efficiency and productivity as well as increased power and speed than its predecessor. The upgraded SK140SRLC-7 features a dynamic digging force of 24,800 pounds to achieve increased work volume. A compact design and long digging reach capabilities provide a broad working range and easy maneuverability, while a digging depth of 19 feet 7 inches and swing speed of 11 rpm shorten cycle times by approximately 10 percent, according to Kobelco.
The SK130LC-11 is the first model to be introduced as part of Kobelco's next generation of excavators, the Generation 11, which maximizes job productivity and increases digging power.
This model delivers a dynamic digging force of 24,818 pounds to achieve high work volume, while minimizing fuel consumption. The SK130LC-11 is equipped with independent travel, a Kobelco feature that allows the machine to move, lift and swing simultaneously without experiencing loss of power.
Both excavators come equipped with multifunction capabilities, including an attachment selection system with adjustable flow-rate presets for the bucket, breaker, nibbler and thumb. This attachment selection system allows the operator to change tools quickly and easily. Mode settings for other attachments, such as a tilt rotator, can also be easily added or changed.
Komatsu provides entry-level durability in a small package
The PC130-11 is an entry-level excavator from Komatsu, built to be easily transported from job to job and provide customers with fast loading cycles and high productivity.
The 28,660-pound (13,000 kg) and 97.2-hp conventional tail swing excavator is useful for utility work or small construction jobs. With steel castings in the boom foot, boom nose and arm tip, the new machine also offers long-term durability.
Mecalac crawler excavators travel at skid-steer speeds
The updated Mecalac MCR Series of crawler skid-excavators includes three models, the 6MCR, 8MCR and 10MCR. These versatile excavators combine the speed of a skid steer with the compact footprint and 360-degree rotation of an excavator to offer a one-machine solution that can take on the tasks of a skid-steer loader, forklift and excavator on a confined jobsite.
The new MCR Series features a hydrostatic transmission and drive motors. A dedicated pump drives the motor, allowing for twice the speed of any traditional mini excavator on the market, according to Mecalac, with each model travelling up to 6.2 mph (10 km/h).
Mecalac's three-part boom system allows operators to do more from a single position and, according to the company, provides impressive lifting capability that exceeds anything else on the market. The arm can also be tucked in, even when the bucket is full, for compact mobility and zero-turn radius. The Connect quick coupler allows operators to quickly transition between attachments, such as pallet forks or digging buckets, without leaving the cab.
Takeuchi compact excavator for jobsites with limited access
Takeuchi's TB225 compact hydraulic excavator features all-steel construction and engine output that provides more power to increase productivity.
With an operating weight of 4,993 pounds, a dig depth of 8 feet 5.5 inches, maximum reach of 14 feet 4.2 inches, and a bucket breakout force of 4,339 pounds, the retractable undercarriage on the TB225 also allows the machine to easily navigate jobsites with limited access.
The automatic fuel priming system, auto deceleration, and dual element air cleaner that are standard features for the 19.6 hp US EPA Final Tier 4 Yanmar engine, ensure the machine will always be operating in the most efficient and environmentally friendly way possible.
Volvo introduces unique hydraulic hybrid and largest excavator
Unlike other systems that capture the swing energy of an excavator's superstructure to electrically assist the engine, Volvo's EC300E Hybrid takes "free" energy generated by the boom down motion and uses it to reduce fuel consumption. The boom-down motion charges 5.2-gallon (20-litre) hydraulic accumulators, which then deliver energy to drive hydraulic assist motors that help power the hydraulic pump.
This capability takes load off the engine and in the process delivers up to 15 percent lower fuel consumption and 12 percent lower carbon dioxide emissions than a conventional machine. When used in high production "dig and dump" applications - especially those within a 90-degree swing - the fuel saving payback is approximately two years, and all with no loss of performance.
Volvo's largest excavator, the 100-ton (90-tonne) EC950F, is also now available in North America.
Its optimized hydraulics deliver constant high pressure across each phase of the digging and lifting cycle. The hydraulic system increases pump power for fast and smooth operation, while the electro-hydraulic system controls on-demand flow and reduces internal losses in the hydraulic circuit. The EC950F also comes with a boom-swing priority valve which adjusts the priority of hydraulic flow between boom-up and swing so that truck loading cycle times can be set to truck loading working conditions.
Volvo's ECO Mode helps the EC950F achieve fuel efficiency while the integrated work mode allows operators to choose the best work mode for the task at hand: select from I (Idle), F (Fine), G (General) and H (Heavy).
To boost machine versatility, the attachment management system can store settings for up to 20 different attachments, enabling the operator to pre-set hydraulic flow and pressure through the in-cab monitor.
Wacker Neuson increases visibility on wheeled and tracked models
Wacker Neuson's EW65 and EW100 are compact wheeled excavators that offer mobility around or to and from the jobsite. They can save contractors time and money by eliminating the time consuming process of loading and securing the machine for a short transport. The triple boom has the ability to fold in tighter to the machine which provides an improved line of sight when roading, especially through urban intersections.
The triple boom configuration is an option for the new ET90 tracked model. The articulated triple boom offers increased digging area of 20 percent on the EW65 and 25 percent on the EW100, through an extended digging range, allowing the operator to reach farther, dig closer to the blade and reach under the machine when needed.
Wacker Neuson's 4.2-ton excavator, the ET42, offers large machine features in a smaller package and features the same three-point bucket linkage that can be found on the company's larger models. This unique kinematic linkage system offers a 200-degree angle of rotation that combines breakout force with a greater range of motion. This linkage also provides greater vertical digging depth, which can be especially helpful when excavating next to walls, and can rotate the bucket farther to keep the load more secure before dumping.
Productivity boosting options include a hydraulic quick connect system that allows an attachment to be changed in seconds without having to leave the cab, and a diverter valve on the auxiliary hydraulic line allows operators to switch between thumb and another attachment, such as a hydraulic breaker, without disconnecting the hoses.
Yanmar debuts new red paint job on ultra-tight-tail-swing mini excavator
Yanmar's ultra-tight-tail-swing SV40 excavator features power, flexibility and stability in a compact package and is the first of the company's compact equipment line to be offered in the new Yanmar premium red colour.
The SV40 is a 4-ton machine with a 39-hp electronically controlled Yanmar Tier 4 Final diesel engine. It comes standard with Yanmar's patented quick coupler, SMARTASSIST remote communication system and a 4-year / 4,000-hour warranty. Options for the SV40 include a second PTO function, 4- or 6-way blade and an additional counterweight.
Company info
Related products
Related Articles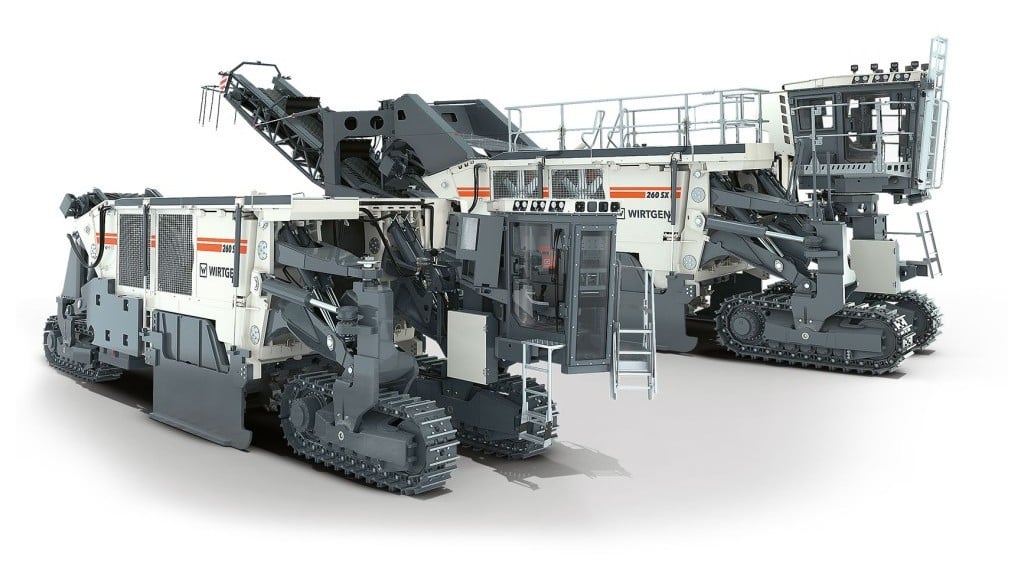 Wirtgen's cross application miner can cut rock above buried infrastructure and near buildings