Technology and productivity drive new dozers
Manufacturers focus on cab design, power and operator assistance technologies on new dozers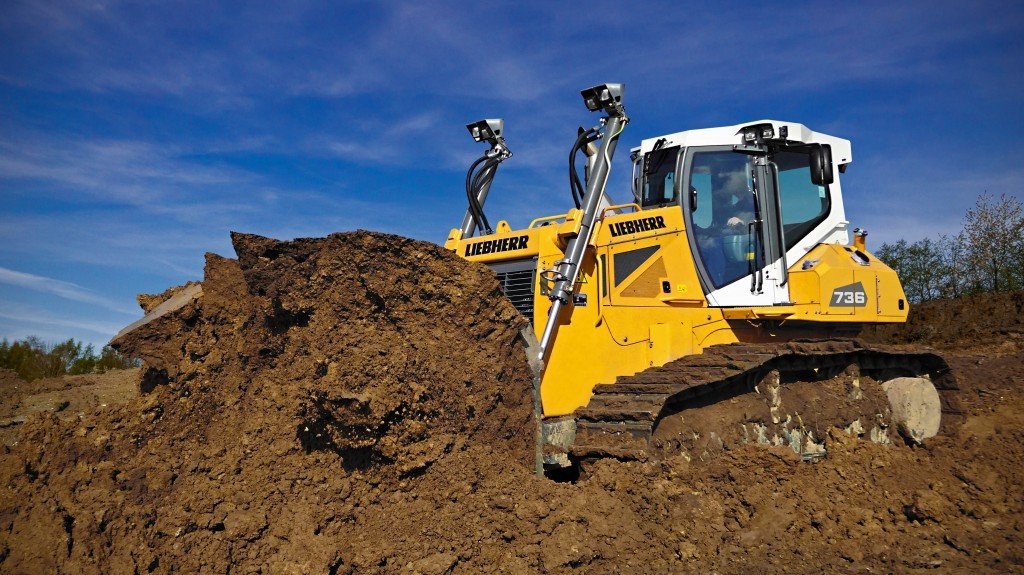 When it comes to pushing, levelling and digging soil and other site materials, contractors expect bulldozers to deliver productivity on the jobsite. CONEXPO-CON/AGG 2020 marked the release of over half a dozen new dozers, covering a full range of applications and offering versatile solutions for users.
Featuring everything from the world's first fully integrated compact dozer loader to a new line of low-emission small dozers, below is a roundup of all the new releases the exhibition had to offer.
Liebherr's PR 736 G8 offers three operator assistance levels
At the show, Liebherr introduced its generation 8 crawler dozers with the new PR 736 G8.
Powered by a newly developed Liebherr diesel engine belonging to the EVO series (160 kW/217 bhp), it meets Tier 4 Final requirements, with its exhaust gases being cleaned by a combination between a DOC (diesel oxidation catalyst) and a SCR filter (selective catalytic reduction and particle filter).
The machine's operating weight is up to 56,218 pounds (25.5 t), while various blade versions (straight, semi-U and 6-way) are available to cover a large application range. Blade capacities range from 5.36 to 7.27 cubic yards (4.10 - 5.56 cubic metres, while the new 6-way blade features and increased capacity (up to 7.27 cubic yards / 5.56 cubic metres) and improves production output
Additionally, the generation 8 crawler dozers feature Liebherr Operator Assistance Systems, which offer three assistance levels: "Free Grade" for active blade stabilization during fine grading, "Definition Grade" for automatic blade positioning when creating 2D grades and "3D Grade" as an optional GPS machine control system to model complex terrain shapes, among others, with the standard roof-mounted GPS/GNSS antennas.

Learn more about the PR 736 G8 and its operator assistance capabilities here.
Caterpillar releases line of low-emission small dozers
Building on the same base machine platform as their predecessors, the new Cat D1, D2 and D3 Next Generation small dozers feature styling changes, technology enhancements and the new low-emission fuel-efficient Cat C3.6 diesel engine, which now meets more stringent EU Stage V as well as U.S. EPA Tier 4 Final emission standards.
The D1, D2 and D3 Next Gen dozers replace the D3K2, D4K2 and D5K2 models, respectively, and the new series offers the same specialty model options as in the past.
While offering the same net power ratings as their previous series counterpart models, these new Next Gen dozers deliver up to 10 percent improved fuel economy. Eco Mode, available in forward/reverse or reverse only options, improves fuel economy by automatically reducing engine speed when not required. When load changes necessitate higher engine RPM, Eco Mode automatically allows the engine to deliver maximum speed and power until the load decreases.
Learn more about Cat's new small dozers here.
Dressta's TD-16N dozer offers enhanced visibility
Dressta has debuted a revolutionary new cab designed for exceptional visibility on the TD-16N.
The dozer features a mid-cab design over a mid-mounted automatic, dual path hydrostatic drivetrain. It comes with a standard 6-way angle blade and it is compatible with 2D and 3D grade control systems. With an operating weight of 19,090 kg (42,090 pounds) and net horsepower of 170 hp (127kW), it features both power and performance.
The unique undercarriage design utilizes a single-track gauge for all track shoe widths. This allows the dozer to be reconfigured at any point in its life, from standard to LGP undercarriage, by simply just changing the track shoes and the blade. This feature will improve resale values by allowing future owners to reconfigure the machine to perfectly match their needs.
The machine also features non-slip steps at the rear of the machine, totally negating the need to step onto the tracks. Complete with safety handrails, these steps allow easy access to and from the cab with three points of contact maintained at all times. The TD-16N is the only dozer in its size class with this type of "no tracks" access.
Dressta's TD-16N won the 2020 Red Dot Award for design.
Learn more about the unique cab here.
Case introduces industry's first fully integrated compact dozer loader
Case Construction Equipment introduced the DL550B, the industry's first fully integrated compact dozer loader, at CONEXPO-CON/AGG 2020.
Unveiled at CONEXPO-CON/AGG 2017 as a concept machine named "Project Minotaur," the DL550B leverages the footprint of a compact track loader with the chassis-integrated C-frame and blade of a dozer to create a powerful two-in-one machine for grading and loading applications.
Major changes to the DL550B compared to the original concept at CONEXPO-CON/AGG 2017 include an evolution from radial to a vertical lift geometry and an increase in rated operating capacity from 4,500 pounds up to 5,500 pounds (at 50 percent tipping load).

The machine weighs approximately 18,000 pounds and operates at 114 horsepower. It is also available with an optional fully integrated ripper and is compatible with a wide range of heavy-duty attachments that make it suitable for everything from initial site clearing to finish grading.
Learn more about the world's first fully integrated compact dozer loader here.
John Deere dozer line includes increased power levels, low-effort controls
Addressing the needs of the modern operator, the new John Deere 700L and 750L dozers feature improvements to productivity, reliability and operator comfort.
The updates include an all-new operator station, increased power levels, low-effort electrohydraulic (EH) controls and a suite of factory grade control solutions.
The 700L and 750L deliver more power than the previous K-Series models, boasting 135 hp (101 kW) and 175 hp (131 kW), respectively. The new crawler dozers are equipped with a six-cylinder, 6.8-litre John Deere engine.
Additionally, the 750L operating weight is increased by 750 pounds, providing more tractive effort and better balance to improve machine performance. The dozers are available with new, wider blade options, including a 161-inch option, the widest blade offered in its size class. Integrated spill sheets on the 700L machine further increase blade capacity.
Learn more about Deere's new dozers here.
Cat updates D7 dozer with new technology and higher performance
Caterpillar has released the new D7 dozer, which offers a high drive undercarriage design, increased performance and a broad selection of technology features intended to help operators get the most out of their bulldozer.

A fully automatic 4-speed transmission offers optimal fuel and dozing efficiency, plus ease of operation. At 265 hp (197 kW) and an operating weight of 65,644 pounds (29,776 kg), the new D7 dozer replaces the D7E.
The D7 moves up to 8 percent more material per hour than the D7E, according to Cat, with about 6 percent more weight and 12 percent more horsepower. Blade capacity is increased by 10 percent, and the elevated sprocket undercarriage delivers better ride and balance, as well as increased penetration force.
Learn more about the new D7 dozer here.
Case unveils first dozer of N Series line
Case Construction Equipment previewed the new 850N dozer at CONEXPO — the first in the upcoming all-new N Series dozer line.
The 850N represents the next phase in electro-hydraulic controls in small- to medium-sized dozers. The new machine also features Case's Universal Machine Control, expanding the platform into smaller dozers and making the entire Case dozer product line compatible from the factory with all major suppliers of machine control technology.
Additional advancements include a new front hood design that improves forward visibility, a new flat panel design at the rear of the machine that improves rear visibility, and a new and improved operator interface with rearview camera that further improves all-around visibility. The machine also features a new cooling package and hydraulic routings for improved serviceability.
The Case 850N dozer delivers productivity through powerful drawbar pull and horsepower ratings. It also features a hydrostatic drive system, and an advanced load management system that automatically reduces track speed (increasing torque) with a heavier load on the blade, and increases track speed (reducing torque) with a lighter load on the blade, ensuring that the machine is working at optimal power and efficiency.
Learn more about the upcoming N Series dozer line here.
Komatsu's intelligent Machine Control 2.0
Released at CONEXPO, Komatsu's intelligent Machine Control (iMC) includes a suite of features that utilizes advanced machine technology to increase dozer productivity. The iMC was introduced on Komatsu's largest HST dozer.
The suite of productivity features that comprise Komatsu's intelligent Machine Control 2.0 include:
Patent-pending proactive dozing control
Automatically cuts/strips from existing terrain like an experienced operator
Can operate automatically 100 percent of the time
Measures the terrain it tracks and uses that track-level data to plan the next pass
Over 60 percent more productive than the previous generation
Patent-pending lift layer control
Automatically spreads fill from existing terrain with one press of a button
Measures the terrain it tracks over and uses that data to plan the next pass
Doubles production and achieves consistent layers for quality compaction
Tilt steering control
Automatically tilts blade to maintain straight travel during rough dozing
Reduces the need for operator steering input by up to 80 percent
Quick surface creation
Creates a temporary design surface with one press of the button
Combined with other iMC 2.0 functions, operators can begin stripping or spreading using automatic modes while waiting for finish grade mode
Learn more about the intelligent Machine Control here.
Related Articles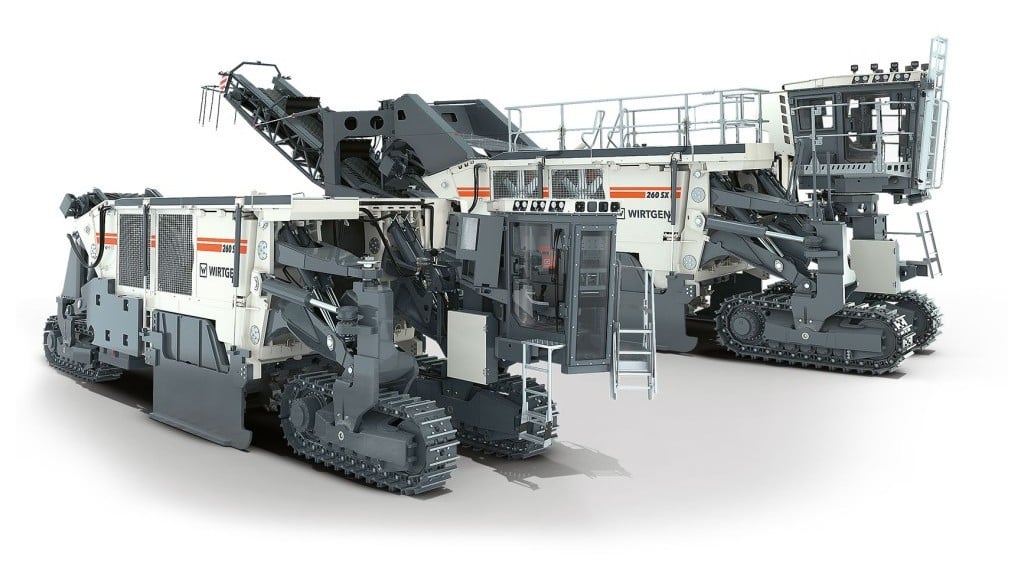 Wirtgen's cross application miner can cut rock above buried infrastructure and near buildings