Pushing precision: an in-depth report on dozers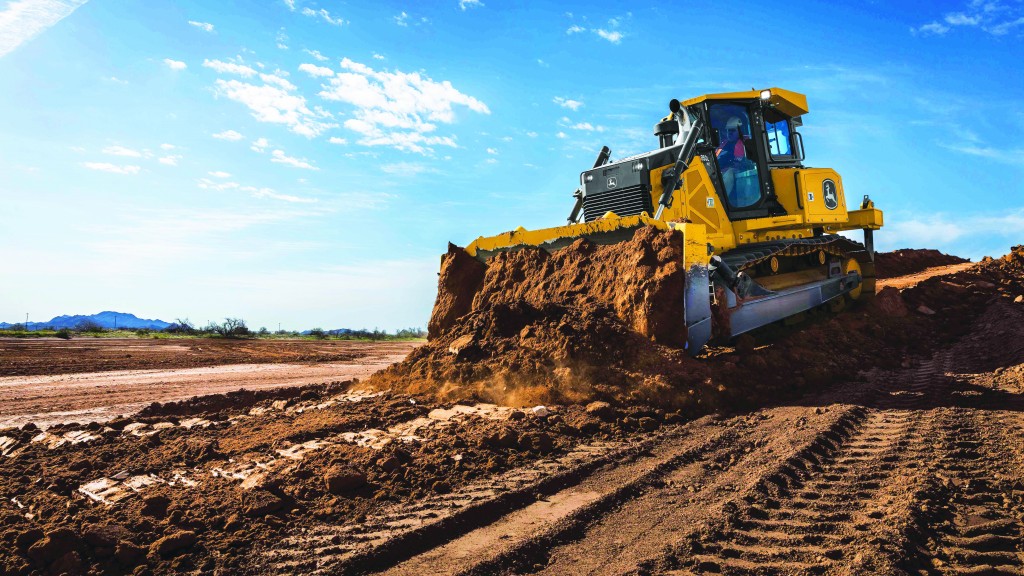 It used to be that contractors would use crawler dozers for a very specific type of job: pushing a whole lot of dirt in a short amount of time. They are a workhorse for cutting down to grade, even today, but with advancements in technology owners are using these powerful machines for much finer detail work than ever before. We asked our industry experts to tell us how the dozer landscape is changing and how pushing dirt has turned into much more.
Changing jobs
Nearly a century ago, some bright engineers had the idea to put a pushing blade on the front of an early crawler tractor, and the dozer was born. Since then, it has been used around the world for bulk material movement – cutting massive amounts of dirt and moving it around the jobsite.

Today's dozers, though, are taking advantage of new developments that bring far more to the table than just that.

"Customers used to use the dozer just for the big, heavy pushing and maybe some land clearing, but then they would bring in other machines to do finish grading and other tasks. Now, it seems like the dozer is doing a lot more of those applications – heavy dozing, spreading, finish grading, clearing, all of that," said Sam Meeker, Caterpillar product application specialist for dozers. "Some of the developments that we've done have been related to making the machine more productive in those applications."

For Cat, the D6 and D6XE dozers are an example of how new applications are considered in the new designs. Meeker explained that the company's experts saw that customers needed machines that run more smoothly for faster finish grading, and took a new look at how to make their dozers more effective in that operation.

"We found more and more customers using their dozers for that application and they weren't satisfied with the results they were getting. So, we started to look into it and took our typical 8-bottom-roller undercarriage for LGP (low ground pressure) dozers and started to work with it," Meeker said. "We started working with the idler height, spaced the rollers a little differently, and found that sticking another roller in there made it a little smoother. So, we stuck another one in for a total of 10. That lets the customer go a little faster and be a little more productive while they're doing high-speed finish grading or spreading applications."

Along with more precision in their design, dozers are being used more frequently with modern grade control systems. With experienced operators retiring and newer users climbing into the seat, having technology to help hit the right grade at the right time is important, according to our experts.

"Komatsu is helping by providing grade control technology that is proactive, so that the operator can run the machine like an experienced operator," related Jonathan Tolomeo, product marketing manager with Komatsu America.

For Komatsu, that means the new proactive dozing control introduced earlier in 2019, which adds aspects of machine learning to its automatic systems, allowing operators to hit their grades much more easily.

"The new proactive dozing control took the industry's typical reactive grade control and improved it by turning it into the industry's first proactive grade control; the new system continuously collects terrain data, giving the system an understanding of the terrain around the machine and allowing it to increase production beyond finish grade," Tolomeo said.

A deliberate approach to machine control has been incorporated into the Case Construction Equipment dozer line, according to Nathaniel Waldschmidt, product marketing manager. "These machines need a quick learning curve, and a big part of that is machine control. With this technology, contractors are able to see notable gains in productivity, reduced wear and tear on equipment, and significant reduction in labour," he said.
Case has introduced the Universal Machine Control concept, giving contractors more flexibility when purchasing a dozer, Waldschmidt said.

"Universal Machine Control allows contractors to buy the machine from the factory with a universal blade guidance system harness, universal machine brackets and mounts, and universal jumpers to integrate into any of the major machine control systems on the market. Any contractor can now take a Case dozer with universal machine control and integrate it directly into any fleet-wide machine control deployment."

Mastless systems like John Deere's SmartGrade are becoming popular for machine control; according to Nathan Horstman, product marketing manager, crawler dozers, Deere's SmartGrade cuts down on the number of finish passes and helps reduce undercarriage wear while improving productivity. Elsewhere, customers are looking for other features as well, including the company's Power-Angle-Tilt six-way blades.

"The 950K PAT dozer, which offers the only six-way blade in its class, can complete both large dirt moving jobs and finish work, eliminating the need to haul in a finishing dozer," Horstman said. "This combination has been a real game changer for our customers."
Smooth driving, smooth surfaces
All of the power that dozers generate for pushing dirt has to come from someplace, and numerous updates have taken place surrounding the driveline. Deere's customers have been looking for a machine to give them the upper hand, a demand that has resulted in development of the 850L, Horstman noted. "We upsized the hydrostatic transmission so that the new 850L could push more material in less time. The larger hydrostatic transmission in the 850L also allows the engine to run at a lower speed, optimizing fuel economy and improving durability."

Long life and reliability are important to Komatsu customers, and Tolomeo said the company has kept that in mind through its design and development of new machines. "Our driveline components are designed for long life and reliability. . . our components have tight tolerances and are extremely reliable," he advised. "Anyone can tell you that you need to keep your oil clean and operating temperatures to a minimum; our dozers are enhanced with an excellent filtration and cooling system to increase component life."

In designing the new D6 machines, Caterpillar has brought several innovations to the table that can help customers be more efficient, Meeker noted: the four-speed lockup clutch transmission on the D6 and electric drive on the D6E.

"What we've done is inserted a gear between first and second - I call it 1.5. When an operator is spreading trucks or 20-ton tandems of material on the jobsite, what he wants to do is hit that pile in second gear. . . then he'll obviously slow down and downshift as he goes through the pile, then upshift on the back of the pile as well. Well, with that gear 1.5, when he hits the pile in second it downshifts to 1.5 instead of 1, which helps to keep his speed up and keeps the momentum and productivity of that tractor up," Meeker explained. Combined with a lockup clutch, that ensures the machine is working as efficiently as possible.

On the D6XE, Cat's electric drive provides pushing power and productivity similar to a powershift transmission, while adding efficiency through reducing the amount of heat it generates. Using a "switched reluctance" system the generator only produces the necessary amount of power for the job it's doing, Meeker noted.

"You can vary the amount of energy you want the generator to make – if I'm doing light duty work, I'm only asking the generator to make a little energy, therefore it only asks the engine to make a little bit of torque. When I want more power I ask the generator to make a little more, and therefore it puts more load on the engine," Meeker said. "So, we can really finely control the amount of power we're asking for, and the amount of fuel the engine consumes."

Fuel efficiency has also been built into the newest Case machines; Waldschmidt notes that the M Series dozers were the first in the industry to be powered by an SCR Tier 4 solution. "This type of aftertreatment system lets the engine run at peak performance with no regeneration and no related downtime. The M Series also features a hydrostatic transmission that is able to deliver best-in-class drawbar pull while achieving up to 10 percent greater fuel economy over the previous generation of machines."
Technology takes the lead
Grade control is just one way in which technology is being used to improve dozer operation. According to Caterpillar's Meeker, additions that help in the ongoing transition from older, more experienced operators to a new group in the workforce are important. For Cat, that has meant some additions beyond Cat's own 3D GRADE technology that make the job easier for newer operators. It starts with slope indication, which gives the person in the seat the precise percent of slope the tractor is working on, and then adds the company's Stable Blade – an inertial measurement unit that detects when the machine is moving up and down to stabilize and smooth out the motion of the blade. From there, Cat also offers Slope Assist, an advanced version of the slope indication system.

"It takes the same reading that we provide the operator but controls the blade to those slopes. So, if the plans or specs to say to put in a zero percent grade in for a house pad, the operator can use Slope Assist to lock that blade in," he said. "If they need a 16 percent slope for a pond, let's say. . . they can use Slope Assist to dial that in, click the automatic button, and it locks that blade in at that 16 percent slope. It's very inexpensive, it works great, it's an exclusive in the industry and it's a great little tool to help operators be more efficient."

Integration of grade control through the dozer's systems is growing and means operators can do more jobs across the site, said Deere's Horstman. "Grade control technology enables dozers to be fully utilized throughout the site development cycle, from clearing all the way to the final pass for paving," he said. "Another big advantage of grade control is that it eliminates all the guesswork – the operator knows the exact cut or fill required, so they only move the material once, putting it in the right spot the first time."

Liebherr also offers operator assistance at several levels on its new generation 8 crawler tractors, including the PR 736 G8 introduced at bauma. The assistance system starts with "Free Grade," for active blade stabilization during fine grading, "Definition Grade" for automatic blade positioning when creating 2D grades, and "3D Grade" as an optional GPS machine control system to model complex terrain shapes, using the standard roof-mounted GPS/GNSS antennae. Liebherr also offers its Active Sensor Control, which stabilizes all blade axes, while two independent, permanently mounted integrated sensor circuits (gyroscopic and inertia sensors) allow for higher grading speeds and perfect fine grading.

Cutting edge blade design
Of course, with all of this power, it's important to have a tool that can hit the ground hard – the blade. Blade design has also seen a number of changes over time. Tolomeo said that Komatsu's blades take their cues from the greater use of grade control and ensure they can work with the company's proactive dozing control system, among others.

"We can do even more with wider dozer blades in the fine grading applications. Komatsu dozer blades are built to survive, with large casting to disperse cyclic loads, guards to protect cylinder rods and a properly heat-treated blade to provide robust increased durability," he noted.

Case's M Series dozers offer operators a number of adjustments and other features, noted Waldschmidt.

"Operators can adjust sensitivity of the blade movement to match operator preference and jobsite requirements. These adjustments to blade sensitivity are made through the Advanced Instrument Cluster," he said. "There are also dedicated buttons for automatic Blade Shake to help with shedding material off the blade, and a Fine Grading command, which instantly cuts blade speed by 40 percent for increased accuracy."

Meanwhile, John Deere's 850L has gone for the "bigger is better" concept, Horstman noted. "John Deere is offering an all-new 172-inch blade, which is the widest PAT blade offered in this size class. This means our customers can move more material in every pass, to get the job done faster," he said. "Across the entire Deere dozer lineup, our blades come standard with mounting provisions for the major manufacturers of grade control systems."

An advanced six-point blade cranks up the production output from Liebherr machines, offering increased capacity and improving production output. An optimized linkage geometry helps facilitate grading as well.
Operator retention key
With operators spending eight to 12 hours a day in the cab of their dozer, taking their comfort in consideration is important for manufacturers, Horstman noted.

"We want to keep them as comfortable and productive as possible. With the 850L, we added features like a leather-accented high-back seat with heating and ventilation and automatic temperature control so that the operator can set the cabin temperature and then forget it for the rest of the day," he said. "Another key focus area in the design of John Deere's dozers is ease of operation and the hydrostatic transmission is a great example. When a John Deere dozer encounters a heavy blade load, the power management system simply adjusts hydrostatic transmission to maintain ideal engine RPM, allowing the operator to concentrate on the work at hand, not shifting."

Case's dozers use electro-hydraulic joysticks, which give better feel and responsiveness, and also offer a wide range of control customizations that are designed to make it easier for users to get up to speed on their machine, Waldschmidt said. "These allow the operator to better tailor machine performance to jobsite conditions, including the ability to set blade sensitivity, steering sensitivity and shuttle sensitivity to smooth, moderate or aggressive. This allows the operator to adjust machine responsiveness and controls to their preferences and ground conditions."

In addition, machine/blade control technologies are continuing to add automation that handles jobs that operators would have had to do themselves in the past, Waldschmidt added.

"One option we offer is the Case SiteControl CoPilot, a simple 1D solution comprised of an IMU, wiring harness and in-cab display. The affordable and easy-to-use system allows operators to set a desired slope/grade reference, and the system automatically holds that slope and grade without the need for lasers, masts or GPS."

With a cab fully separated from the machine combined with a noise-optimized drivetrain, reduced vibrations and noise are a benefit for Liebherr dozer operators. Features like a grab handle with an integrated joystick for the rear ripper help give more stable seating in uneven terrain, and access and descent lighting with a delay function make for additional operator safety. Liebherr also offers a 9-inch display in its new information and control station.
Things to think about when buying
When it comes time to pick a dozer for their operation, Tolomeo encourages buyers to keep three things in mind: reliability, durability and uptime.

"Customers have enough to worry about, and we don't want them to have to worry about their dozer's uptime. Komatsu provides reliable, robust dozers with the industry's best undercarriage. The undercarriage is the highest owning and operating cost for any dozer, so to reduce costs for our customers, Komatsu PLUS (Parallel Link Undercarriage System) is offered on all dozers," he related.

Horstman encourages contractors to consider versatility when they are looking for a dozer.

"The combination of a six-way blade, grade control and hydrostatic transmission increases the versatility of any dozer. This combination supports high productivity in all applications, from rough grading to finishing," he said. "Six-way blades offer increased blade maneuverability and can be used in a wide range of applications. Grade control supports the experienced operator with the ability to hold consistent grade throughout the day and enables a novice operator to get up to speed quickly. The hydrostatic transmission gives the operator ultimate control over the dozer with the ability to fine-tune ground speed for any application."

Overall, it's important to keep the overall cost of ownership of any machine in mind when making a big decision for a business.

"Pay attention to things like fuel efficiency, dealer support and technology compatibility," advised Waldschmidt. "Business owners need to make sure that a machine is going to work with the telematics and machine control technologies that they currently have deployed throughout their existing fleet."
Check out dozer introductions from CONEXPO-CON/AGG 2020 here.
Company info
Related products