CONEXPO 2020 post-show report
Here's what caught our eye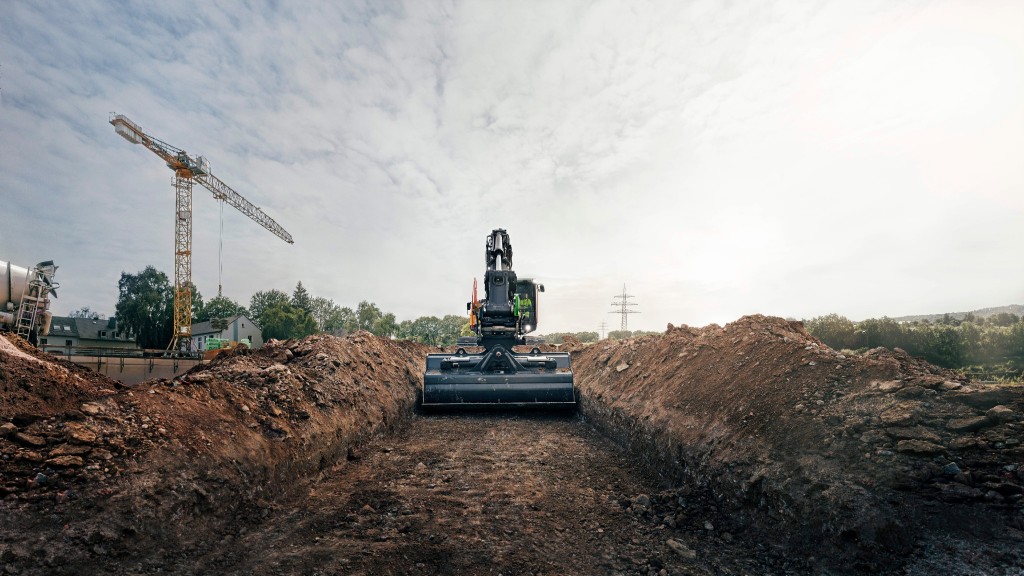 CONEXPO is North America's biggest show for the heavy equipment industry, and when it rolls around every three years it draws huge crowds. This year was no different, despite coronavirus concerns; the show reported more than 130,000 registrations from around the world.
As always, the event was a showpiece for all of the largest manufacturers, and there were plenty of innovative and exciting introductions to be viewed. Heavy Equipment Guide was there for those big launches; here's a summary of some that caught our eye. Watch for more articles on these announcements and more in the coming months.
Electric equipment
It should come as no shock that electrification continued to be a major topic at CONEXPO for 2020. A large number of exhibitors came to the show with new equipment options powered by electricity.
Case Construction Equipment unveiled its hotly anticipated Project Zeus – known more familiarly as the 580 EV, what the company says is the industry's first-ever battery powered backhoe loader. With zero emissions and a lower daily operating cost than comparable machines in the market, Case has suggested the 580 EV will be popular with municipalities and utilities working in urban settings.
The second alternative-energy-powered machine introduced by Case, following along from the concept methane-powered Project Tetra wheel loader revealed at bauma 2019, the 580 EV is powered by a 480-volt, 90-kilowatt-hour lithium-ion battery pack that can be charged by any 220-volt/three-phase connection. While applications will vary, each charge will support most common eight-hour workdays. The battery separately powers the drivetrain and hydraulic motors, resulting in hydraulic breakout forces equal to diesel-powered machines and improved performance during simultaneous loader and drivetrain operation.
While it may be electric-powered, the backhoe retains Case's usual features and benefits that can be found in its diesel brethren; a large, spacious cab with large windows and good sightlines, enhanced joystick controls and other features aim to make the 580 EV a good machine to operate. At the same time, it is expected to reduce service and maintenance costs by as much as 90 percent depending on how the machine is used, while entirely removing emissions. Several units have been sold already to utilities in the U.S., and production is expected to ramp up through 2020.
The full-sized backhoe was joined by a number of compact machines that are plugged in to the electric trend. Hyundai brought two compact excavators, the in-house-developed R18E as well as the R35E, developed in conjunction with Cummins. Both are very quiet machines, and both generate no carbon emissions, making them ideal for work inside and out while providing the same productivity levels as diesel-powered machines.
A two-ton-class machine, the R18E has an operating weight of 3,800 pounds (1,725 kg), digging depth of 7 feet 11 inches (2,405 mm), and dump height of 8 feet 10 inches (2,680 mm). It is powered by an induction-type motor, with a one-hour current rating of 225 amps, and features a lithium-ion battery (LFP type); with that, it can operate for up to eight hours on a full charge and be fully ready to roll again in five hours.
The R35E is a 3.5-ton machine that uses Cummins' BM4.4E flexible battery modules; these use lithium-ion as well to produce higher energy density. According to Hyundai, the excavator can work a full shift and then be charged within three hours.
Bobcat showed a number of prototype machines as well as an all-electric concept for a compact loader. According to the company, the T76e is innovative in several ways, including a step away from traditional hydraulics – instead, controllability of horsepower and performance is handled by electronic mechanics. Bobcat says the T76e "will be foundational for innovations that will change compact equipment in a number of ways, from improved productivity and enhanced precision to more intelligent machines that bring new capabilities to the jobsite."
Also on display from Bobcat were prototypes for the S70e electric/hydraulic loader as well as the E10e and E17e electric/hydraulic excavators. These machines offer compatible – and sometimes better – performance compared to diesel machines, while generating zero emissions and lower noise levels. Rugged lithium-ion batteries give long runtimes between daily charge cycles.
Avant Tecno USA introduced its first fully electric loader, the Avant e5, to North America during CONEXPO. Powered by an AGM (absorbent glass mat) battery, the e5 is also suited to indoor job and demolition sites, as well as noise-restricted areas. It features a lift capacity of 2,000 pounds and lift height of 110 inches, while offering an auxiliary hydraulic flow of 7.9 gallons per minute.
Manitou's Gehl brand debuted an electric skid-steer loader concept, based on the company's R 165 diesel machine and offering the same 1,650-pound rated capacity. A key advantage of the lithium-ion-powered loader is simplified servicing, Manitou points out, thanks to the reduction in the quantity of hydraulic oil needed. As with other electric machines, the noise levels are drastically reduced.
Takeuchi was also active in the electric arena this year, with the introduction of its new electric excavator. The new machine has an operating weight of 4,277 pounds and will be available for order in September.
Major launches
As always, many exhibitors used CONEXPO to launch the newest and biggest of their product lines. For Caterpillar, one of the big highlights was at the top of the company's excavator line – the introduction of the next generation Cat 395. The hefty production machine borrows from its bigger brothers, Cat's mining shovels, for a new dedicated hydrostatic swing circuit that allows the excavator to regenerate swing brake energy and independently manage cylinder oil flow. That helps improve the machine's fuel efficiency and gives more predictable performance.
Overall, the 395 offers up to 10 percent more production, twice the structural durability and up to 20 percent lower maintenance costs than the 390F that it replaces. Powered by a Cat C18 engine generating 543 hp, the 395 weighs in at 295,471 pounds. All of that can also pair with 2D or 3D versions of Cat Grade, along with other machine control and telematics options.
Cat also announced a full update to its backhoe loader line, among other launches.
There have been hybrid excavators on the market for a while, but Volvo Construction Equipment has taken a different tack than most with its EC300E Hybrid, debuting in North America at CONEXPO. Instead of collecting energy generated by the swing of the superstructure, Volvo's hydraulic hybrid uses the "free" energy of the boom-down motion, collects it and puts it back into the system to cut fuel consumption. That motion charges 5.2-gallon hydraulic accumulators, which turn around and drive hydraulic assist motors that power the hydraulic pump.
Volvo says the machine has the same levels of performance as the standard EC300E, but the hybrid system takes load off the engine and can deliver up to 15 percent lower fuel consumption while also cutting CO2 emissions some 12 percent. Fuel savings payback is, according to Volvo, approximately two years.
Doosan has also introduced a new top-end machine in its excavator line with the display of the DX800LC-7, which will be available in North America later this year. The biggest Doosan excavator ever available in the U.S. and Canada, it's targeted toward mining and large infrastructure jobsites where massive amounts of material need to be excavated and stockpiled or loaded into trucks. Doosan has included the option of a removable counterweight to make the machine easier to move. At CONEXPO the display excavator was paired with a 6.1-cubic-yard bucket.
For Case, three years has passed since the debut of Project Minotaur, and this year the results were displayed – the DL550B compact dozer loader, a powerful two-in-one machine that can handle grading and loading duties equally well. A true dozer-style undercarriage offers optimal dozing performance, with either steel or rubber tracks depending on the job to be tackled. The DL550B has a six-way blade and a c-frame attached directly into the chassis and primary coupler to channel stress through the chassis and ensure good dozing performance.
The machine transitions to a CTL quickly and easily: the operator hydraulically detaches the c-frame and blade, then matches up with a bucket, forks or other attachments. A 1.25-cubic-yard bucket is standard. Rated operating capacity is 5,500 pounds at 50 percent of tipping load.
Liugong Dressta brought what it called a benchmark machine to CONEXPO, the TD-16N dozer. An award-winning team of designers started at the operator, the blade and the tracks and built everything else around them. The result is a machine that offers 309 degrees of visibility from within the cab.
The TD-16N has a mid-cab design over a mid-mounted automatic, dual-path hydrostatic drivetrain. A six-way angle blade is standard. At a weight of 42,090 pounds and 170 hp, the TD-16N is a versatile machine; that versatility extends to the undercarriage, which utilizes a single-track gauge for all track shoe widths.
Another first came from John Deere, with the introduction of the industry's first compact machine with integrated grade control. The SmartGrade 333G compact track loader increases productivity by helping automatically complete grading tasks faster with fewer passes and less rework, compared to working without grade control technology. It also allows for use of a versatile, more transportable piece of equipment where the grade control system is fully integrated into the machine's structures and software, delivering precise grading performance while eliminating vulnerable masts and cables.
In addition, the machine benefits from the launch of DozerMode, which can change the EH joystick control system and allow functions like a crawler dozer at the push of a button.
On the lift equipment side, Snorkel went big at CONEXPO with a brand-new 2100SJ "mega boom" that breaks records with a maximum working height of up to 216 feet and horizontal outreach up to 100 feet. The machine, shown as a preview with availability expected to start in 2021, features two control panels on the platform for safe operation at height, robust four-wheel drive and multiple steering modes.
Telematics and machine control
Growth in machine control has been significant in recent years, driven by a desire for greater efficiency and precision. Many launches focused on new and expanded services to improve the offerings for contractors of all sizes.
Komatsu has long been a leader in the machine control arena, and this CONEXPO marked the introduction of the company's intelligent Machine Control 2.0, a suite of features designed to increase dozer productivity. Numerous patent-pending items are part of the feature package, including proactive dozing control that uses artificial intelligence to help ensure machines can automatically cut and strip like an experienced operator; lift layer control spreads fill from existing terrain with the push of a button, then the machine measures the terrain it tracks over and uses that data to plan the next pass. Tilt steering control tilts the blade to ensure straight travel during rough dozing, reducing operator steering input by up to 80 percent.
Machine control for big iron is well established, but systems for smaller equipment are still making their way to market.
CONEXPO brought a new offering from Topcon that aims at those smaller machines and leverages mobile computing to do so. Small excavators and compact track loaders can take advantage of bring-your-own-device options that work as substitutes for control boxes in some applications. Incorporating the same hardware as Topcon 3D machine control, an indicate-only option runs on Android devices using a free app, part of the new MC Mobile system family.
This entry-level machine control gives contractors an inexpensive way to speed up productivity in their fleet. Pocket MC also allows for local positioning system options for excavation.
Volvo has brought a new automated system to certain crawler excavators with the launch of Active Control. The system allows operators to hit their depth and angle with ease, and according to the company cuts grading times by up to 45 percent.
Powered by the Dig Assist application, operated by a 10-inch in-cab Volvo Co-Pilot tablet, the system guides the operator through the necessary functions for automating digging. Once the parameters are entered and the system is launched with a button press, the excavator proceeds to automatically adjust boom and bucket movements to make precise cuts, following the desired shape and delivering the right angle of grade.
This added speed and precision cuts grading time by almost half compared to conventional grading and reduces rework because the system gets it right the first time – within one inch of target grade, Volvo says. The system also removes a second person doing depth or grade checks from the equation for greater safety.
Outside of the equipment sector, other companies have added telematics to their offerings. Stellar Industries, for example, has a new telematics package that can be used to manage its service truck bodies. Fleet managers can use the Fleet View online dashboard to review real-time and historical data on work truck equipment; the system monitors data on crane use, load trends and compressor usage to help inform fleet decisions and better understand operator behaviour, as well as anticipating preventive maintenance. At the same time, operators can use E-Link Mobile to control equipment, view real-time diagnostics and review other information on their mobile device.
Safety
Keeping everyone safe on the jobsite can be handled in many different ways. Leica Geosystems, for example, displayed its iCON PA10 and PA80 personal alert systems, which are designed to warn employees when vehicles and pedestrians come into close contact on construction or mining jobsites.
The PA10 creates multiple zones with up to 50 metre ranges; users can configure warnings around vehicles, and the technology predicts potential interactions to generate visual, audible and vibratory alarms for both operators and those on foot. The PA80 is an integration into Leica's MC1 one-for-all software solution that guides and automates heavy construction machinery – no matter the machine the operator is in, an alert will automatically appear on the screen to warn of potential collision risks.
Simulators have become an important part of training and safety on jobsites, and Serious Labs has brought a new approach to simulation with its Universal Motion Base for seated VR simulators. Designed to be a common foundation for standalone VR simulators of dozers, excavators, backhoes, skid steers and more, the UMB has an operator's seat, a custom-tuned D-Box actuator system for motion feedback, and a slide-lock attachment system to provide operator comfort. The design offers options for equipment control such as a steering column or control handles, multiple pedal options and attachment points for future equipment types. The operator can tune the actuator system to match the personality of specific equipment types.
Check out Heavy Equipment Guide's CON/AGG post-show report.
This article was originally published in Heavy Equipment Guide, Volume 35, Number 4.
Related Articles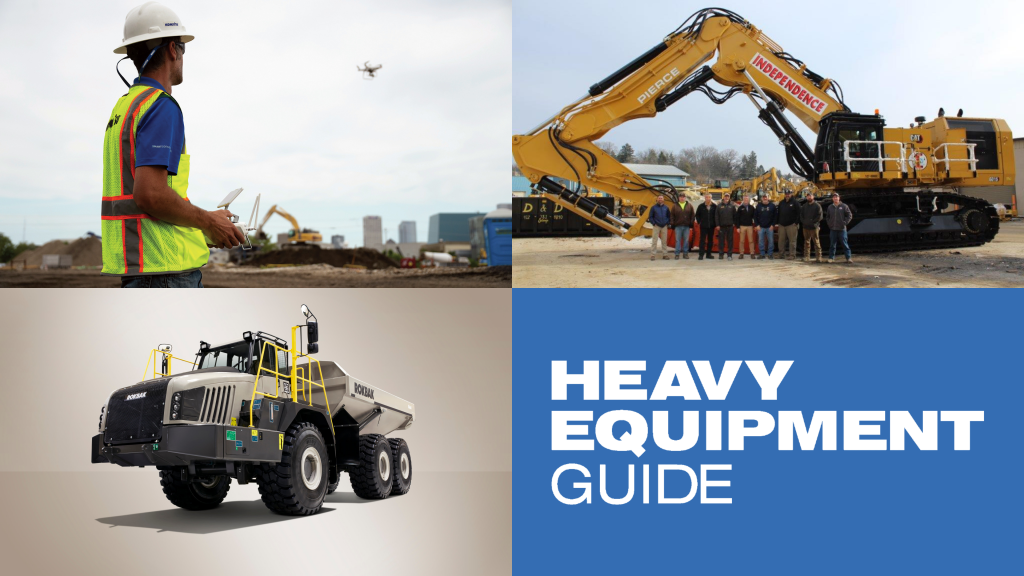 Weekly recap: exploring the connected job site, Rokbak at CONEXPO-CON/AGG 2023, and more