CON/AGG 2020 post-show report
Here's what caught our eye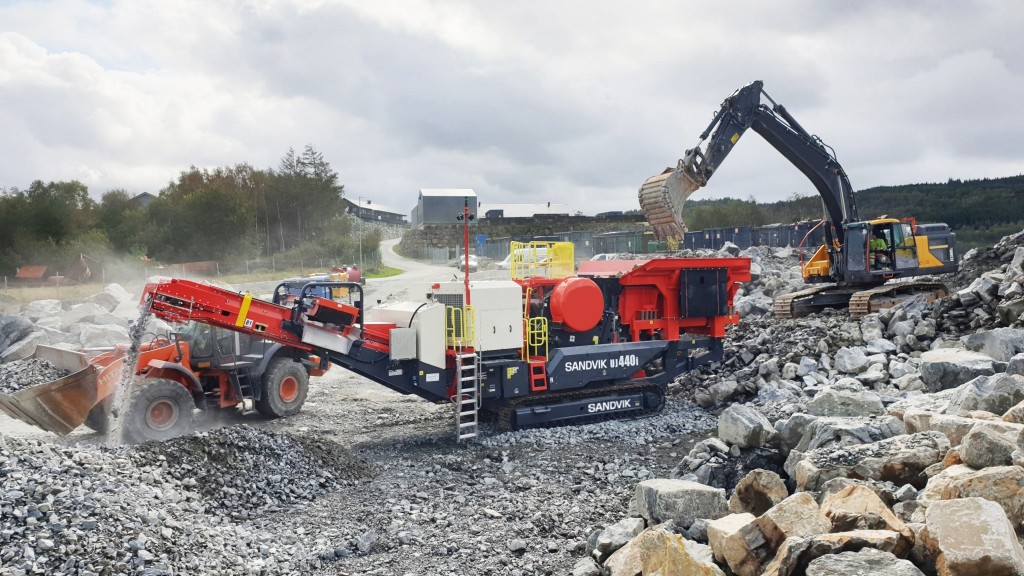 Aggregates companies brought their newest and best to Las Vegas in March to mark CON/AGG 2020. The show's crushing and screening participants launched a number of new machines and services targeting production, efficiency and reduced maintenance, among other concepts. Others turned to new service offerings and environmental considerations with their displays. Here is an overview of some key points that were addressed at CON/AGG:
Collection of new crushers
Numerous companies brought new offerings for buyers seeking out a crusher for their operation, including some that are adding hybrid power to the mix. Kolberg-Pioneer, for example, showed its new FT4250CC with an added pre-screen, which makes the machine capable of scalping, crushing and post-screening all in one unit. Users can maximize their scalping ability, cut down on the undersized material passing through the chamber to cut on wear costs, and improve their final product results by up to 30 percent, the company says.
"Several of our customers are trying to produce products that have a significant amount of fines in the feed material. The pre-screen allows producers to remove those fines while also minimizing the amount of rejected in-spec product," said Tim Harms, crushing and screening product manager at Kolberg-Pioneer.
In addition, the plant features KPI-JCI and Astec Mobile screens' patented hybrid power, allowing operators to run either line power or a genset when using electricity, and traditional diesel when electric is unavailable. Hybrid units reduce noise levels and remove emissions, can run indoors and cut down on maintenance costs for the operator.
Cedarapids also arrived at CON/AGG with a new closed-circuit solution, the portable CRH1113R impactor crusher/screen plant. Designed to be a one-piece tow, the plant can be easily transported and quickly set up with hydraulics on the screen and return conveyor. Self-contained, the unit is driven by a 450-hp Scania diesel that drives both the crusher and 150-kW generator with an efficient hydraulic clutch; the rest of the unit is electrically powered for high efficiency and reduced maintenance.
The new TI4250 crusher has modern hydraulic-controlled curtains to make adjustments and maintenance safe and quick. The variable speed diesel allows optimum rotor speed to best match the application and desired product. The new 6- by 16-foot two-deck screen is the largest in this plant class. It has a unique dual slope design with a steeper top deck to handle heavy loads and quickly stratify material. The lower deck has less slope to increase retention time for maximum screening efficiency. The entire screen can be positioned with more or less slope to optimize production. The new vibrating grizzly feeder is 48 inches wide and 18 feet long to handle feed from large loaders. This feeder has a unique convertible 6-foot, two-section grizzly that easily converts from stepped grizzly bar sections to sloped punch plate sections, or combination punch plate and grizzly bars.
Over at the Wirtgen stand, the Kleemann brand had its own new machine on display ready to go in challenging quarry applications. The Mobicat MC 120 Zi PRO jaw crusher impresses in natural rock applications, with a feed opening of 48 by 32 inches and an extra-long articulated crusher jaw. The machine's continuous feed system adapts conveying speed to the fill level of the crusher, optimizing material flow.
This machine features an optional crusher unblocking system; while in many jaw crushers the operator is required to engage in the time-consuming task of clearing the crushing chamber if there's a material blockage, this option allows the crusher to be reversed using the electric crusher drive, allowing the blockage to be quickly removed. In addition, the PRO line machines can be operated with the SPECTIVE control system using a 12-inch touch panel. All components and functions can be controlled conveniently from the ground.
Also introducing a new mobile jaw crusher this show was Sandvik, which now offers the UJ440i – a heavy-duty mobile unit intended to provide high performance and safety with minimal operator intervention. The unit features the CJ412 jaw and its 47- by 33-inch size, which offers strong size reduction and consistent performance. A generous feed opening pairs with a hydraulic close side setting that allows rapid changes through pushbutton operation, helping to maximize performance. In addition, the jaw comes with a level sensor as standard, maintaining optimum material flow in the chamber.
Operation is easy, thanks to an onboard integrated "intelligence" system that monitors the control system operating the unit to enable full optimization. Fully operated by radio remote control, the unit can be operating in minutes on site, with safe setup from ground level. Hopper walls are hydraulically foldable and can be locked in position.
Sandvik offers three different variants on the model: Comfort, with a grizzly feeder for crushing clean rock and gravel; Classic, which features the grizzly and live under screen for rock and gravel; and Trend, with a pan feeder and live pre-screen for clean rock and gravel with lots of fines to be handled.
Astec Mobile Screens announced a new line of compact track-mounted equipment to be marketed as the Ranger line; this equipment will feature a variety of machines including jaw, impact and cone crushers, as well as incline screens and trommels. Targeted at new markets like building and construction, landscaping, quarry and others, these track-mounted units are ideal for smaller operations.
"The new Ranger line will help us reach a wider range of industries and customers. The compact units are going to be a great tool for contractors, quarry operators and many more. We are remaining very focused on providing excellent support for these units, just like our other products," said Patrick Reaver, inside sales director at Astec Mobile Screens.
Screen time
A number of new mobile screens were also on the agenda for manufacturers at this year's CON/AGG. For Metso, the newest machine is the Lokotrack ST4.10, the largest in its mobile range, which features a 100-square-foot screen area: three 5- by 20-foot decks that can help users produce four end products.
Quick and easy to set up, the new unit can be transported between sites as a single unit on a lowbed.
This Lokotrack machine features an extended feed hopper and adjustable side conveyors that make it compatible with large crushers; it can work in closed-circuit operations with some other Metso machines easily. Robust side conveyors offer strong stockpile capacity, and the ST4.10 is also equipped with a diverter chute to provide a mix of products from different decks. An optional Metso IC process control system is available, providing safe single-button startup and interlocking with other machines. Power is provided by a CAT C4.4 142-hp engine; alternately, the optional Bi-Power feature enables the unit to be plugged to an external electric network or to a hybrid Lokotrack crusher equipped with an onboard diesel generator.
Powerscreen debuted the new Chieftain 1700X Hybrid screen, which features a highly aggressive screenbox with a patented 2/4 hearing drive system and an improved screening angle. A 16- by 5-foot screenbox is the same size and mesh as the current Chieftain 1700 but brings increased screening force and an increased angle that combine to provide superior screening performance.
Customer requests have been considered in the design of the new machine, including how the fines conveyor is suspended for transport, as well as self-tensioning side conveyor sealing rubber and feed boot improvements for faster setup. A lower running speed allows the machine to reduce fuel usage while never compromising power. The three-deck machine is available with a hydraulically folding extended auxiliary conveyor, complete with a transfer conveyor that allows easy recirculation with the entire Powerscreen crushing range. The Hybrid option gives customer a choice of power, especially interesting to customers who work in areas where electricity is less costly than diesel fuel.
Washing systems step forward
Several companies came to CON/AGG with new or updated washing systems and approaches to cleaning water on the jobsite. McLanahan's UltraWASH modular wash plant made its first appearance at a trade show with a new size, the company noted. Numerous patent-pending features offer a unique approach to washing in the UltraWASH; the Eze-Riser, for example, works with the pump service trolley to allow safe and efficient pump maintenance. A foot pedal lifts the discharge from the pump and uses a locking mechanism to hold the pipe aloft, allowing easier access and faster maintenance. The Fines Forward Slide diverts a portion of raw fines into the coarse sand stream, which balances the downstream process to optimize plant capacity; substitutions in this area can allow the change of proportions as well.
Washed aggregate from the UltraWASH can be recombined as needed using manual operation of the aggregate discharge/remixing hood's diversion traps.
The new Combo X900 from CDE can produce 500 tons per hour, according to the company, and is the largest in the Combo series thus far. It's been engineered specifically for material processors in North America, according to CDE director of engineering Kevin Vallelly.
"The Combo X900 can process 500 tons per hour of feed material, including natural sand and crushed rock, containing unwanted clay, silt and other organic contaminants to extract quality in-spec washed and graded sand products that are market-ready straight from the belts."
Along with increased capacity, CDE has moved the Combo X900's control cabin to the top of the water tank, where it can be better protected in extremes of weather. As well, the unit has taken water savings into the design; rather than a standalone water tank, the X900 has a peripheral tank around the thickener tank for water storage, reducing the unit's footprint. This makes for almost total independence of water supply and cuts down on site engineering.
Kolberg-Pioneer has partnered with Tecnoidea Impiant to bring water clarification systems to the North American market; these accelerate the process of filtering fines from dirty water for reuse in the plant. Designed to eliminate the need for large, expensive settling ponds, these units are intended to divert up to 95 percent of the water flowing to the clarification system. The water clarification systems will include flocculation preparation units, static vertical settling tanks, thickened sludge tanks, side and overhead beam plate presses and other accessory components.
Check out Heavy Equipment Guide's CONEXPO post-show report.

This article was originally published in Heavy Equipment Guide, Volume 35, Number 4.