Show Review: Bauma 2016 equipment highlights, part III
Heavy Equipment Guide's Bauma 2016 Show Review features a selection of key equipment introductions and innovations. Some equipment may not be currently available in North America.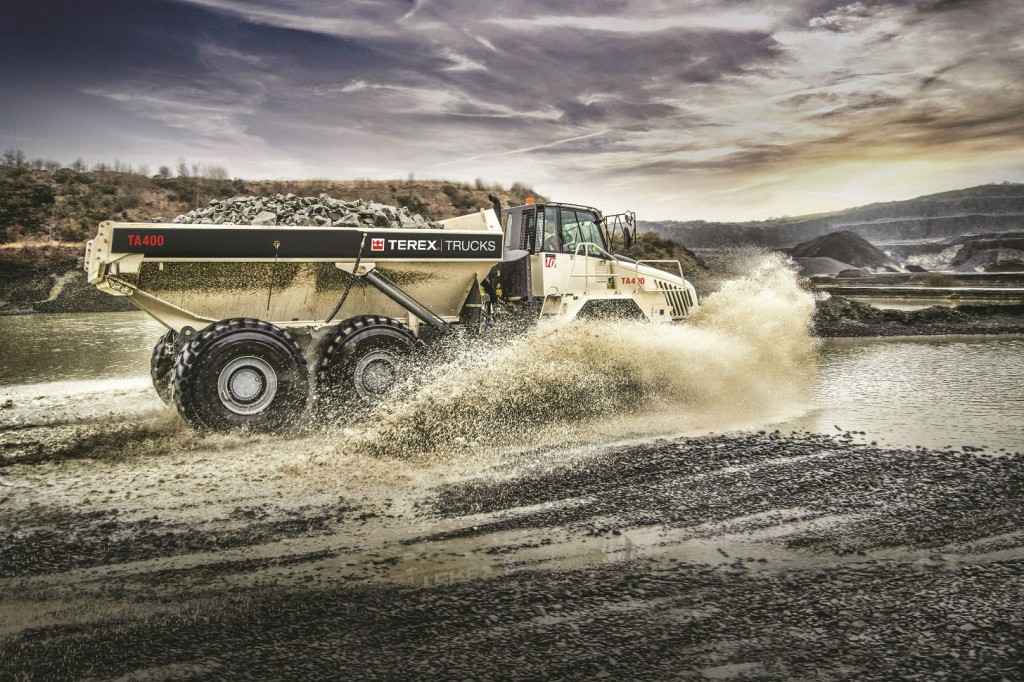 TA400 heralds start of new generation of articulated hauler range
The 38-tonne TA400 articulated dump truck is the largest in the Terex Trucks articulated range. The engine and drivetrain are matched, and utilize automatic adaptive shifting and a pre-selected two-speed transfer box (drop box) to provide good performance and productivity in all haul conditions. The truck maintains traction in even the most difficult terrain thanks to longitudinal and limited slip transverse differential locks. Further lowering operational costs, as well as enhancing safety, is the force-cooled multi-disc brakes. Supported by an electronic activated exhaust brake and a six stage modulating transmission retarder, the TA400 also benefits from longer brake component lifecycles.
Hydraulic hoses, electrical interfaces, transmission mountings and brake pipes have been upgraded. In order to prolong hydraulic component lifecycles, Terex Trucks has introduced magnetic pressure filters that reduce the risk of contaminants entering the system and improve the cleanliness of the hydraulic oil.
Further models in Terex Trucks' new generation articulated hauler range will follow later in 2016 and in 2017.
First fully electric wheel loader: winner of Bauma Innovation Award
Kramer presented the first fully electric wheel loader on the market at Bauma 2016 and received the Innovation Award in the Machine category. In addition to zero emissions, the 5055E provides offroad capability, low service costs and operating comfort. It is ideal for working in buildings, on urban construction sites and in tunnels.
There are two electric motors, one for the work hydraulics and one for the drive system. Depending on the application of the wheel loader, power is drawn from the corresponding motor. This keeps energy consumption as low as possible. The electric motor is operated by lead acid batteries which are used in the forklift industry. Depending on the area of application and utilization of the wheel loader, one battery charge suffices for a work operation of up to five hours. The charge time of the machine is between three and six hours, depending on the options.
Avant 200 series
The Avant 200 series multi-purpose loaders are an excellent tool for work in places where space is limited and a lightweight machine is necessary. The loaders can even tackle smaller scale demolition jobs. Updates include more power and options. The new series also features an improved quick-attach system, better visibility, a more spacious cab and a new multi-function display.
The machine is 20 mm wider and 60 mm longer than its predecessor, which improves stability, and there is more storage space for tools. In addition, fuel tank and battery are considerably larger than before.
The Avant 220 is equipped with a 20-hp gasoline engine, while the Avant 225 has a completely new 25-hp Kohler EFI gasoline engine and auxiliary hydraulic oil flow as high as 50 L/min. The 225LPG is equipped with a low emission LPG engine and is suited for indoor work and demolition jobs.
H4 track-mounted cone crusher
Keestrack says that its new track-mounted H4 is the world's first mobile cone crusher using a highly efficient three-deck post-screening module with an oversize material recycler for the production of three high-grade end products in one pass. According to Keestrack, a pioneering factor has been the advanced solutions in crusher control and monitoring systems, directly impacting output capacity and product quality. The H4 also has a completely new frame design, enabling the incorporation of efficient pre- and post-screening units, and the use of innovative drive technologies.
Keestrack is offering a choice of three economical drive combinations: direct diesel drive of the crusher with electrical or electro-hydraulic peripherals (conveyors, screen units, etc.) or the fully hybrid/"plug-in" version with similar electrical crusher drive using an on-board diesel generator or mains power. It has a transport weight of 35 to 50 tonnes. The high-value, secondary or tertiary production rate is 120 to 200 tonnes per hour.
SR-75 ADV hydraulic drilling rig
Soilmec has three new hydraulic drilling rig lines: Evolution (EVO), Advanced (ADV) and High Technology (HIT).
The SR-75 is Soilmec's top-performing model in the new Advanced product line. For the past two years, SR-75s have been working at jobsites around the world, and have field-proven the quality of design and excellent performance.
At Bauma, the Soilmec SR-75 was set up in a segmental casing, large diameter piling (LDP) configuration. This piling system has been used extensively at several jobsites in Europe with excellent results, thanks to the SR-75's strong crowd winch system and powerful new rotary head, combined with Soilmec's quick soil discharge system.


Additional news from Bauma 2016:
Our look back at the three main themes from Bauma 2016
Our interview with Martin Weissburg, President of Volvo CE
Caterpillar's The Age of Smart Iron

Part I of our Bauma 2016 Show Review can be found
here.
Part II of our Bauma 2016 Show Review can be found here.