Bauma 2016 interview: Martin Weissburg, President, Volvo Construction Equipment
Volvo aims to accelerate customers' operations through connectivity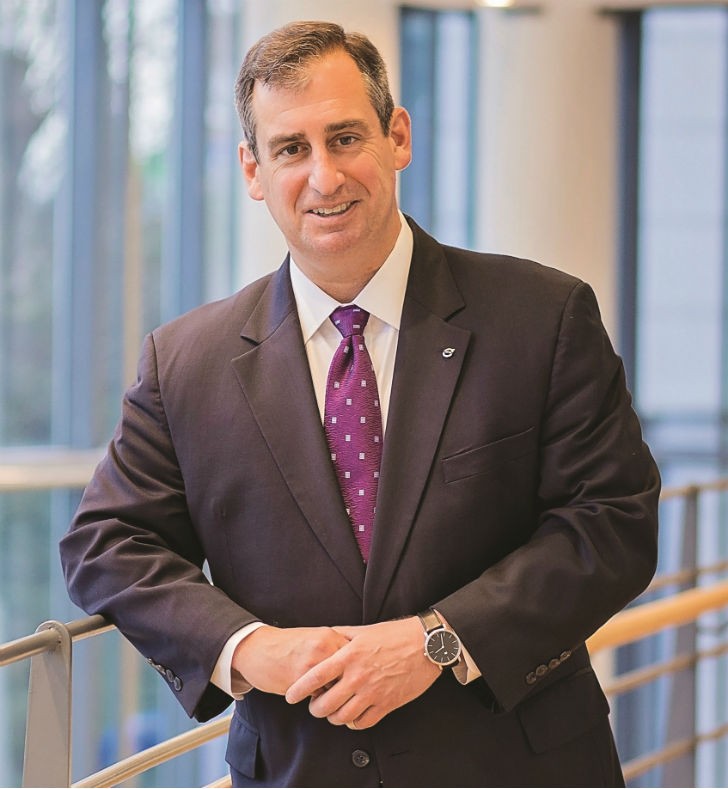 Heavy Equipment Guide had the opportunity at the Bauma international trade show in Munich, Germany, to talk with Martin Weissburg, President, Volvo Construction Equipment.
Since assuming his position on January 1, 2014 as the head of the global construction equipment manufacturer, Mr. Weissburg has navigated the company through consistent growth despite volatile international markets.
The main focus of our conversation was the construction equipment industry's move toward greater machine connectivity.
HEG: A big focus at Bauma this year is innovation surrounding equipment connectivity, specifically the use of telematics systems. There is an extraordinary amount of R&D in this area in order to develop a full range of integrated solutions available for the market. What do you see in the global construction industry with regard to the adoption of these technologies?
MW: You're asking the question that I ask myself every day. On any type of new technology in the industry, especially one that's not a hard product but a soft product – a support product, we're going to invest, we're going to develop. But at the end of the day, how many of these are we going to sell? These are the bets that manufacturers have to make.
We know, as an industry, that for very large, sophisticated, big global contractors, this [connectivity] is essential for them. The question is, where does this start shifting down market where a customer with five wheel loaders and a couple of dump trucks finds this valuable to him, and what's he willing to pay for it? The answer is, we don't exactly know yet but if we don't build it for the highest customer demand, then we'll never have the technological capability or scale to provide it down the marketplace.
What we're finding is that the rate of growth, acceptance and awareness is exploding globally.
I'll give you an example. A while ago, I would have said connectivity is really important in Europe and North America because people are more connected but less so in the really underdeveloped markets like Africa, right? But then I met an African customer and he wanted to have connected machines with tracking capabilities because he was worried that his operators were using it for other jobs that he wasn't doing. He wanted to track the fuel efficiency because people are coming and siphoning out the fuel to sell it in the black market. So he wanted it for security purposes. I would have thought there'd be zero demand and he said, "No, my needs are just different." It was not about productivity or preventive monitoring; it was for security purposes.
We know we need to be connected and increasingly we're seeing even mid-sized customers who want to have proactive, preventive monitoring. It's really good for our customers because it's about uptime. The dealer gets the warning from us, the dealer calls the customer and says: "You're going to have a problem soon. It's not urgent but we need to take on this maintenance work within the next 72 hours. When can we come by with our truck?" "Okay, tomorrow afternoon." Boom, no [unscheduled] down time. So for Volvo, that uptime availability builds customer retention. It's [just] going to be a matter of time before it shifts its way down.
I'll put it this way. If you're the main contractor and I want to bring in five pieces of Volvo equipment, but you've got Brand X, you've got Brand Y, all these other subcontractors and you want to be able to monitor all of us, if I come in and say, "No, I can't do that," you say, "Well, then, you don't get the job." In essence, you don't care what brand I am. You just want to know that my equipment is going to be there. So there's going to be multiple brands on the same work site with open architecture for connectivity, and that's what we're driving towards.
Our job, together with the dealer, is to make sure that we're monitoring from a maintenance standpoint for uptime.
If someone bid his subcontracting job on a performance bond, then he's relying on us for uptime. I have to be able to deliver that [or] it will become a barrier for our customers in multi-brand worksites, and we want to do the opposite. We want to be accelerators for our customers.
HEG: In terms of your service offerings, this must be an exciting opportunity for future business.
MW: Exciting and essential. Our job is to make sure that we are not just keeping pace but we're starting to accelerate. Our relationships with Trimble and Topcon, which have been announced at Bauma, give us that added capacity and that's incredibly exciting.