Introducing The Age of Smart Iron
Caterpillar plans to use digital technology to transform productivity, efficiency and safety on jobsites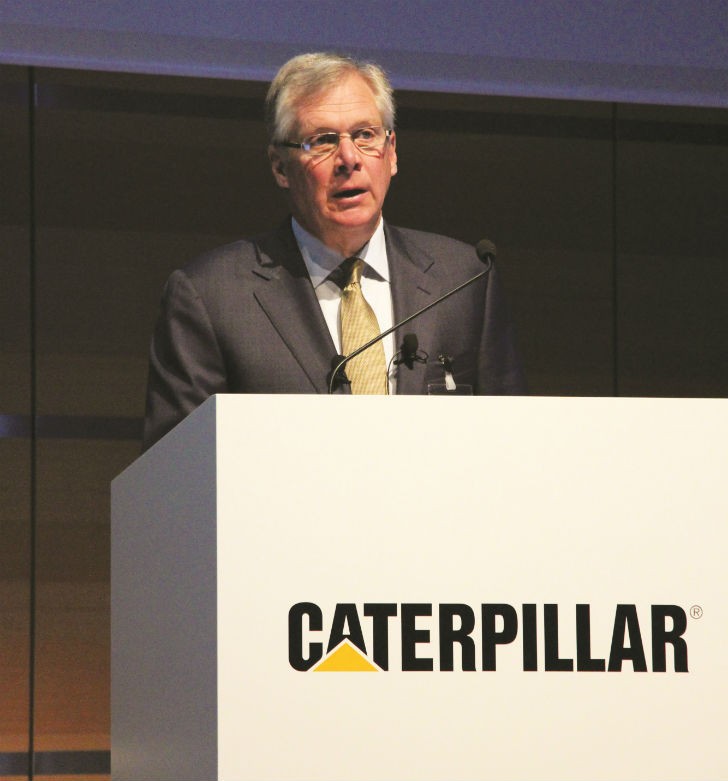 Doug Oberhelman, Chairman and CEO of Caterpillar Inc., announced The Age of Smart Iron, the company's Accelerated Technology Strategy, at Bauma 2016.
He commented at a news conference that "Caterpillar is the world's leading innovator around iron [and] we're going to lead innovation in smart iron, too."
He made it clear that the company's goal is to be the industry leader in digital solutions that improve productivity, efficiency, safety and profitability for customers. That is a big challenge in a competitive marketplace but Oberhelman outlined four advantages which Caterpillar already has in digital technology and connectivity.
"We have approximately 400,000 connected assets and an installed base of three million machines and engines at work around the world today. That foundation gives us a head start and we're building on it.
"When you combine that with the expertise and experience of our people and our unmatched dealer network, you see Caterpillar's great competitive advantage. We know how to build solutions, and we have the distribution network to deliver and service those solutions.
"Visit just about any country in the world and you'll see Caterpillar yellow iron at work, building and delivering the infrastructure and energy that brings higher standards of living. Think about the benefits when all of that yellow iron is smart iron.
"We are not going to offer just one solution across our global footprint but multiple solutions to meet the demands of our customers in construction, mining, energy and transportation."
Oberhelman noted that Caterpillar is already offering several solutions to customers.
Cat Connect Technology, hardware and software for Cat and competitive equipment, provides customers with information to help them optimize their operations. These include: LINK, which captures performance and product health data and makes that data available on the web to guide decision-making; GRADE and COMPACT, two productivity solutions that help operators move material faster, more accurately and with fewer passes; and PAYLOAD, an on-board system for trucks and loading tools that drives higher efficiency, shorter cycle times and lower cost per ton.
Cat 360° Advantage, a collaboration between Caterpillar and Cat dealers, delivers a full complement of expertise, technology-enabled equipment and support services that address customers' jobsite challenges.
Leverage Every Litre, an educational initiative with tools, tips and resources that help customers improve the fuel efficiency of their products, increasing revenue from every litre of fuel burned.
To summarize what Cateprillar is calling The Age of Smart Iron, Oberhelman said: "Our vision is that by enhancing our Cat Connect Technology and Services offerings, entire fleets and jobsites – every machine, engine, truck, tablet, light tower, smart device and drone – will eventually share data on one common technology platform and speak the same language. I can't wait to see what that means for our customers – and for us."