Show Review: Bauma 2016 equipment highlights, part II
Heavy Equipment Guide's Bauma 2016 Show Review features a selection of key equipment introductions and innovations. Some equipment may not be currently available in North America.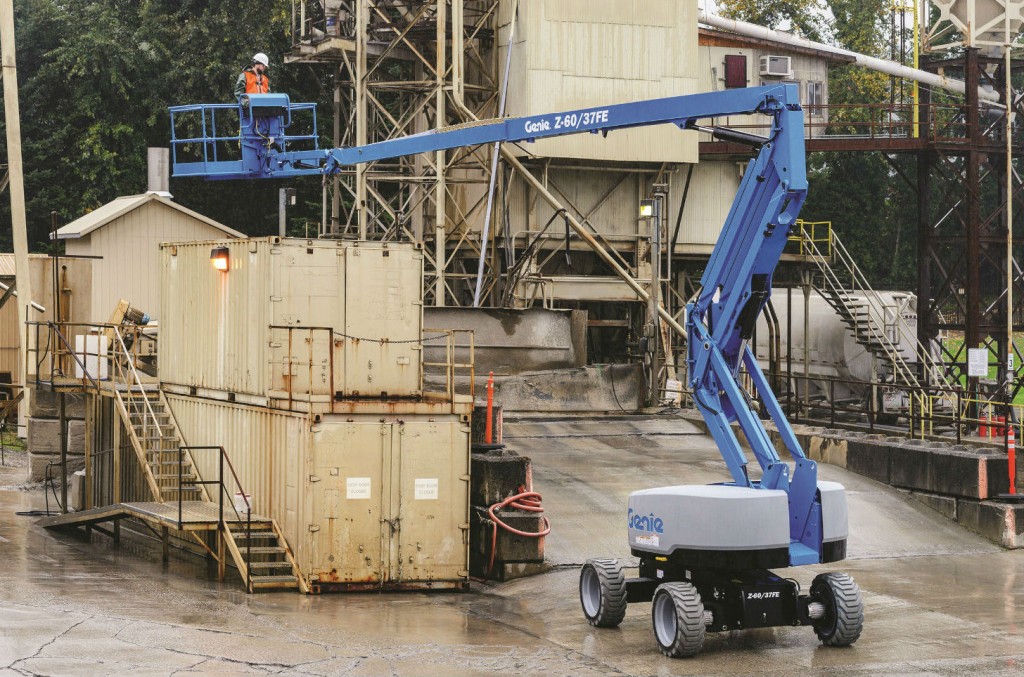 Z-boom lift operates in fuel-electric or hybrid mode
The new Genie Z-60/37 FE Z-boom lift provides the choice of two modes of operation: full-electric mode which gives a full day of emission-free performance on a single electric charge, or hybrid mode which provides more than a week of run time with a single tank of diesel.
"The Genie Z-60/37 FE boom is a revolutionary new approach to our mid-size Z-boom family," said Adam Hailey, Product Manager, Terex AWP. "On long-term jobs, even when on-site power is not available, this machine is sufficiently versatile to handle multiple tasks ranging from work on rough and unprepared ground to indoor applications where reduced noise and emissions levels are necessary."
In Hybrid mode the machine uses its 24-hp Tier 4 Final/Stage IIIB engine-powered generator to maintain the battery state of charge or to supplement the battery power to get a boost in machine performance. Its engine-powered generator constantly monitors the battery state, keeping them topped off for maximum run time, then automatically shutting off to minimize fuel consumption.
For extreme usage conditions or after heavy full-electric operation, the high power hybrid power system can provide a bulk charge within approximately four hours.
The hybrid system can also provide power directly to the four-wheel AC drive motors, allowing the system to combine the power of the diesel driven generator and the 48V DC battery pack, maximizing performance when climbing hills and taking on the most rugged terrain.
First autonomous vibratory plate
Ammann's prototype of the first autonomous vibratory plate was nominated for a Bauma International Innovation Award. These plates use a fraction of the fuel, reduce CO2 emissions and operating cost, and also eliminate operator errors. It uses an electro-hydraulic control, based on an existing remote-controlled vibrating plate, the Ammann APH 1000 TC.
In "Teach In" mode, the operator uses the remote control to navigate the plate along the borders of the area to be compacted. This sets the boundaries for the plate compactor. There is a confirmation process to ensure proper location. After clicking the "Run" button, a working strategy is calculated and the field is compacted strip by strip. Here, the control of a highly accurate GPS system is supported by an electronic compass and collision detection. Deviations of the GPS system are compensated by an overlap of the passes to ensure all areas are compacted sufficiently.
World's first hydrostatically powered crawler tractor in the 70-tonne category
Liebherr has introduced its first crawler tractor in the 70-tonne category, the PR776, which has been designed for mining and quarry operations. It is powered by a Liebherr 12-cylinder 565-kW (759-hp) diesel engine, has a maximum operating weight of 74 tonnes and is equipped with blade capacities of 18 cubic metres (23.5 cubic yards) for the semi-U blade or 22 cubic metres (28.8 cubic yards) for the U blade.
A new feature in this class is the infinitely variable hydrostatic travel drive, which is used for all crawler tractors from Liebherr, and offers extremely safe and efficient operation. Another advantage of this drive concept is the optimization of pressure flow. The intelligent Liebherr engine management system combined with the Liebherr Power Efficiency System and the hydrostatic driveline allows Liebherr to optimize all equipment systems and processes to maintain constant engine speed, increase overall machine efficiency and reduce fuel consumption.
Another key advantage of hydrostatically powered crawlers when working in restricted spaces is the excellent maneuvrability with continuous power to both tracks.
Compact radius HX145LCR
Hyundai Construction Equipment Americas has a new model in its HX Series of Tier 4 Final–compliant hydraulic excavators.
The compact-radius HX145LCR provides up to 10 percent better fuel economy and 5 percent increased productivity versus previous models. This 14-metric-ton (14,780-kg/32,580-pound) model is powered by a Perkins 1204F Tier 4 Final engine rated at 116 hp (87 kW).
Designed for working in confined spaces, the HX145LCR has a tail swing radius of just 4 feet 11 inches (1,500 mm).
When equipped with an 8-foot 2-inch (2,500-mm) arm, the HX145LCR achieves a maximum dig depth of 18 feet 1 inch (5,500 mm) and maximum digging reach of 27 feet 3 inches (8,310 mm), and provides bucket digging force of 24,890 lbf (11,290 kgf).


MOBICONE MCO 11 PRO
The Kleemann MOBICONE MCO 11 PRO is a new high-performance cone crusher and the start of the newly developed PRO Line. The PRO Line offers the quarry operator particularly robust plants for high-performance applications. This plant is driven by a powerful and low-consumption diesel-electric drive, which enables operation with an external power supply.
The cone crusher, with a maximum feed capacity of up to 470 tonnes per hour, is equipped with the innovative CFS (Continuous Feed System), which ensures a productive crusher feed. The MCO 11 PRO is ideally suited for operation in interlinked combinations of plants.
Furthermore, the plant can be transported in one piece and can be quickly put into operational position thanks to hydraulic machine components.
Additional news from Bauma 2016:
Our look back at the three main themes from Bauma 2016
Our interview with Martin Weissburg, President of Volvo CE
Caterpillar's The Age of Smart Iron

Part I of our Bauma 2016 Show Review can be found
here
.
Part III of our Bauma 2016 Show Review can be found here.