Equipment Focus | Construction pumps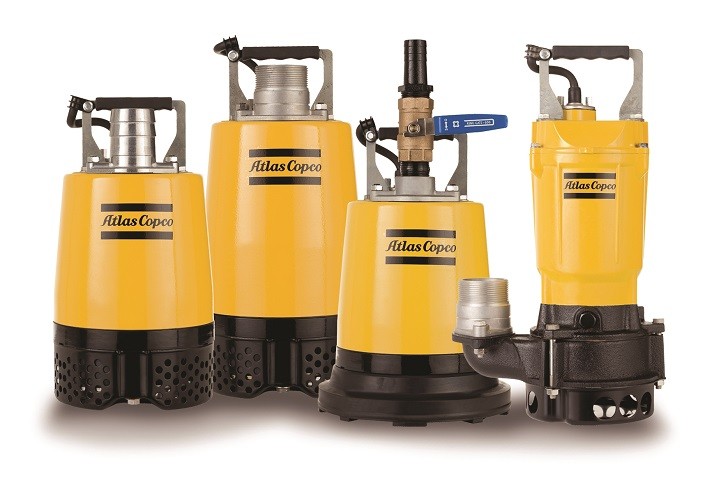 Atlas Copco
Atlas Copco's WEDA electric submersible pumps give users a fast and effective dewatering solution for a variety of applications, including excavation sites and mines. The pumps are compact, lightweight and easy to maintain. The WEDA 04 and WEDA 08 are single-phase electric submersible dewatering pumps with maximum flow rate capacities of 66 to 86 gpm and maximum heads of 37 to 50 feet. Easy to move and install, they can be used in a wide range of dewatering situations. The drainage pumps have polyurethane semi-vortex impellers, designed to handle water with a very low risk of clogging.
​Kohler Power
Kohler Power offers a durable line of portable water and trash pumps – from 2 to 4 inches – designed to stand up to the toughest jobs. Each pump is powered by a commercial-grade diesel or gas engine. A 360-degree roll cage is integrated for extra protection and Kohler's exclusive Oil Sentry feature automatically shuts the engine down in low-oil conditions to guard against wear and tear. Each pump can also be quickly customized with a variety of Kohler accessories.
​Griffin Dewatering
Griffin's rugged pump designs meet the high flow requirements for large bypass pumping jobs. Griffin pumps are designed to address the demands of dewatering, open pumping and hydraulic submersible pump applications. Griffin units are designed to give long, trouble-free service and perform continuously for extended periods with minimal attention and maintenance. Griffin Dewatering provides: wellpoint pumps, non-clog pumps, jet pumps, silent pac pumps, hydraulic submersible pumps, electric submersible pumps, trash pumps.
​Wacker Neuson
The APT series are heavy-duty automatic self-priming trash pumps designed for high flow efficiency and superior solids handling. The Venturi/compressor assist priming system primes and reprimes the pump automatically for unattended operation. The oil-filled bearing and oil-bathed mechanical seal design provides indefinite run-dry capability. The 4-inch model pumps up to 1,300 gpm and handles solids up to 2 inches. It has a 40- hp Yanmar diesel engine. The 6-inch model pumps up to 2,100 gpm and handles 3-inch solids. It has a 74-hp John Deere diesel engine. The 8-inch model pumps up to 3,500 gpm and handles solids up to 3.125 inches. It has a 99-hp John Deere diesel engine. These pumps are available in either a skid or trailer mount.
​Thompson Pump
With its heavy-duty cast-iron construction, and ability to self-prime and re-prime automatically, the 6HT wet-prime trash pump is ideal for rental applications. The 6HT provides flow rates up to 1,500 gpm, heads to 102 feet and can handle solids up to 3 inches. According to the company, Thompson trash pumps cost less to operate. The quality and dependability engineered into each Thompson heavy-duty trash pump provides the high performance you need to get the job done quickly. Simple low-cost maintenance coupled with highly efficient pump ends provides not only economical operations but lower fuel costs.
​Gorman-Rupp
The PAH16A60C-B-C18 is a heavy-duty priming-assisted pump ideal for high-flow applications. This pump boasts flows to 15,000 gpm (946 lps), total dynamic heads up to 204 feet (62 metres), and handles solids up to 4 inches (100 mm) diameter. The 18- x 16-foot (450- x 400-mm) pump is driven by a 755-hp, Tier 4 Interim, Caterpillar C18 twin turbocharged, charge air cooled diesel engine. It has an auto-start control panel and float switch assembly. All Prime Aire Plus pumps feature Gorman- Rupp's priming system, which uses a venturi and compressor, eliminating the leaks associated with traditional vacuum-assisted pumps. An oversized, oil-lubricated mechanical seal allows the pump to run dry continuously without damage.
​Multiquip
The MQ600H Series 6-inch Wet Prime Trash Pump is ISO 9001:2008 certified. This pump model is outfitted with a compact, powerful HATZ 4H50 4-cylinder, turbocharged Tier 4 Final diesel engine. The industrially designed pump-end involves the pump casing, intermediate covers and support flanges that are made from Grey Iron #30 and provide a tensile strength of 30,000 psi. Abrasion-resistant impeller, volute, mechanical seal, wear plate, shafts and sleeves ensure operational longevity and reduce service requirements. The MQ600H Series delivers an impressive flow rate of 1,600 gpm, 150 feet of head, and can pass 3-inch diameter spherical debris.
Honda
Honda trash pumps are ideal for heavy-duty commercial applications. Powered by Honda commercial grade OHV engines, the WT Series trash pumps offer quick cleanout and feature full tubular frames (unique conical-shaped cast iron impeller and volute), replaceable stainless-steel wear plates, long-life, silicone-carbide water seals and lightweight cast aluminum pump housing. The WDP Series diaphragm pump has a positive displacement design that moves wastewater containing up to 2.4-inch diameter solids. Engineered for industrial applications including construction, mining and any application where shallow depths might be encountered, Honda WDP pumps feature the Honda shock-absorbing spring-loaded connecting rod. Honda produces three trash models: WT20X, WT30X and WT40X.
​Primax
Primax's dry- and wet-prime pumps are designed for some of the harshest operating conditions around – including on-road and off-road dewatering applications. These durable auto-prime pumps are ideal for tough municipal, industrial and mining applications. Primax pumps are designed with advanced hydraulics, which improve fluid handling efficiencies and greatly reduce maintenance needs. Additionally, Primax's auto-priming system allows the pumps to "snore", meaning they can run dry for extended periods of time without being damaged. The Primax Pump product line allows for flow rates to 17,899 U.S. gal/min, and generates pressures up to 814 feet. of differential head, or 352 psi.
​Tsurumi
Tsurumi has introduced three new heavy-duty pump series, specially designed to handle slurry.
Slurry is a big factor to consider in any pumping application. It is key to choose the right submersible pump design to handle all the abrasive particles that will get in your pumping system.
The new KTD, GPN and GSD pump series offer slurry pumps from 0.5 to 100 hp. Their unique designs, with a built-in agitator mounted on the motor shaft end, facilitate an efficient suction of the settled slurry, sand, bentonite and/or mud.
Related Articles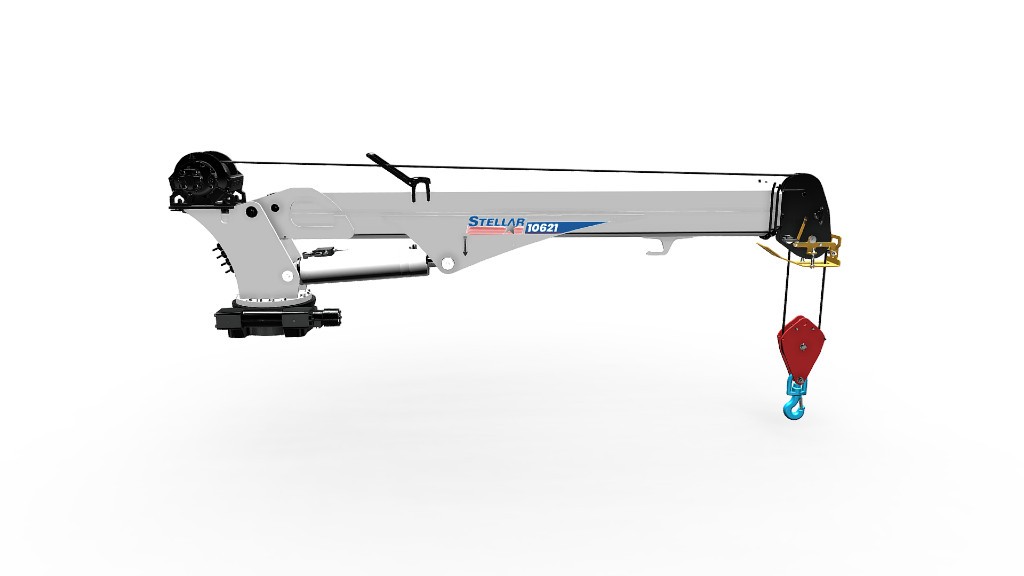 Six new Stellar telescopic service cranes feature redesigned booms and radio remote controls