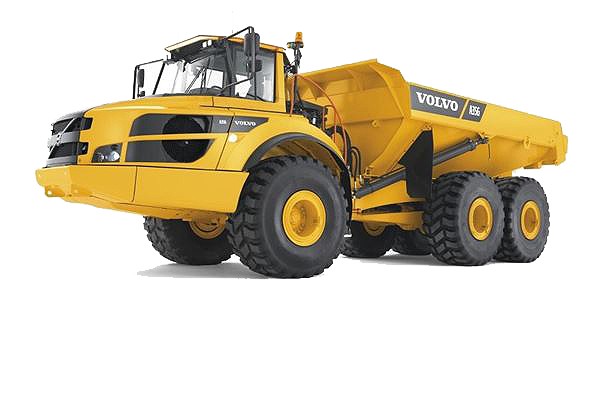 With innovative features to help you tackle tough jobs, the A35G articulated truck provides the power, strength and reliability you need to maximize your productivity.
Features & Benefits
Volvo drivetrain
The ideally-matched, all-Volvo drivetrain is purpose built for articulated haulers, ensuring perfect harmony and optimized performance.
Articulation and Oscillation joint
The connection between the tractor and the trailer has high ground clearance, industry-leading hydro-mechanical steering and a maintenance free rotating hitch design.
Volvo cab
Designed for maximum productivity, the spacious and safe cab offers all-around visibility, easy to access controls and low internal noise levels.
Operational data
Volvo offers machine owners, operators and service technicians access to a wealth of data that will improve productivity and save money.
Service access
Safe and easy access to grouped service points via the swing-down front grill – which acts as a service platform – and 90-degree tilting engine hood.
Specs
Key Specifications

| | |
| --- | --- |
| Engine: SAE J1995 gross | 447 hp (329 kW) |
| Engine: ISO 9249, SAE J1349 Net | 445 hp (327 kW) |
| Max speed | 35 mph (57,0 km/h) |
| Load capacity | 36.9 sh tn (33 500 kg) |
| Load capacity: SAE 2:1 heap | 26.8 yd3 (20,5 m3) |
| Net Weight | 64,375 lb (29 200 kg) |
| Gross weight | 138,230 lb (62 700 kg) |