In-depth report: articulated dump trucks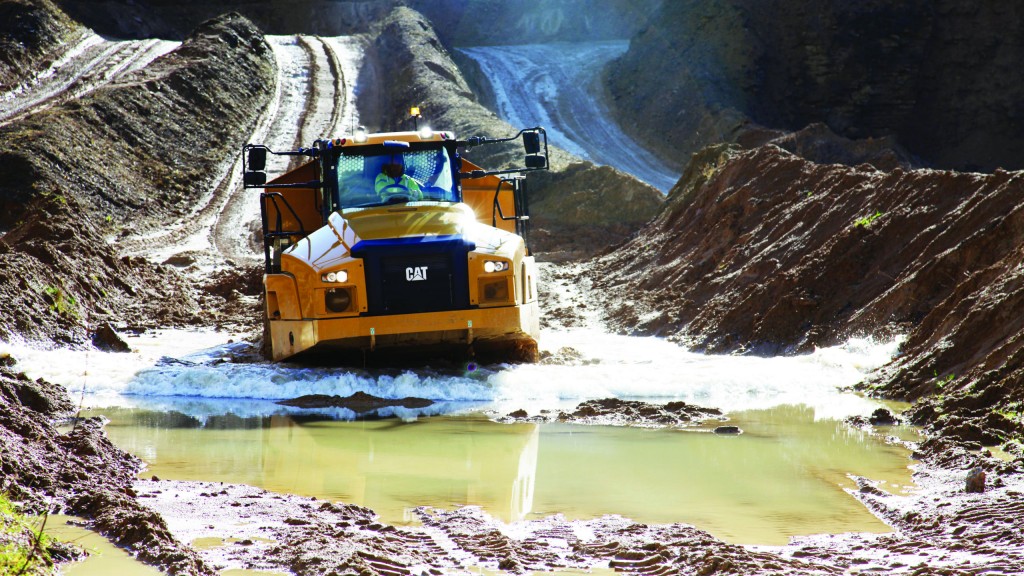 Rugged and versatile, articulated dump trucks are a popular piece of equipment for use in difficult and demanding conditions, from site prep to roadbuilding and aggregates production. ADTs are also benefiting from new and advancing technology intended to improve safety and efficiency. Our panel of experts provides details on the applications, design, technologies and choices in today's ADTs.
Articulated dump trucks are a regular fixture on rough and rugged jobsites. They are used for general construction, quarries, aggregates production, large site developments and heavy highway projects. ADTs are a good fit for jobsites with high rolling resistance and no, or poorly established, roads, noted Scott Thomas, senior product application specialist with Caterpillar.
"While a third of the market is made up of the 25- to 30-metric-ton size class typically used in tighter roadbuilding site development, the trend in the market is showing that the larger size ADTs are in high demand from operators, specifically in the quarry and aggregate industry," said Maryanne Graves, John Deere's product market manager, ADTs. "We're also seeing a lot of customers matching their already-owned loading tools, like an excavator or four-wheel-drive loader, to the size of the ADT and quantity needed. This optimizes cycle times and optimizes all of the machines across the jobsite."

Volvo Construction Equipment's customers are using articulated haulers in a variety of applications – from mines to aggregate sites, to utility construction, site prep and waste or scrap handling – all for their versatility, noted Robert Palermo, the company's product manager for articulated haulers.

In Canada, Volvo has found that their customers have a particular geographic area where ADTs prove themselves beneficial: the far north.

"Articulated haulers are a particularly good fit in areas of Canada with permafrost," Palermo said. "With their lower ground pressure, they can access areas that other machines, including rigid trucks, cannot, without building a special access or haul road. Volvo also offers lower-profile and wide tire options, letting users lower the ground pressure even more."

Robert Franklin, sales and marketing director, Americas, for Terex Trucks commented that their customers are using ADTs on a broad range of jobs to carry out pipeline work, clear sites for new homes to be built, in mining and to help construct new roads. In addition, Terex trucks tend to have several careers, he added. "Our trucks are often sold into dealer rental fleets for the first 18 months. Once they have built up a certain number of hours on the clock, they are typically sold on to customers."

Some trucks are even breaking out of those molds thanks to programs from manufacturers. Volvo's Special Applications Group, for example, can engineer a wide range of products to help contractors in numerous applications. "Some of the more uncommon ones we've done include a scraper hauler, and modifying a hauler into a water truck," Palermo said. "We are also helping scrap recyclers modify our standard haulers to be used to feed the conveyor and move material around the yard."
A growing market for haulers
"Adoption of articulated haulers is continually growing throughout North America and across all market segments. Contractors find it to be an ideal machine in a variety of applications because of the productivity they get and the machine's ability to maneuver over rough terrain and access areas that other equipment cannot," Palermo said. "Among the trends we're seeing at Volvo Construction Equipment is interest in higher-tonnage articulated haulers. The 40-ton truck has long been the biggest seller, but our 45-ton machines are now equaling them in sales, and orders for our 60-ton A60H are exceeding our expectations."

Caterpillar's Thomas noted that the trend has been moving to larger capacity machines for those customers who are more production oriented; however, the 25- and 30-ton class is very popular with the rental houses, utility customers and in those areas where small roads make it difficult to transport these machines. "High-production applications are the most common home for our largest ATs; it's in these applications where many of our customers have already begun to see the substantial payload and speed benefits of the 745."

Thomas said that Caterpillar has seen substantial industry growth in North America for their articulated truck product line over the past three years. "Our customers see the value in utilizing them and many have made ATs their preferred method for moving material."

Market conditions in Canada have been challenging recently, but manufacturers are seeing an uptick in that sector. Terex's Franklin noted that in the past few years, the decline in oil prices has affected construction equipment sales, particularly in areas like Alberta. "As oil prices are rising, we are starting to see a positive impact on the number of ADTs we are selling in Canada. However, there is still a divide in terms of performance. Western Canada is (and historically has been) a stronger region for us compared to eastern Canada."

Volvo is also seeing sales in mining and recycling markets.

"More light mining and gold mining companies are turning to the 60-ton hauler to replace rigid trucks in order to avoid building a haul road. This again is due to the articulated hauler's ability to operate in areas otherwise inaccessible," Palermo said.

"Among scrap recyclers, a popular option is to modify our standard haulers so they can use them to load material at the conveyor and move it around the yard. They can move as much waste in one load with an articulated hauler as they can with several wheel loaders," he added.

Safety, service and versatility important
With such a wide variety of industries making use of ADTs today, it's not surprising that manufacturers are expanding their ranges and innovating through technological and other advances.

One example is the new Volvo Dynamic Drive system, which provides an improved gear-shifting strategy that takes into consideration both the payload and the gradient of the slope. The articulated hauler will automatically detect when to choose a higher starting gear or when to shift up earlier. According to Palermo, "when conditions require, the machine will prolong the gear, ensuring maximum rim-pull. Customers can expect a 3 to 10 percent fuel efficiency improvement, depending on the model."

Another advance is the new Volvo Engine Brake (VEB) system, which dynamically adjusts torque and shift points against the current load, inclination and rolling resistance, improving brake life by reducing the need to use the brake and retarder pedal when going downhill.

"Also beneficial on inclines is Hill Assist, which holds a hauler in place on steep slopes without the need to engage the parking brake," said Palermo. "The feature automatically activates when arriving at a complete stop on a hill and is disengaged when the operator accelerates."

A full suspension model may be preferred over a conventional hauler, which uses mechanical connections between the frame and axle. Volvo's FS models put hydraulic cylinders in place of the mechanical connections, connected to computers and actuators at each tire.
"This allows the FS truck to hydraulically move the suspension based on the terrain," said Palermo. "In addition to allowing the machines to move quickly on rough terrain, the hydraulic connections create a less bumpy ride that eliminates vibration and noise."

Manufacturers have worked towards improving traction and capability on hilly sites.

One example of this is Caterpillar's fully Advanced Automated Traction Control, which has been improved by technology that will proactively apply the differential locks prior to any wheel spin, noted Thomas. Terrain-based throttle smoothing prevents the truck from surging when an operator is travelling over extremely rough terrain and is unable to keep steady pressure on the accelerator pedal.

"Cat's CX38B High Density Power Shift transmission enhances the truck's overall performance and productivity, while permanent six-wheel drive enables the truck to navigate even the most challenging terrain," Thomas said. "Automatic retarding control manages machine retarding through a combination of engine, brake, gear selection and service brake application without operator intervention. Hill assist facilitates efficient stopping and starting on grades, while the Waiting Brake system, quickly engaged by a push-button on the control lever, temporarily applies the service brake during pauses in the work cycle."

Deere offers what Graves described as an industry-exclusive auto differential lock that can make it easier for operators possessing any skill set to manage difficult conditions on the job.

If the truck is experiencing slippage, the truck will engage the differential lock automatically. Operators can also engage the diff lock on the fly. This feature allows operators to power through softer underfoot conditions on the jobsite.

There is also assistance for Deere ADTs on hills. Hill Hold allows the machine to stay in position while the operator is loading the machine, which can prevent any shifting of materials. "All these features are making operation easier for operators of any skill set, improving productivity and making our customers more money," Graves added.

Machine monitoring and on-board weighing are making ADTs more efficient.

Now a standard feature with all Gen 10 ADTs from Terex Trucks, their web-based telematics system gives users complete visibility and control of their machine. "Large quantities of data such as fuel consumption are captured, and can be viewed from desktop and mobile devices," said Franklin. "They can also be downloaded as hard copy reports. This gives customers a heightened level of control over their ADTs."

John Deere's JDLink machine monitoring system is able to monitor the health of the truck and remotely diagnose issues in the field, which reduces downtime, Graves explained. "Additionally, the recently opened Machine Health Monitoring Centre is changing how John Deere and its dealers analyze data and proactively support customers through mainstream technology, empowering dealers to use advanced telematics and alert management tools to stay on top of potential issues."

At Volvo, on-board weighing is now standard on their A35G and larger models, allowing the hauler operator to see the actual tonnage on the in-cab display in real time. Palermo explained that "the display also includes the Econometer feature, showing fuel economy in the form of gallons per transported ton per work cycle for the last ten cycles. When Volvo introduces Haul Assist later this year - a data-rich program integrated into the in-cab Co-Pilot interface - operators will have even greater visibility to data that will help them optimize haul routes and track progress in real time."

Cat Connect PAYLOAD technology for their 745 truck allows customers to optimize operations and improve overall jobsite efficiency. Their Production Measurement system also gives operators the ability to measure and deliver accurate payload with the confidence to boost productivity, lower costs and reduce the risk of overload damage, Thomas explained.

The cab is another area that has received attention recently.

Caterpillar, for example, has re-engineered the cab in the 745 AT from the inside-out to improve safety and ease of operation, Thomas said.

"The external 'spinal' ROPS structure boasts bonded rear quarter glass that eliminates the structural pillar to give the operator a dramatic improvement in visibility from the cab. Upon cab entry, the 'wake up' feature initiates machine displays as soon as the door is opened, while the lighter, stronger cab door offers shut assist for improved sealing against dust infiltration. The quieter cab design lowers inside sound levels by 5 dB at the operator's ear."

Cat also provides the operator with a combined transmission and hoist lever for more efficient single-lever control over both speed and body hoisting functions, minimizing operator effort and automating repetitive operations.

"At the flick of a switch, operators can choose between manual or fully automatic assisted hoisting control, which automatically applies the Waiting Brake, sets the transmission in neutral and hoists the body to maximum angle at high rpm," Thomas said.

Deere has optimized its cabs to improve productivity, noted Graves. "Our cabs have a significant low noise level to ensure that operators in them for an extended period of time have an optimal measure of comfort. An Adaptive Suspension Control System provides a smoother ride over rough terrain. The trucks also have a spacious training seat next to the operator so they can do on-the-job training."

Things to consider when buying
When it comes time to make a decision on what ADT to purchase, there are some considerations that should be kept in mind – ranging from size to performance and financing.

According to Franklin, buyers should consider ADTs if they are looking for machines that can work in difficult conditions easily and at as low an operating cost as possible, while also providing good value for money and a comfortable environment for drivers.

"We're starting to see fewer skilled operators in the job market, so companies have to work that much harder to look after them and make sure they're happy. Providing good equipment is essential if you want to attract – and retain – the best employees," Franklin said. "To make sure you're buying the hauler that's right for you, you should ask yourself a series of questions, such as 'what is the job at hand?' The terrain, weather conditions and material you'll be loading into the machine will all help determine which truck you should buy. You also need to think about size – and not only of the truck you're buying, but also of the fleet you will need."

Matching the truck to its loading equipment, to ensure efficient pass matching, is also key; if the vehicle and loader aren't matched well, it can lead to longer load times, Thomas added.

Features that improve productivity and efficiency are critical, but are only part of a larger picture, according to Volvo. For that, software is beginning to play a part.

"Buyers are always looking for the most efficient way to get the job done and achieve the lowest cost per ton they can," said Palermo. "This goes beyond the hauler, however. An organization's entire operation plays a role. We're seeing a growing number of customers interested in conducting an analysis via site simulation software, a process that is typically completed with the help of an equipment dealer or OEM. It involves gathering and analyzing data on the jobsite – including haul roads, material weights and densities, cycle times and amount of material moved – all with the end goal of determining the ideal fleet mix for that particular jobsite."