Revisit Heavy Equipment Guide's most popular stories of the year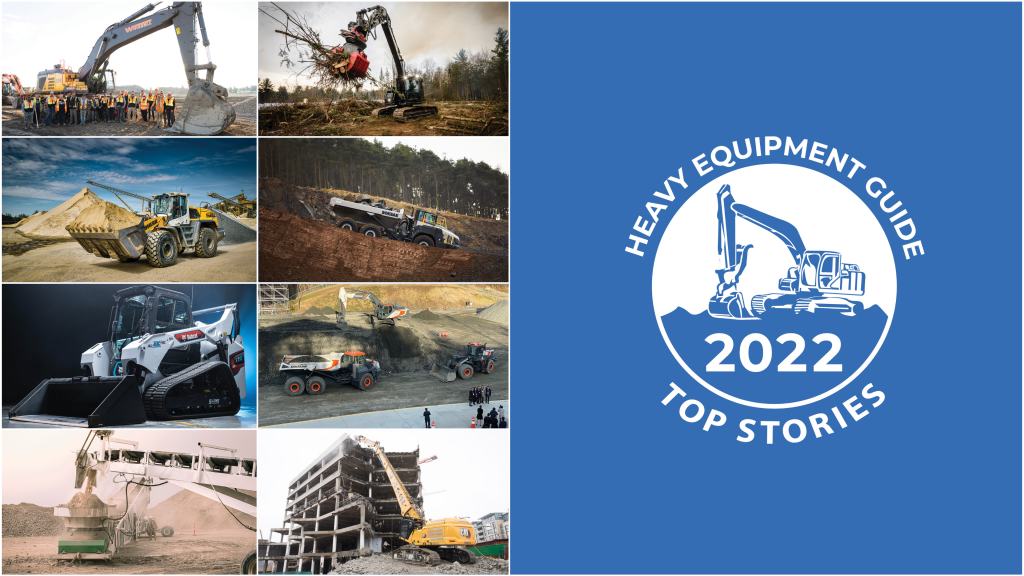 With 2022 coming to a close, let's take a look back and some of our most-read articles from the year. Doosan explored a new name, branding, and future; wheel loaders, ADTs, and asphalt pavers were examined in-depth; and Bobcat introduced a game-changing all-electric CTL. Plus, we examined how one contractor utilizes social media to grow its business, recycling contaminated soil from urban excavation, and more. Here are 10 articles to highlight 2022.
Fast and furiously productive: versatile wheel loaders for aggregate use
Wheel loaders are a versatile workhorse for aggregate use – capable of feeding crushers, stockpiling, loading, and handling lots of other tasks. Earlier this year, we spoke to several industry experts about how aggregates producers can get the most out of their wheel loaders.
Find out what you should look for when choosing a new wheel loader for aggregate use in the full article.
Calgary C&D facility cleans up contaminated materials with new plant
As the City of Calgary continues to grow, the amount of contaminated soil dug up from construction sites grows too. With few facilities capable of remediating the soil, much of it is landfilled instead of reused. Calgary Aggregate Recycling is fixing that problem with a CDE-built custom plant to recycle problem soils for reuse. The plant will have the capability to recycle up to 600,000 tons of contaminated soil each year.
Find out everything you need to know about Calgary Aggregate Recycling's new plant in the full article.
Doosan explores a new name, branding, and future
After Doosan Infracore North America was acquired by Hyundai Heavy Industries, the company was given three years to rebrand. Instead of delaying the rebrand, Doosan decided to do it immediately. This was done to let dealers and staff know that little else would change besides the name and badging. Doosan's classic orange colour will remain with the potential of a new colour scheme coming in the future.
You can read the full article about Doosan's new name, branding, and future here.
Making way for buildings of tomorrow
Matcon Demolition Ltd. was contracted to demolish several large buildings in Vancouver, B.C., in order to make room for a new 28.5-acre, nearly $5 billion development full of residential properties, commercial businesses, and more. This new project is the single largest development in Vancouver since the construction of Olympic Village. In order to help with the project, Matcon brought in a brand-new Cat 352 Ultra High Demolition (UHD) excavator. With its new excavator, Matcon Demolition continues to demolish yesterday's buildings for tomorrow's developments.
You can learn more about Matcon Demolition's demolition project in the full article.
Articulated dump trucks optimized for operators
Earlier this year, we asked a group of experts about the benefits that ADTs can bring to a construction fleet. ADTs are one of the easiest machines to operate because of how similar their controls are to on-road cars and trucks. These machines are also often used to train green operators. Because of this, manufacturers focus on ease of use so that operators can start work right away.
Learn what experts from companies like Caterpillar, Doosan, Volvo CE, Liebherr, Rokbak, and more think ADTs can do to increase the efficiency, safety, and productivity of your job site in the full article.
Bobcat introduces game-changing all-electric CTL
At the 2022 Consumer Electronics Show, Bobcat unveiled the first ever fully electric compact track loader. Bobcat electrified all of the hydraulic components so that it has almost no fluid requirements, operates silently, and reduces maintenance time. The first prototype was built in 2019 and Bobcat found that the concept worked. By using electric actuation, much more was possible with the machine than Bobcat had previously thought.
You can find out all there is to know about Bobcat's game-changing all-electric CTL in the full article.
Volvo's largest excavator digs in on Alberta project
Whissell Contracting, a contractor with 52 years of experience in the Calgary area, recently purchased Volvo's biggest excavator – the EC950F. Seeing a 95-tonne excavator isn't out of the ordinary in Calgary, Alberta, because of all the earthworks and underground utility projects underway. The EC950F is currently working hard on Greenwich, a multi-phase project which will turn an old, backfilled gravel pit into a large mix of residential, commercial, recreational, and office buildings. But Greenwich isn't the only job site Whissell Contracting's new excavator will work on. As the City of Calgary continues to grow, Whissell hopes that its new EC950F will continue to build Calgary for a long time.
You can read the full story about Whissell Contracting and their new Volvo CE EC950F in the full article.
How one Ontario construction company is using social media to recruit in a tight job market
For Ken White Construction, social media has become an integral tool to drive growth and aid in recruitment in a tight job market. With over 159,000 followers across all social media platforms, Ken White Construction has found a way to stand out in digital communities.
Find out how Ken White Construction excels in the digital landscape of social media in the full article.
How to turn your CTL into a road base rock crushing machine with one attachment
Skid-steer loaders and compact track loaders are versatile machines. They can use a wide variety of attachments and can tackle many projects on a job site. FAE's STC/SSL attachment adds another task to the abilities of SSLs and CTLs: road base rock cutting. FAE's attachment simplifies a task that would otherwise need several pieces of equipment. The attachment crushes loose rock down until small enough to use as a road base on site.
You can read the full article to learn how FAE's STC/SSL attachment can turn your compact loader into a road base rock crushing machine.
How asphalt pavers are designed for increased uptime and lower maintenance
We spoke with several asphalt paving experts about the features and abilities of current asphalt pavers and screeds along with the improvements these machines have seen in order to make maintenance easier and increase uptime. If a paver or a screed goes down, the entirety of the operation flounders. With these fast and demanding jobs, it's no wonder why reliability needs to be a key aspect of asphalt pavers and screeds.
Many manufacturers have taken different approaches to increase the uptime of pavers and screeds. You can read the full article to find out what enhancements manufacturers have made to keep asphalt pavers and screeds working on the job site.