Fast and furiously productive: versatile wheel loaders for aggregate use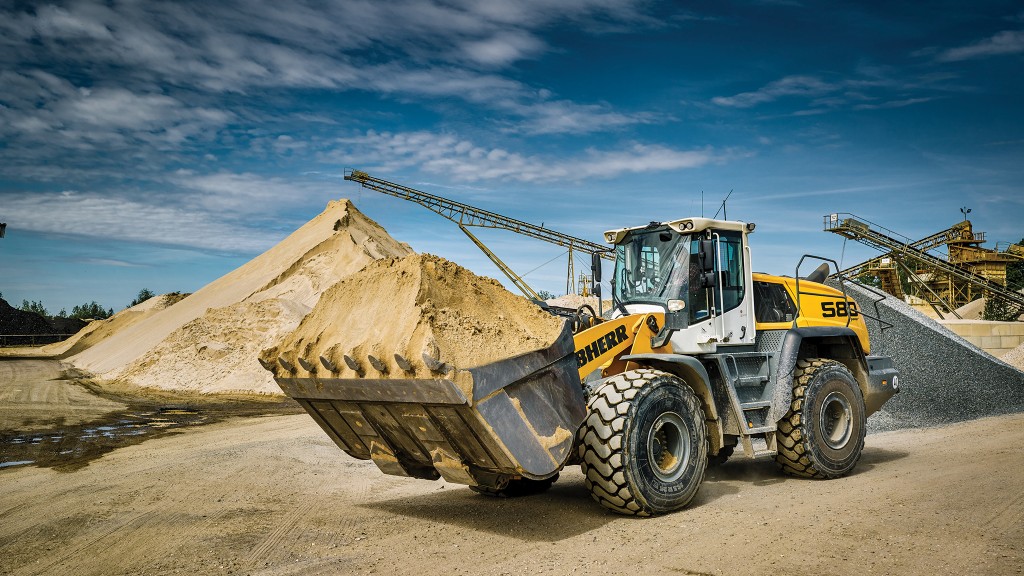 Sand, gravel, rip rap, fill - aggregates producers may move many different types of material around their quarries throughout the day, and they need machines that can handle a broad range of products. Wheel loaders are the most popular machine option for most quarries; they are nimble and capable of feeding crushers, stockpiling, loading, and handling a variety of other tasks as needed. Machines in the 50,000- to 80,000-pound range are an ideal choice for their versatility and capabilities. Heavy Equipment Guide spoke to a panel of industry experts about how aggregates producers can get the most out of their wheel loaders.
A versatile machine for quarry work
Wheel loaders are ubiquitous in quarries, simply because they offer the best option for moving material either into trucks or around the site as needed. Volvo Construction Equipment Product Manager Eric Yeomans points to the wheel loader as the most maneuverable and fastest machine for the various tasks required - loading, stockpiling, feeding crushers or screeners, and so forth. Comfort and reliability are also valued by operators and owners, and wheel loaders fit the bill there as well.

Komatsu machines in this size class are generally being used in loading operations at quarries, explained Product Marketing Manager Adam Braun.

"A lot of what we're seeing is rehandling of processed materials and loadout of processed material onto highway trucks . . . a lot of times if that quarry site happens to be a production facility for asphalt or concrete, these wheel loaders will be working those batch plants as well," he described. "I've visited some sites where those machines are only doing loadout and I've been to other sites where they have the quarry across the street and they're feeding processing plants or only mixing asphalt."

David Reid, sales manager with Liebherr-Canada, noted that wheel loaders find themselves in loading operations and require buckets and capabilities to handle trucks of various sizes while also handling some excavation work as needed.

"They'll either be at the face, feeding the crusher or another sort of plant, or shipping finished products out to end users. The requirements are slightly different, certainly with buckets, depending on the material," he said. "A lot comes down to the material the customer is working with."

Juston Thompson, Hyundai Construction Equipment senior product manager, noted that it's often easier to think less about weight and more about capacity when it comes to this class of loader.

"A five-and-a-half-yard machine is roughly 54,000 pounds for us - that size machine starts getting into the production capacity, where you can quickly load trucks . . . it can be the yard loader, and at some larger quarries it's a cleanup machine around the crusher because it's a little more nimble," he said. "Something closer to the 70,000 pound weight, around a 7.3-yard machine, those tend to do the bulk of the work."

The amount of material that needs to be moved daily can be a deciding factor in the size of loader purchased, advised Scott Schmidtgall, Caterpillar product application specialist.

"You could bring in a 988, a huge loader, or you could use a compact or small wheel loader, but now you're not balancing your production rates. If you have a small bucket and you have customers showing up where it will take 10 passes to get the truck loaded, you don't want them waiting there - they want to be in and out of the yard in 10 or 15 minutes. If they're not, they'll go down the road to the next quarry," he noted. "There's a delicate balance on what's too small and what's too big."

Aggregates operators want loaders that can load a truck in two passes, and manufacturers have answered that with machines specifically targeted at that role, noted Luke Gribble, John Deere solutions marketing manager. Deere's 844 aggregate handler is aimed at use as a production machine or for two-pass loading of 24-ton trucks, he noted. Smaller loaders can work as well depending on the workflow of the quarry; for example, slower operations might be fine with three-pass loading and buy a smaller machine in response.

There are other roles that wheel loaders might find themselves used for in quarries as well - moving large blocks, for example, or other bulky materials, noted Aaron Kleingartner, marketing manager with Doosan Infracore North America. In those quarries, larger machines are fitted with pallet forks to carry blocks, requiring versatility from the machine.
Match specs with applications when buying
When selecting a wheel loader for aggregates use, there are a broad range of considerations that buyers should review, from engine power to bucket size. In many ways, it comes down to the right combination for the situation in which the machine will find itself on a daily basis.

"There's no one spec that you can put your finger on and say 'I've got to have that.' I think today the buyers are looking for a lot of things, and they want to see how it all works together - how the manufacturer can bring all these different things I need on a job site together to deliver me a lower cost per ton, ultimately," Reid from Liebherr-Canada described. "Horsepower isn't really what people look at anymore. In my opinion you want to look at cycle time, and breakout force comes into that, but really you want to look at the loader in its entirety."

Machine design is often a delicate balance, and it takes a lot of work for manufacturers and buyers to find that balance. A machine designed specifically for one application will do excellent work in that use, but it might find itself outmatched in another, Cat's Schmidtgall advised. Picking one particular spec and buying because of that can be self-defeating.

"It's hard to buy a machine off of 'it's got more horsepower,' because now you're burning a bunch of fuel and not getting any more work done - in fact, you might be getting less work done. So, you have to be careful with regards to that," he said. "The point is to optimize that whole design, from the structure to the hydraulics behind it, as well as the software driving it."

Hitachi Regional Business Manager Dustin Hoogeveen suggested that customers review the machine's tipping load - the weight the loader can support before starting to tip - to ensure the machine can do the intended job as safely as possible.

"You have a massive amount of material in the front of that machine, and you can have all the horsepower and breakout force in the world to pull that material into the bucket. But, what if the machine can't get it from point A to point B safely?" Hoogeveen said.

Straight tip load and full turn tip load are both important and both can be affected by the density of material being moved, so that needs to be added into the decision-making process as well.
Tip load plays into another important area, rated operating capacity, a key metric that Gribble noted to be an important aspect of wheel loader selection. It takes into account everything from bucket weight to material density, and ensures that the machine will be able to do the work it is purchased for.

"From that full turn tip load, you have to look at rated operating capacity, which is typically about 50 percent of your full turn tip load . . . you don't want to be constantly fighting a loader that's tipping over, back and forth, all day, right? Fifty percent capacity is going to provide a smoother operator experience," he said. "You have to do some backwards calculating - figure out your bucket size, how much your bucket's going to weigh, the material density, and then from there you can really start getting a better understanding of what size loader you need."

Craig McGinnis, business solutions manager with Komatsu, agreed that it's important to start from the bucket and work backwards to determine the correct loader size for the required work.

"You can't put the biggest bucket ever on a small loader - it's not going to lift it or it will tip over. You have to pair that up, make sure the loader is able to reach over and far enough into the truck or the hopper," he advised. "Breakout force does help because it controls the bucket and can help control as you're dumping."

Advances in technology are making it easier to use horsepower efficiently, Kleingartner noted, allowing engines and hydraulic systems to meet the precise needs of the work. "Efficient use of power is very important. Our newest machines have a situational awareness technology platform that basically allows the machine to optimize itself to the output of the engine," he explained. "It has a number of sensors on the machine that determine speed and efficiency and loading capacity needed, and it will help optimize the hydraulic system to the engine power so that you're really getting the maximum amount of power through that machine."

One aspect of loader design that should be factored into the buying process, according to Hyundai's Thompson, is operator comfort. While lifting capacity and digging power play key roles, it's also important to ensure the operator can do the job safely and effectively through the day.

"It's got to be a comfortable seat in that machine. There's got to be extreme visibility within that cab so an operator can see all the way around the machine, the additional components that an operator needs to make that happen," he said. "Additional components that can come on the machine, such as our AAVM, all around view monitoring, gives some additional viewpoints with cameras."

Operator comfort and safety should be a priority, according to Andrew Dargatz, CASE Construction Equipment product marketing manager, who noted that CASE G Series loaders have had a number of improvements to their operator environment focusing on electro-hydraulic controls, comfortable ergonomic designs, and updated interfaces to smooth things out for operators. Machines with large touchscreen monitors and easier controls offer improved ability for operators to track operation and adjust features as necessary.

For Dargatz, selecting the right additional features can make a big difference for an aggregates operation. High-capacity production machines benefit from systems that can direct the breakout force and power, while making operations easier. Examples are return-to-dig, return-to-travel, and height control.

Selecting the right machine size also plays into optimizing total cost of ownership. That adds up to much more than just fuel use over the life of a machine, Hoogeveen noted.

"A lot of people look at total cost of ownership as just fuel economy, but there are so many other variables in there as well . . . you have to look at it from all different perspectives, not just how much diesel fuel you're putting in every day or how much yardage can be moved on X amount of gallons," he said. Variables like replacement of diesel particulate filters and diesel exhaust fluid use in emissions systems need to be calculated in, as do advancements in hydraulics that can reduce costs over time.
Buckets must match planned use effectively
Buckets are the business end of the wheel loader, and they must be an integral part of the conversation when it comes to purchasing a new machine. In most cases, the bucket a new wheel loader arrives with stays on that machine through its lifetime, especially in a quarry, so making the right selection from the start is key.

Good bucket selection starts with knowledge of the material being handled, both to determine the right size and design.

"A lot of different materials sit differently in buckets. If you're using sand, it's more of a compact material that sticks together, somewhat. Most sand is wet . . . it clumps and sticks together. Where you have loose gravel, it can roll out of the bucket if you don't have the right corners. In a high clay environment, maybe you need side cutters or . . . a longer pan and floor inside the bucket," Hoogeveen explained. "We never want to pair too large of a bucket if the carrier cannot handle the density."

Generally, aggregates buckets will fall into two types: spade nose buckets often equipped with teeth that allow digging into tougher material, and more general purpose buckets without teeth that use smooth cutting edges to help dig into piles for loading, while also allowing the machine to clean up the pit floor more easily.

Design-wise, the way in which the bucket is structured aids in the flow of material. Komatsu has conducted studies to determine the best designs for wheel loader buckets and designs its own production buckets for its machines, Braun noted. WA475, WA480, and WA500 yard loaders have Komatsu-designed buckets optimized for load sizes to ensure that when the bucket is lifted it will be full and will remain full even when moving around.

The design can also play a role in efficient truck loading; Gribble pointed out that a spade bucket might require a higher lift to clear the truck as opposed to a straight edge bucket, for example. Beyond that, knowing the size of trucks that will be loaded regularly will define the size of the bucket for two-pass or three-pass loading as required. If feeding a crusher with the machine, it's possible to overload and that needs to be taken into account as well.

Aggregate buckets are also often equipped with packages that aid in reducing wear to key parts of the bucket, with guarding and other features to mitigate against abrasive materials.
Keep maintenance in mind
Quarry environments can be a challenge for equipment, with grit, dust, and abrasive material everywhere. When wheel loaders are working long hours every day, it's important to keep maintenance in mind when selecting a wheel loader to operate on this type of job site.

"A lot of guys in this segment are running long shifts, they're running hard. They put a lot of hours on in a short period of time," Reid from Liebherr-Canada said. 'They could be going 24 hours a day, especially when they're feeding crushing operations. They're looking for a machine that is going to support them."

Reid said that buyers should consider machines that make it easier for operators to do their daily safety checks. That daily maintenance is a significant amount of the service a loader receives, so anything that helps the operator get it done is a benefit, Braun added.

"A lot of what we find the operators are doing, I'd call 90 percent of the basic maintenance . . . Komatsu tries to make that basic maintenance as easy as possible for the operators - checking oil, reaching grease points, having those items as accessible and easy to check as possible means they get done. If they're not getting done, that's going to lead to a lot of bigger issues," Braun said. He also noted that automatic lubrication systems are growing in popularity on a variety of machines, including wheel loaders.

Many manufacturers are offering machines that have extended service intervals, to aid in keeping wheel loaders on the job as many hours as possible. Oil change intervals in the 50,000- to 80,000-pound range of machines are between 500 and 2,000 hours; these longer intervals are supported through the use of monitoring with telematics and oil sampling, experts pointed out.

"Oftentimes, these machines are in high-production environments, and if we have an unscheduled downtime or event where you need to have service work done, it affects the productivity of the operation significantly," Kleingartner said. The ability to manage that data and understand when oil changes and other service is needed in advance, allowing owners to schedule the downtime for a quiet period and cut down on working time lost.
Many quarries regularly request oil analysis when their machines are serviced, another way to get a snapshot of potential future maintenance needs, Hoogeveen said. The ability to recognize a potential maintenance issue before it becomes serious keeps loaders up and running and avoids the need to rent a machine or use one that's not suited for the job.

Dusty aggregates operations result in some specific maintenance needs, including for air filters, Thompson said. Air flow to the engine needs to be kept up, meaning that filters - both engine and cabin - should be changed frequently. Filters that are easy to change ensure the engine and operator both have clean air on the job, he pointed out.

One area on a wheel loader that may be overlooked at times is the tires. They're an expensive component, and it's important to have the right type of tire for the surface being driven on, Gribble suggested.

"Typically you're going to go with an L4 or L5 type tire. L4s are great for longer load and carry applications; they do have increased tread depth . . . you're going to get protection from the elements, from the rocky and hard pack surfaces, but they're going to dissipate heat a lot better," he explained. "If you're predominantly working in the pit, doing tight V-pattern- style loading . . . you want to upgrade to the L5 tires because they're going to offer even more tread depth. They're going to protect you from the elements when you're doing those tight turns that cause tires to deflect. The tire's going to be around shot rock and jagged edges, so they're going to experience a little bit rougher terrain."

Tire wear - among other potential costly issues - can be eased through the use of assist features as well, including Cat's Auto Set Tires. Schmidtgall explained that the system aids operators on the way into the pile, providing additional pressure on the front axle that then gives the tires a greater amount of traction. That, in turn, ensures the bucket is filled well on every pass. In addition, the system cuts down on tire slip, reducing wear, no matter the skill of the operator. At the same time, it allows the machine to push more efficiently into the pile, reducing fuel burn.

Volvo also features automated systems that can aid in improving fuel efficiency while easing potential maintenance, Yeomans noted. The company's OptiShift technology allows operators to customize lock-up engagement of their machines, while Reverse By Braking and torque converter with lock-up create a direct drive between the engine and transmission, he said. The Fully Automatic Power Shift (FAPS) system allows machines to operate in the optimal gear, also enhancing fuel efficiency.

A tiltable cab on Volvo machines helps cut down on maintenance times, and the company also offers a quick-fit system feature that allows for cleaner, faster oil changes. Volvo also features a rimpull control system on larger loaders, which allows operators to minimize wheel spin and optimize the balance between rimpull and hydraulic functions - all of which cuts tire wear and fuel consumption.
Wheel loaders benefit from improved technology
Aggregates operations make their profit off moving material, and knowing how much material has gone into a customer's truck is integral to the bottom line. Wheel loaders that are loading out those trucks in quarries frequently feature an onboard weighing system to help keep track of material movement.

Komatsu, for example, has an integrated load meter on its machines that provides a view on the main monitor as well as reporting into the Komtrax telematics system. "If you're loading a truck, they can use those to know exactly how much they're putting in that truck. When it goes over the scale before it leaves, you want to have an accurate weight so the truck doesn't have to come back around and dump anything off," McGinnis said.

Integrated scales on wheel loaders benefit both the owner and customer by ensuring that trucks are in and out of the quarry fast with the right amount of material and without the potential to be ticketed for being overloaded. They must be accurate, and the operator needs to have a good display allowing them to track weights in real time, Gribble noted.

Aggregates operations are turning more and more to telematics on their loaders to track and improve productivity. "A lot of quarries want to be able to monitor their machines constantly, so from the standpoint of error codes or service monitoring making sure their machine is running efficiently, they are monitoring these machines daily," Hoogeveen said.

Many quarries have a designated telematics foreman who monitors all of the machines working the site, he added, allowing them to react quickly to error codes as they come in.
A variety of other technologies are being added to wheel loaders in this range, with efficiency being the major focus for most of them. Tire pressure monitoring, for example, is in growing demand for these machines.
"Tire pressure monitoring is a game changer, because that is directly related to a loader's uptime," Yeomans said. "When it's easier for operators to know when their tires are outside the parameters they set for pressure and temperature, they only need to stop and address it when they are alerted, instead of manually checking or hoping for the best."

Volvo also offers an Operator Coaching app that Yeomans said brings real-time guidance to the operator. It allows them to better understand how the way they run the machine affects productivity and encourages improvement in their technique.

Efficiency and reduced wear and tear are behind the addition of an auto-engine shutdown system on Hyundai machines, Thompson said.

"The more time the machine runs and it's being productive, the more they're making money. When the machine is running but not producing material, not loading out trucks, we're putting wear and tear on a machine and hours that decrease the value of the machine," he explained. "That's a direct impact on the bottom line of the quarry. We have started putting an auto-engine shutdown on our machines so that once a machine idles for a set period of time, it will automatically shut the machine down so you don't get those additional hours of idle time on the machine."

Caterpillar also offers a variety of technology features on its machines, Schmidtgall noted, combining ease of operation with improved efficiency. The company's assist features, such as auto dig, bucket kick out, machine speed limiters, and others, are frequently targeted at increasing the operator's knowledge about their own technique and areas where it can be improved.