Volvo's largest excavator digs in on Alberta project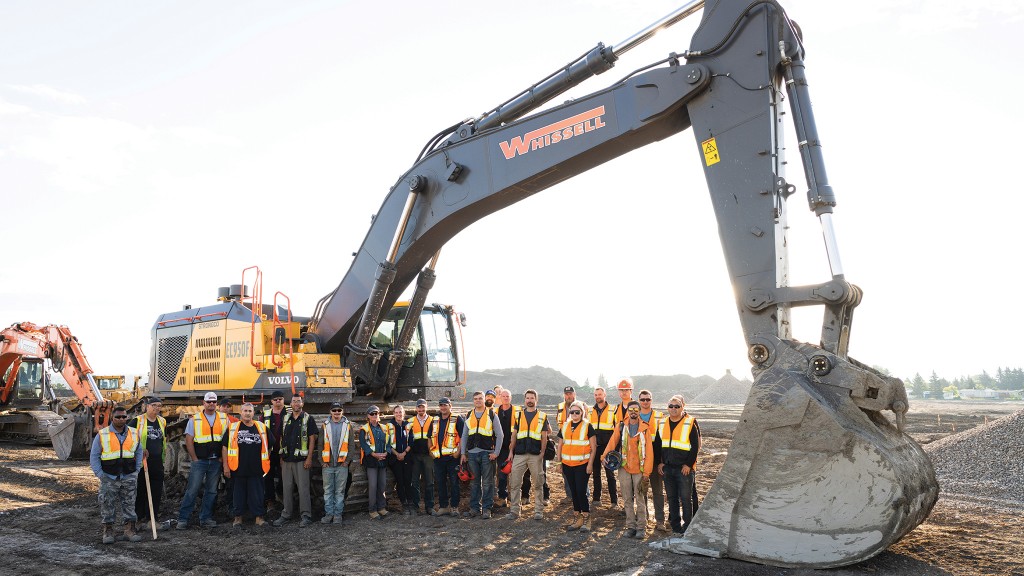 Spotting 95 tonnes of Volvo yellow and grey excavator in any urban environment is enough to make someone do a double take, but in Alberta that large of an excavator is standard issue for contractors completing earthworks, underground utility work, and more. Alberta is a unique place where around nearly every corner is a bustling construction site of well-choreographed equipment moving earth on a scale and timeline not paralleled by any other province in Canada. While there are many earthworks and underground utility contractors in the Calgary area, only a select few have been in business for the 52 years that Whissell Contracting has been building Alberta. As the City of Calgary's population grows, it is quickly expanding with residential housing development projects filling in the remaining developable parcels of land. One of those projects, Greenwich, is the ideal proving ground for Whissell Contracting's brand-new 95-tonne Volvo excavator.
The Whissell Contracting story
Founded in 1970 by Brian Whissell, Whissell Contracting began as a water-sewer contractor in Calgary, Alberta, with a few pieces of equipment and small crew. Since then, the contractor has grown into 4 divisions, 3 offices, over 425 employees, and operates more than 300 pieces of heavy equipment.
With roots in Calgary, Whissell expanded to Lethbridge in 2012 after the purchase of G.W. Cox Construction, deepening its commitment to servicing the Southern Alberta market. To the North, Whissell entered the Edmonton market in September 2014 when they were asked to complete a project due to the bankruptcy of another contractor; Whissell then purchased a shop and office in Leduc to solidify its presence in the area.
Paralleling Whissell's growth was an investment in equipment, people, and safety and training. In 1989, Whissell was one of the first contractors to develop a safety program and has maintained a comprehensive and well-documented program since then, holding a valid "Partners in Injury Reduction" (PIR) certificate since 1991. Today, Whissell is a member of the Canadian Construction Association as well as the Alberta Road Builders and Heavy Construction Association.
On a daily basis, you can find two generations of Whissell staff in the office. For Whissell, they understand that reputation is earned in the construction business and for decades have worked to build just that through a portfolio of successful projects. Rocky Mountain Raceway, Pine Creek and Bonnybrook Outfalls, Jasper Avenue in Edmonton, as well as RES windmill sites in Rattlesnake outside Medicine Hat and Castlerock & Riverview outside Pincher Creek are just a few highlights. Major clientele includes land developers, municipal governments, the private sector, and the oil and gas industry with their expertise covering underground utilities, earthworks and grading, heavy hauling, and equipment contracting and rentals.
Digging deep in Calgary
With 52 years in the business of underground water and sewer projects, Whissell is considered one of the leaders in the underground utility market. Specializing in river crossings, intake & outfall structures, water, sanitary, and storm deep utility installation, they take on a variety of challenging projects throughout the Calgary area. Often the earthworks and underground divisions work together on projects, with earthworks completing the site grading and underground installing the water, sewer, and storm. On a multi-phase project called Greenwich, which will include a mix of residential, recreational, retail, and office space, Whissell Contracting is completing both the earthworks and underground utility work.
The Greenwich project began as an old gravel pit that was backfilled at the end of its mining life. For residential housing to be built it requires remediation to meet engineering specifications. To achieve this, Whissell's earthworks division excavates down to the old gravel pit bottom and then refills with material, compacting it in lifts to take the site from random fill to engineered fill. As material is excavated all rock, garbage, metal, and concrete is screened out to be salvaged through Whissell's on-site salvage and recycling program. Materials such as steel are sent for recycling, garbage is sent to the appropriate waste disposal facilities, and concrete is crushed on site to produce 3-inch minus product meeting the City of Calgary's spec for road base - a big win for the client as they then reuse that material on-site to reduce costs.
Once the old gravel pit is remediated and the overall site is brought to grade, Whissell's underground division will take over to install all underground water, sewer and storm utilities. Clients see the benefit of a vertically integrated outfit like Whissell, which can take a project from rough dirt to finish grade with all underground utilities installed and ready for construction. As the City of Calgary continues to grow, projects like this are key to providing housing for an ever-expanding population.
Newest member of Whissell's fleet
The mark of a great company is its commitment to continuous investment in facilities, equipment, and people.
On choosing a new hydraulic excavator for the fleet, Greg Baher, vice president of equipment at Whissell Contracting, says that "Project demands, an aging 85-tonne excavator fleet, and the fact Whissell has 44 other pieces of Volvo equipment in the fleet were big factors."
From day one, the machine was a great fit into the existing medley of 85-, 90-, and 95-tonne excavators already working in the fleet. The Volvo EC950F came stock with a 12-foot 2-inch stick, a manual attachment coupler which will soon be swapped for a hydraulic coupler, counterweight removal device, and 36-inch-wide track pads.
When used by Whissell's earthworks division, such as on the Greenwich project, for excavating material and loading out Volvo A40 rock trucks, the standard length stick and 84-inch digging bucket is an ideal set-up.
In addition, the machine will also serve in Whissell's underground division when equipped with a longer 15-foot 6-inch stick coupled with a 36-inch dig bucket for installing water, sewer, and storm infrastructure. One interesting note about Alberta underground utility work is the depth at which it occurs, requiring excavators to be fitted with a longer stick in many cases. Underground utilities in Alberta are installed at depths as shallow as 3m to as deep as 12m due to the requirement for gravity drainage over long stretches, protection from cold Alberta winters, and other project-specific requirements. Having a machine of this size in Whissell's underground division is key to lifting large-diameter heavy pipe into deep ditches, where every bit of the 50,486-pound lifting capacity is needed when big pipe or box culvert is going in. Alongside this, the benefit of having one machine that can be set up to safely handle big pipe and excavate deep trenches, or be set up to bulk a lot of dirt quickly, is key for a company like Whissell where the Volvo EC950F may perform both earthworks and underground utility work on one site.
In a given season, Whissell Contracting works on numerous projects throughout central and southern Alberta. Multiple sites means moving equipment around the province, and moving the EC950F from site to site using their 76-wheel trailer has proven feasible for Whissell's heavy hauling division. Only having to remove the counterweight to meet road weight restrictions is a huge win, giving Whissell the flexibility to send this machine to any site with their in-house heavy haul division. "We were worried about the transport height, but by pulling the pin on the stick cylinder the EC950F folds down and fits well on Whissell's trailer," mentions Baher.
The operator experience
With attracting and retaining people a primary focus for earthmoving contractors everywhere, providing your people with the proper equipment for the job is key to not only the success of projects, but employee happiness and retention. For equipment operators, a comfortable office to spend 8 to 12 hours a day in is incredibly important. Volvo certainly doesn't disappoint with their in-cab user experience on the EC950F hydraulic excavator, delivering a comfortable operator environment with intuitive controls that don't hinder the operator from completing their work.
Damian, an operator of the EC950F, mentioned how easy it is to spend a full day working in the cab without experiencing fatigue. Working in Calgary, the climate can be +30 degrees Celsius or -30 degrees Celsius between seasons, sometimes drastically changing over the course of a day. The added comfort offered by the climate-controlled cab and heated seat in the Volvo EC950F is an absolute must for climates like that of Calgary.
Safety has been at the core of what Whissell does since day one, and when it comes to big excavators like the EC950F, visibility is always a safety concern for personnel, light vehicles, or other equipment nearby. For a machine of this size, blind spots are a fact especially since the average-size human barely crests the top of the undercarriage. Whissell's EC950F is equipped with Volvo Smart View to provide full 360 vision: the operator can select full 360 view or specific camera angles such as off to their right side where they are completely blind, or to the rear of the machine. It's features like this that not only keep people safe at work, but going home to their families safe every day.
While promises like improved fuel efficiency and a more productive machine over previous generations remain true, it's the operator-oriented details that really set this machine apart. Orange painted handrails/grabs for better safety when ascending or descending the machine; anti-slip, well-positioned steps for safe access by operators or mechanics; spacious cab with plenty of glass for the operator to see through; full LED lighting on the machine; wireless connectivity; and general ergonomics of the cab controls all contribute to making this machine appealing to operators.
Speaking to the machine's performance, for such a large machine it certainly is quick on its feet and cycles at a rather swift pace loading rock trucks. It handles the 84-inch-wide bucket with ease even when heaped full, and shows no indication of being unbalanced. Looking ahead, Whissell Contracting plans to keep their Volvo EC950F busy building Alberta for a long time to come.